Coaching Perspective: Three Keys to Building Trust with Principals
September 6, 2019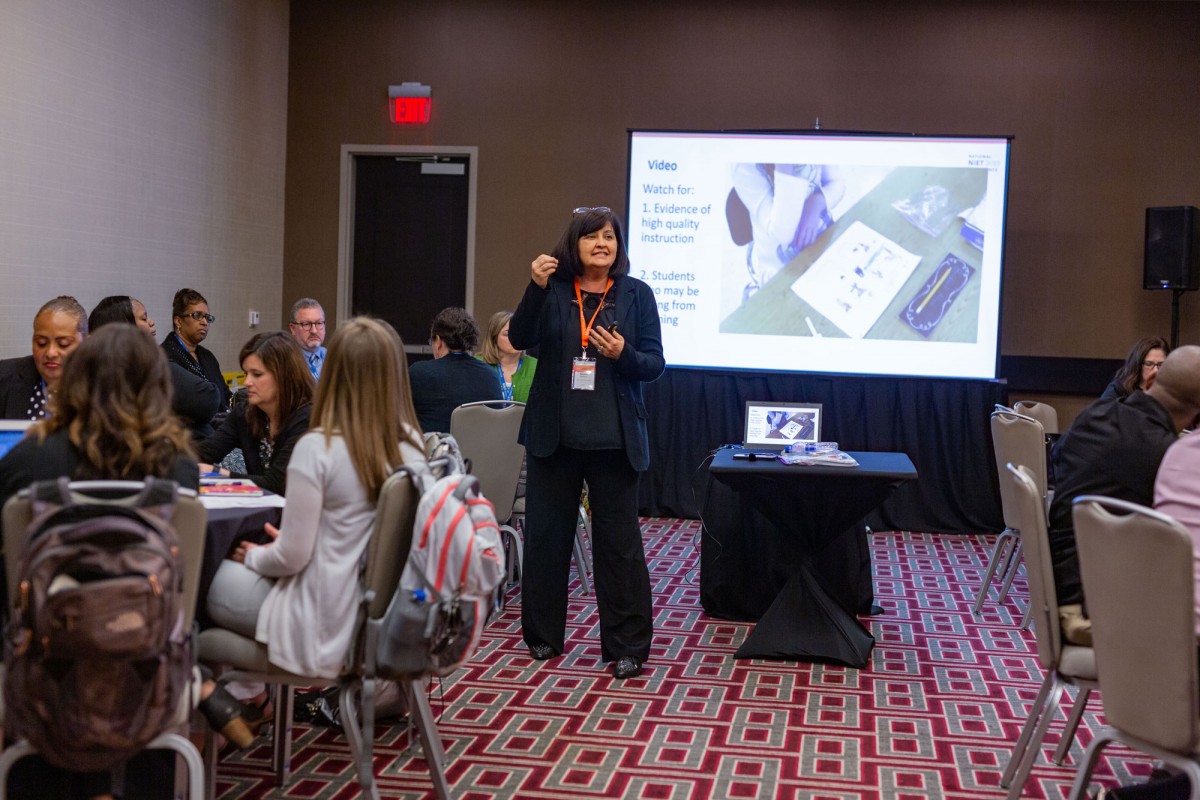 By Austin Reid, NIET Senior Policy Advisor
I sometimes find that principals show initial resistance to the idea of coaching, potentially because they do not see how it will benefit their work and vision. One way I have seen our team at NIET set themselves apart is through their approach to coaching. From the outset, the goal is to build trust with principals so they know our team is there to support their leadership.

Recently, I had the chance to watch one of our NIET team members, Natalie Szakacs, support a cohort of principals in Knox County, Tennessee. Here are a few coaching strategies I took from her about how to build trust and get the most out of a coaching relationship.
Start by Listening
To build trust with principals, it is important to authentically listen to what they have to say. The NIET coaches view their first step as listening with an intentional focus on giving the principal the opportunity to identify the strengths and successes in his or her school while listening closely for how they describe any needs. Listening first provides the chance to gather a clear understanding before making any plans or next steps. Principals gain trust when you reflect with them and avoid the urge to immediately share answers. This is the foundation for successful coaching – but it's easy for this to be where the trust-building ends.
Honor Principals' Expertise and Set Expectations
One of the biggest mistakes a new coach can make is to listen to a principal's needs and then prescribe preconceived answers or a canned package of solutions for what the principal should do. The problem with doing this is you've just substituted your expertise for theirs, which implies you don't fully trust their judgment. Instead, introduce new ideas as options instead of solutions. This allows the principal time to think and compare his or her thoughts to the new ideas, and you can show that you fully trust and value their expertise. That will let the principal decide on the path forward based on the best ideas on the table, and it will allow the coach to be a supportive thought partner.

Most principals already have too many experiences with people giving them answers or solutions. If those answers haven't helped them much, giving more of the same answers increases the risk of having the principal retreat from the relationship. Coaches must walk a fine line – coaches are hired because they have some expertise to offer, but coaches are not there to make decisions for the principal. The NIET team sees our job as working alongside principals and together determining the best next steps to take as we use our collective expertise on behalf of students.
Connect Goals to Student Learning
Most principals have set ambitious goals for their teachers and students, and many put a lot of work into determining those. While setting goals may be the norm, principals often express that the goal-setting process is not as deep and coherent as they would like it to be. I found from watching Natalie coach principals that school leaders benefit from being asked to step back and think deeply about what each goal is really trying to achieve. In her coaching conversations, she worked to better understand each principal's goals by asking: "What would student learning look and sound like if this goal were achieved?" Sometimes that answer did not fully align to the principal's vision. However, answering this question often changed a principal's perspective on what his or her definition of success should look like.

If schools start working toward a goal without reflecting on how it will change student learning – and how the learning will be measured along the way – leaders will not know what teachers and students need to reach that goal, and they won't know if they are making progress. A coach asking just the right question at critical goal-setting junctures can set the school on a path to success – instead of on a path to inconclusive answers and incoherent work.

Through discussing a principal's desires and expectations for the coaching partnership and developing a shared idea of what success looks like, our coaches are able to have productive conversations about how we can help. "Success" conversations with principals deepen the trust-building process by placing their goals at the center of our relationship and giving us a clear direction for the coaching support. And, it keeps student learning at the center of all coaching conversations.

While my recent shadowing one of our NIET team members provided only a small glimpse into the coaching relationship we utilize with principals, it provided an important look at the foundation of that relationship and the sometimes inexplicable concept of building trust. My takeaways – starting with listening, honoring the expertise in the relationship, setting expectations, and keeping student learning at the center of goal-setting – are important for any new coaching relationship, but are particularly salient when coaching the school leader. When this trust is built, change occurs and outcomes follow – and an entire school community benefits.