Patrice Pujol: Executive in Residence Profile Series Pt. 1
August 23, 1999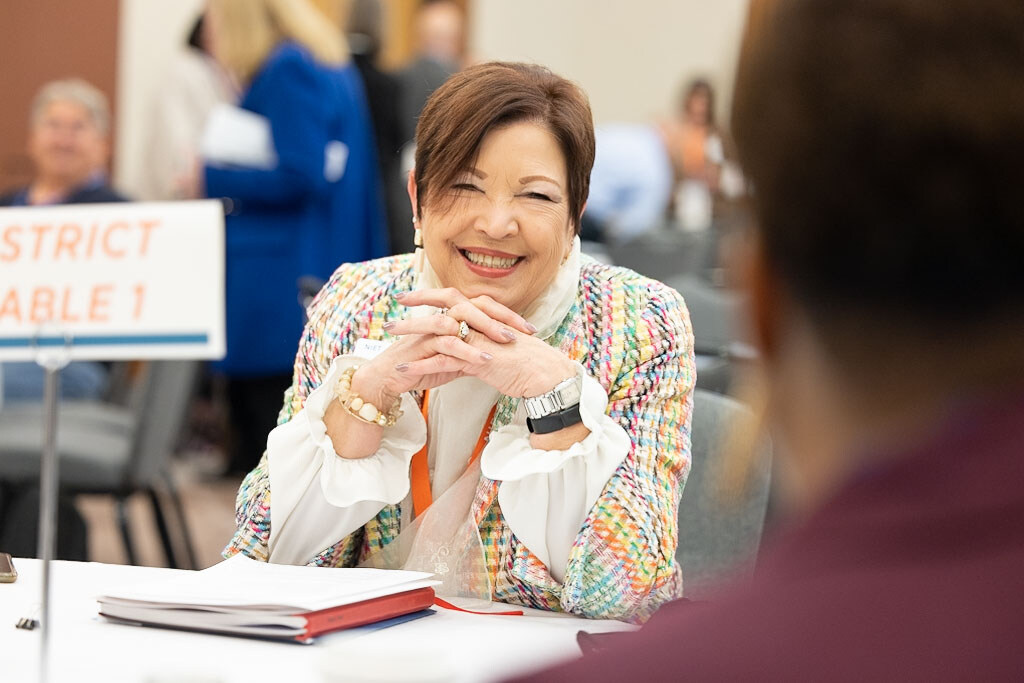 Patrice Pujol was one of four finalists nationwide for Superintendent of the Year while serving in Ascension Parish Schools. She made history as the first female superintendent of her parish and, after retiring from her position, became an Executive-In-Residence with the National Institute for Excellence in Teaching where she now advocates for the services NIET provides because of how it helped her own district.
During Patrice Pujol's childhood, the majority of the books in her hometown of Saint Amant were tucked away on shelves in her mother's home.
She began to notice the deserts of literacy as she grew up, then taught, then led and ultimately oversaw as superintendent of the schools in her beloved Ascension Parish. Her educational journey was jumpstarted in an intellectually stimulating household — a luxury she says is important to realize that not all children have.
"When you come from a family that values education, is well-read, well-educated, having an ineffective teacher is not great, but it's not the end of the world," Pujol said. "When you don't have those support systems at home, all you've got is the quality of the classroom teacher. Would I be stronger if I had all great teachers every year? Yes. But I could recover. Kids who have less of that intellectual stimulation and high expectations at home, they don't recover. So being hyper-focused on the quality of instruction is paramount to helping every kid succeed."
Seeing firsthand the impact of the different experiences and backgrounds children bring to school helped her understand the need for quality education in Louisiana, and motivated her to make historical impacts in the place she calls home. This passion for educational opportunity drives her work now as an Executive In Residence with the National Institute for Excellence in Teaching where she coaches district leaders to improve teaching and learning, close achievement gaps, and accelerate learning for all students.
Ascension's rise to distinction - and how the TAP System helped it get there
Pujol made history as Ascension Parish's Public Schools first female superintendent in 2010, a having previously served as a high school English teacher, high school principal, and assistant superintendent in the district. She was selected as Louisiana's 2015 Superintendent of the Year and was among four finalists for National Superintendent of the Year, an honor presented by AASA: The School Superintendents Association. Additionally, Ascension Parish School District earned an A district rating for four consecutive years in Louisiana's accountability system under Pujol's leadership and is currently ranked fourth in the state.
Her years of experience shape how she approaches conversations with teachers, principals and district leaders: She listens.
"I meet with superintendents and their teams and I start by listening, just trying to figure out - what is it that this district needs? What do they already have in place? What's working well? What don't they have in place or what's not working well? And then from that conversation, we identify ways that the NIET team could partner and assist in meeting those goals, " Pujol said.
"Even before I came to work for NIET, I was always talking with other superintendents about the impact that NIET was having in my district and what a partnership with NIET could mean for their student achievement. So I don't think anybody was surprised when I came to work for NIET, at least not in the state of Louisiana," she added with a smile.
Pujol is an avid advocate of NIET and the TAP System because she saw firsthand the impact it had in her own district. When she stepped into the role of superintendent in 2010, she explained,
"I led a district that was composed of haves and have-nots." Some of the schools were top performers in the state. Others ranked well near the bottom. While there were struggling schools across the district, the Mississippi River marked one of the biggest divides between affluent communities and those with extreme poverty. As a result, the district felt divided, without a central focus or identity.
"We served a diverse set of communities ranging from families who have been historically underserved, to other communities that are very affluent," Pujol said. So, she and her team created a strategy to provide more intense support for low-performing schools while also building a district level mission and identity among educators.
Ascension slowly began recruiting teachers at top-ranking schools in the district to schools in more underserved communities across the river - the portion of the district designated the "Turnaround Zone."
"We told the teachers, we really need you here. Here are the kids who need you the most. You're such a talented teacher. If you want to be a leader in Ascension Parish, the path is by serving in our turnaround zone," Pujol explained. "So come and serve for a couple of years, work with us, work with these kids who have the most challenges to learning, figure out what it takes to move kids who are way behind and don't have as much support at home, and then give us a couple of years and you can go back to your other position because guess what? You have kids just like these in your schools too. They just are masked by the fact that you also have a bunch of high-performing kids."
It wasn't long before schools started to see success throughout the district.
With Pujol's "Turnaround Zone" strategy and the help of the TAP System, she and her staff helped mold Ascension into one cohesive, all-improving force. The effort included committing to teacher collaboration, making space for professional development instead of meetings, and dedication to the NIET Standards Rubric to improve teacher evaluation and bolster student outcomes.
The six "Grade A" schools grew to 12. The eight "D" and "F" schools turned into 3 "D" schools and zero "F's." The rest ranked as "B" or "C" - a relative triumph in the course of only a few years.
"We really did see a lot of progress over three or four years' time in our student achievement. No matter what type of school it was, everybody moved up," Pujol said. "That made me a huge advocate for NIET."
Pujol remembers first hearing about the TAP System as an assistant superintendent. Her superintendent at the time needed convincing but eventually Ascension Parish took the leap and "never looked back," as Pujol says. New research is backing up her personal experience. For example, in May 2023, the National Bureau of Economic Research released a multiyear study finding that schools using the TAP System improved student academic performance, while also leading to longer-term economic and social impacts. The research study concluded that every dollar spent on the TAP System provided benefits to individuals and the community of 14 to 1. The TAP System creates these improvements through two researched-based strategies: individual coaching through classroom observation and feedback, and collaborative professional learning led by teacher leaders in partnership with school leaders.
Executive excellence: A necessity for the classroom
A major core of why the TAP System works is because of teacher and leader mentorship - and Pujol didn't get to where she is now without help. She credits one of her mentors in particular for regular check-ins and much-needed support in her field.
"To have someone who has the experience, who would be that thought partner, and would push me when necessary. But for me, sometimes I needed to be slowed down," Pujol said. "I could be the leader that looked behind that no one was following because I was going too fast."
Now, she offers the same support in a professional environment to executives and district leaders through her executive coaching program - an effort that has taken off over the past three years.
As a part of the executive coaching process, Pujol takes the time to visit with superintendents and other school leaders to diagnose the challenges they face and what steps they are able to take to solve them, using NIET standards as a foundation to take action steps for improvement. She asks reflective questions which require answers that inherently promote thoughts on how to improve leadership and visualize the actions leaders need to take to succeed.
Who do they have to communicate with and inspire?

Who do they have to have that courageous conversation with?

If things start to hit some barriers (which they will, that's a part of the change process,) what do you need to do as a leader to continue to move the work?

How are you coaching your principals?

If it's a district that has people in the district office that are out working with principals, how are you monitoring the effectiveness of their support?

How often are you going out with them to assure that your intention is what's actually being implemented?
Pujol couldn't pick a single aspect of her executive coaching that she felt she needed when she was a budding superintendent - because she needed it all. Her goal at the end of the day is to find ways to inspire and motivate superintendents and leaders to assess how they can lead in an effective and influential way.
"It's about what needs to change in your leadership to inspire, motivate," she said. "I help them understand the ways they can be more successful leading this work in the schools or supporting this work from the district team. It's really about thinking about leadership moves that are going to make a difference in classroom instruction and student learning every day."
Decades of progress - and more to go.
Over her 48-year career, Pujol's journey to seek and provide quality education has taken many shapes and forms. Some days it was an award or an honorary title. Other times it looked like a convincing phone call to her student's mom asking about a book to buy for class. It was a ten-step checklist on her teaching desk in high school on how to elevate educators and leaders within her system. At one point years ago, it was simply a book on her mother's shelf.
During her times as a teacher, principal and assistant superintendent in her home parish, she learned how much of an impact that mentoring, teacher support and equitable quality education had on a district no matter which side of the river students lived. NIET and the TAP System were major factors in that transformation, Pujol said.
She looks forward to inspiring future leaders, teachers and schools in Louisiana and beyond using the blueprint of success NIET provides. Patrice helps provide services to 66 of the 69 districts in Louisiana and lends a helping hand in providing support to schools in Arkansas, too.
"There's still a lot of work for us to do here with partners," Pujol said. "I think there's still a lot of opportunity for us to work more deeply with partners and to drive even greater student success."
NIET has partnered with schools, districts, states, and universities to ensure all students have effective educators for more than 20 years. Its work to develop teacher leaders, support successful instructional strategies, and build educator capacity to address student needs has served more than 9,000 schools and has impacted more than 300,000 teachers and 3 million students.