From Teacher Leader to School Leader
November 30, 2022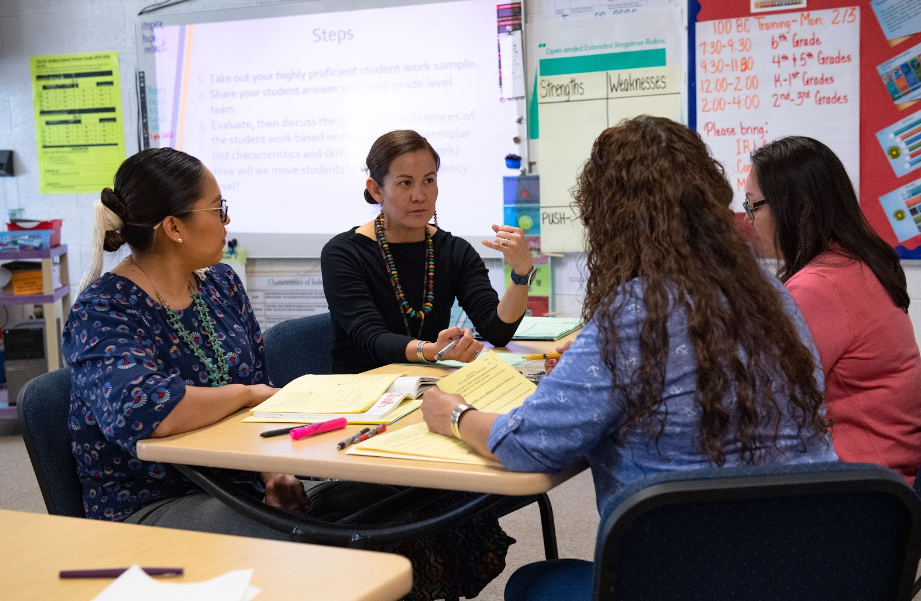 As principal at Chinle Junior High School in Arizona, Melissa Martin has fostered promising improvement in school culture by focusing on student learning and responding to student, family and staff needs. The genuine interest Martin demonstrates toward students and staff results in positive relationships that serve as a strong foundation for collaborative practice and notable student outcomes. Before moving to the junior high, Martin was an academic coach at Chinle Elementary School, where she visited classrooms to support teachers, testing new instructional practices with students before rolling them out to staff. She planned and led weekly job-embedded professional development for teachers in pre-K through second grade.
Stepping into the role of coach as a teacher leader gave me the opportunity to develop my own leadership and coaching skills.

Melissa Martin
Chinle, Arizona is the largest district in the Navajo Nation, serving 3,400 students, with virtually every student a member of the Navajo Nation. The district partners with NIET to create common language and expectations using the NIET Teaching and Learning Standards Rubric. Use of the rubric, along with structures of educator leadership and support, helped the school strengthen professional learning and implementation of the newly adopted Beyond Textbooks curriculum. Prior to taking on the role of principal, Martin was a teacher leader and member of the school leadership team that supported steady growth in academic achievement at Chinle Elementary School. The school has risen from a D-rated Focus School to a B — a contributing factor to the district now being the highest-performing reservation district in the state. When asked about utilizing teacher leaders to extend instructional leadership, Martin stated, "My experiences as a teacher leader were enormously helpful to me now as a principal, and help me to create a more effective leadership team."
A member of the Navajo community and a graduate of Chinle High School, Martin is a powerful role model for Chinle's youth as they look to their futures beyond high school. She understands the challenges they must overcome: students travel from up to 60 miles away to attend school, and many students live in homes without electricity and/or running water. Knowing that Chinle's young people represent the future of their tight-knit community, Martin was a noteworthy member of the team that led the implementation of the district's early childhood program to ensure a solid foundation for the youngest learners. She supports teachers, communicates daily with staff, students and families, and takes a lead role in implementing district plans for learning. Principal Martin's leadership has created a culture of high learning expectations.