A Welcome Message from NIET CEO Dr. Candice McQueen
February 26, 2019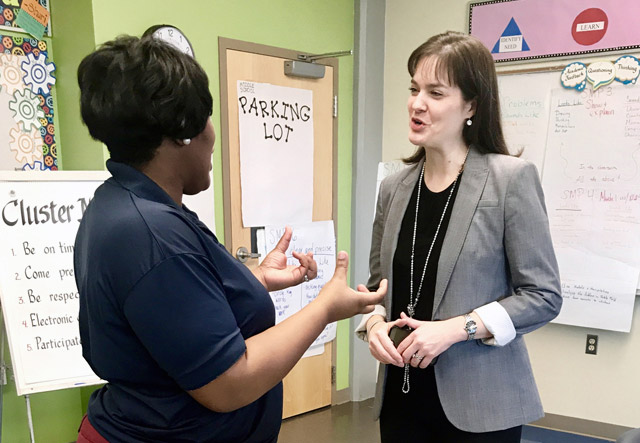 NIET Partners:
Thank you for the tremendous welcome you have shown me during the last few weeks as I have started with NIET! It is a privilege to join the talented NIET team and to be a partner with you as I begin this journey. Our collective mission—to improve the effectiveness of teachers and school leaders so they will in turn support and accelerate growth of our students—has been my life's work. It motivates me every day and is truly the tie that binds all of us together, so I look forward to working alongside you as we partner with educators across the country to grow all students.
I grew up in Tennessee, and I started my career in education in the same way many of you did: as a classroom teacher. After teaching in elementary and middle schools in both Tennessee and Texas, I moved into higher education and teacher preparation, eventually becoming senior vice president and dean of the College of Education at Lipscomb University in Nashville in 2008. During my time as dean, Lipscomb was recognized annually as the state's top-performing educator preparation program based on our first-year teachers' student growth and achievement results—results that were accelerated as we focused on integrating the state's teacher evaluation model throughout our program.
In 2015, I was appointed as Tennessee Commissioner of Education under Governor Bill Haslam, and at the department, I saw firsthand the successes from our partnership with NIET through our statewide adoption of the TAP rubrics and associated trainings and support. I also witnessed the dramatic difference that the TAP System brought to schools across the state—schools that now experience our top level of growth every year. Tennessee has been a national leader in improving student achievement for a reason: For the last decade, we have made sure every policy and program we develop is rooted in supporting great teaching for every child, in every classroom, every day. I know effective teaching is the absolute best way to drive student success, so there is no other organization I'd rather be leading than one where this belief is matched with exceptional outcomes.
Over the past few weeks, many of you have welcomed me into your classrooms and clusters to see the work you are leading, hear the questions you are asking, and witness how student work and data is driving decision-making about how to best address students' needs. I look forward to continuing to be in the field hearing from you about your ideas on how NIET can continue to improve how it serves our educators. I believe we have an incredible opportunity as an organization to deepen our partnerships and support even more educators in their practice, build institutional capacity, and strengthen teacher leadership opportunities. I will share more of this vision at our 2019 National Conference in March, where I hope to see and meet with each of you.
I am committed to serving you each day with energy, enthusiasm, and excellence. Please reach out to me if you ever need anything. My email address is cmcqueen@niet.org. See you in New Orleans!
Best,
Candice