Ascension Public Schools Leads the State in Student Achievement: Focus on Instructional Excellence Shows Results
August 30, 2023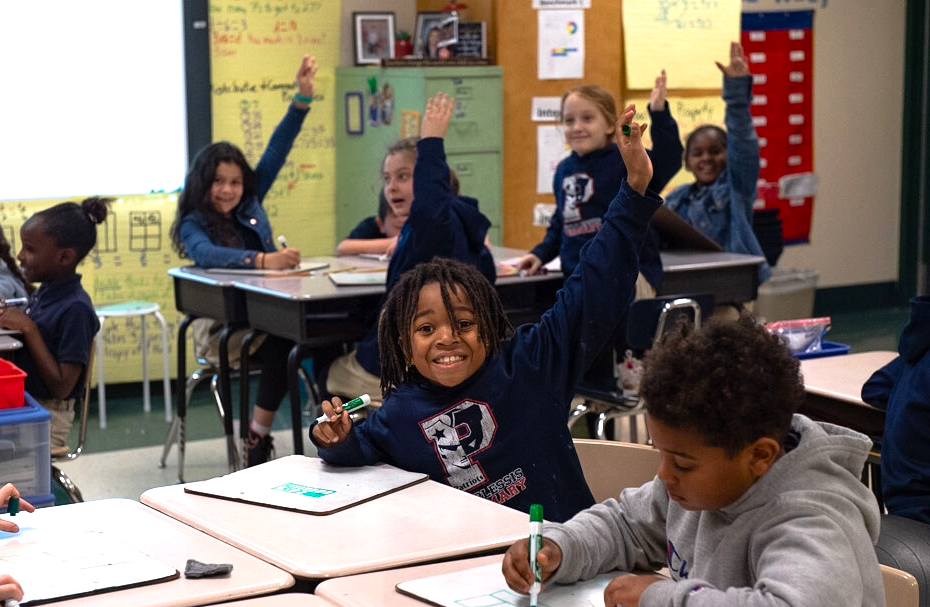 What a difference a sustained investment in great classroom teaching can make. Ascension Public Schools outperformed the state in every subject on the recently released 2023 Louisiana Educational Assessment Program (LEAP) assessment, topping the state score in each tested subject by 16 to 19 points. 51% of Ascension students scored at the level of mastery and above across the four subjects tested, with 61% of students achieving mastery and above in English/Language Arts.
"This is an outstanding achievement for Ascension's students, teachers, parents, staff, and our community," said Ascension Public Schools Superintendent Edith Walker, Ed.D. "It is a collective accomplishment across all grades that reflects the hard work and dedication of our schools."
The results in Ascension illustrate the power of investing in great classroom teaching and building the capacity of teachers and leaders. NIET has partnered with Ascension for more than a decade, putting in place systems for high-impact professional learning and classroom coaching to make great classroom teaching accessible for every student. Teacher leaders are a core part of Ascension's success, with many teacher leaders moving into school and district leadership.
LEAP assessments include scores for ELA, math, science and social studies for grades 3-12 based on state content standards for each grade. The scores fall into five categories: Unsatisfactory, Approaching Basic, Basic, Mastery, or Advanced. Some top rankings from Ascension's LEAP assessment results included the following: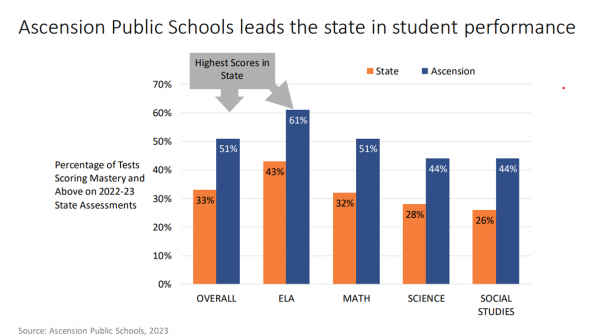 Ascension Public Schools outperformed the state in each subject assessed by LEAP and had the highest LEAP score overall.

#1 for English/Language Arts with 61% mastery and above.

#2 for Math with 51% mastery or above.

#2 for Social Studies with 44% mastery or above.

#2 for African American Students with 33% mastery and above.

#2 for Students with Disabilities with 19% mastery and above.

#3 for Science in with 44% mastery or above.

#3 for Economically Disadvantaged Students with 36% mastery and above.
Superintendent Edith Walker is continuing to raise the bar for the coming year.
"Although we are very proud of achieving 51% mastery and above, which is the highest in Louisiana, we remain committed to addressing the 49% of students who are on the path to reaching mastery. All of Ascension's students are capable of performing at high levels and ultimately fulfilling the dreams of their choice," Walker said in response to the LEAP assessment.
Superintendent Edith Walker took the helm of Ascension Public Schools as the district's first African-American woman superintendent in the history of the parish. She has spent 21 years of her 25-year career in Ascension Parish, contributing to its academic success for decades. She was selected as superintendent through a unanimous vote by the Ascension Parish School Board last spring.
"Dr. Walker has a proven track record with 21 years as an effective leader in our school system," Ascension Parish School Board President Taft Kleinpeter said of her nomination. "I am excited to see the vision she will bring to our district as the superintendent."
Prior to her role as superintendent, Walker served as Chief Instructional Director for Ascension Public Schools. She holds degrees from Louisiana State University including a bachelor's degree in English and creative writing, a master's degree in counseling and administration, and an Educational Specialist degree in adolescent counseling.
Walker shared her vision for Ascension Public Schools, which builds on the strong work already taking place. Among her priorities as superintendent is to implement more robust support for struggling students; increase teacher salaries to be competitive with the top five districts in the state; and expand and align K-12 STEM pathways to better prepare students for STEM-related job opportunities.
"This is not a district that needs to be reformed. This is a district where we can expand the things we are currently doing in order to have a positive impact on our students," Walker said about her appointment. "Before you stands someone who knows our schools, who knows our principals, who knows our teachers, and who understands our students; and that is why I will be an effective superintendent."
Following the celebration of Ascension's record scores, Walker and her team are back at work planning how to lift every student to mastery and above, continuing to open doors to college, career and life opportunities.
About NIET
NIET has been a partner of Ascension Public Schools for more than a decade, supporting great classroom teaching by building the capacity of teachers and leaders. For more than two decades, NIET has partnered with schools, districts, states, and universities to build educator excellence and give all students the opportunity for success. NIET's initiatives, including the TAP System, teacher and leader development, school improvement, rubric and observation systems, and educator preparation, have impacted more than 300,000 educators and 3 million students across the U.S.