Building School Community: An Arizona Principal's Story
October 10, 2023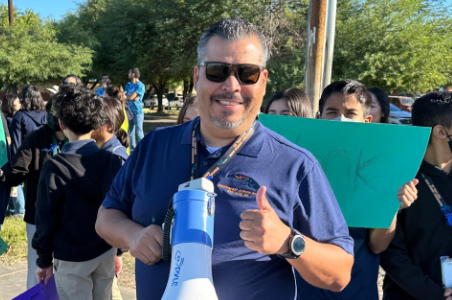 As we celebrate National Principals Month, we appreciate all principals who work tirelessly to make a difference in their schools. Throughout the month, we are excited to highlight a handful of school leaders to learn from, as we see great work happening across the nation. Today, we reflect on Southwest Junior High School Principal Luis Reyes and how he builds community in his school in different ways.
Southwest Junior High School in Gadsden Elementary District is a short stroll from the U.S. - Mexico border in San Luis, Arizona, just south of Yuma. It's home for Principal Luis Reyes, who knew he wanted to be a principal by the time he was in third grade as a student in the Gadsden District.
"I wanted to become a teacher, become an educator, to have that impact on kids, especially in my community," Reyes said. "I joke around with the kids that I made it from kindergarten to principal in the same district."
One of his big intentions is to make sure it doesn't feel like home just to him but to his entire team and, of course, every student.
"We all have the same vision, the same purpose - to grow kids, to grow each other, and make it a family," Reyes said.
In just over two years as principal, Reyes is making impacts in creative ways to help build up his school, teachers, and students.
The Food

The smell of homemade tostadas, chili, and carne asada wafts out the windows of Gadsden's Southwest Junior High on one Monday a month. Inside, teachers and administrators talk recipes, favorite dishes, and weekend plans. While the small talk may seem, well, small - it represents the strong culture and relationships between staff in the school.
Principal Luis Reyes doesn't take that culture for granted - he carefully crafted it with the help of his entire team, with local roots in mind.
"In Latino culture, we love to eat," Reyes said with a smile. "So we all kind of join together and have a time to talk and reflect and just build those relationships. That's one of the things that I'm very happy that we have accomplished."
Next on the mouthwatering agenda are birthday celebrations, shoutouts, and any collaboration or ideas to help improve the school. Everyone attends - teachers, office staff, cafeteria workers, and maintenance.
The Foundation of Success

Southwest Junior High is sure to keep its students' plates full of opportunities and challenges. One of the school's new programs is the CTE technical education club, a rarity among elementary schools in the U.S., Reyes said. Offering students different outlets and activities, especially during such an important developmental stage, helps engage students and allows them to explore interests they may never otherwise be exposed to.
One way Reyes ensures more possibilities are offered for students is by supporting his teachers in implementing clubs like the new CTE technical education club.
"I told our teacher leading the club, 'Just let me know what you need. You tell me, let's meet, let's talk, or just let me know how I can support you,'" Reyes explained. "I try to remove hurdles, because I think if it is good for the kids, then it's good for everybody. I'm a facilitator for our school."
Reyes and his staff keep a sharp eye on academic data, too, and how it affects students and informs instruction, he said. While it's important to celebrate the successes of students who are achieving at or above grade level, it's just as important to help every teacher to learn how to reach students who are struggling. Reyes facilitates collaboration between experienced teachers, including those with a leadership role such as mentor teachers, with other teachers. Working together, they provide extra support for lower-performing students, helping all kids succeed regardless of which classroom they are in. Mentor teachers offer instructional support and help create a positive culture of teamwork and collaboration, benefiting the entire school.
A core reason Reyes is so effective in guiding, motivating, and connecting with teachers is because he was one himself, which gives him insight into the challenges and experiences of the classroom.
"I remember one of our first-year teachers, she struggled, but I was really patient with her. I gave her guidance and that space where it was okay to make mistakes, to try something and fail," Reyes said. "But I could see her passion for education, and that she really wanted to be a good teacher and I did not let her give up on herself. So, just having that patience, that time to collaborate with her, I think that's one of the biggest highlights that I've had."
As a result, the school has built a domino effect of hope and investment: Reyes doesn't give up on teachers who are struggling who, in turn, don't give up on students.
"Some of our kids are coming in already having given up on themselves, already thinking that they're not good at math and some already learned a lot of the techniques to avoid math, from kindergarten through sixth grade, so when they get here, they continue to avoid it," Reyes said. "I think we're hoping to make a difference in our school by bringing our mentor teachers in the classroom and having them work with other teachers to actually help the kids improve and feel confident when they go to high school."
Reyes doesn't leave parents out, either - the school hired a parental liaison who hosts classes for parents to discuss the schools' strategies and programs to help students achieve their goals and provide chances to learn new skills.
The Future

While much growth happens academically during middle school, kids are at a peak transition socially, too, Reyes pointed out.
"Junior high is a very difficult time for kids, for staff, but very rewarding also," Reyes said. Students are navigating friendships, relationships with their parents and peers, social media, and other social aspects of early adolescence. One issue that Reyes found his students interested in speaking out about was bullying.
"One of my students came over with her friends and said, 'You know what Mr. Reyes? We're learning about anti-bullying and we understand what anti-bullying is, but I think we need to take it to the next step. How about we do a march?'"
And so, with the help of Principal Reyes and the rest of the school staff, the students led a peaceful, informative march to their district building and back to support the culture of kindness that Gadsden had created. The anti-bullying month march was so popular that the school is planning another one this year.
The action of planning the march and listening to student interests was just as important as the topic itself for Reyes, who viewed the event as an opportunity to show students their voice mattered, and that leaders can help kids feel heard.
"It was a wonderful experience. I'm very happy that I was able to empower my students and my staff to do this," Reyes said. "I want to bring everybody in and work with each other and be supportive for the betterment of our kids. My goal here is to facilitate a learning community that is well-rounded in all aspects."
It's likely that those who roam Reyes' Southwest Junior High halls walk away with a fond memory reflecting the pursuit of academic achievement in some way - a class full of parents, a moment of empowerment and engagement, a plate full of food, or, for students, a next step to success.
"Every year, every moment, we're making Southwest a better place."