Building Student Ownership of Math Is Tennessee's Map to Success
November 8, 2023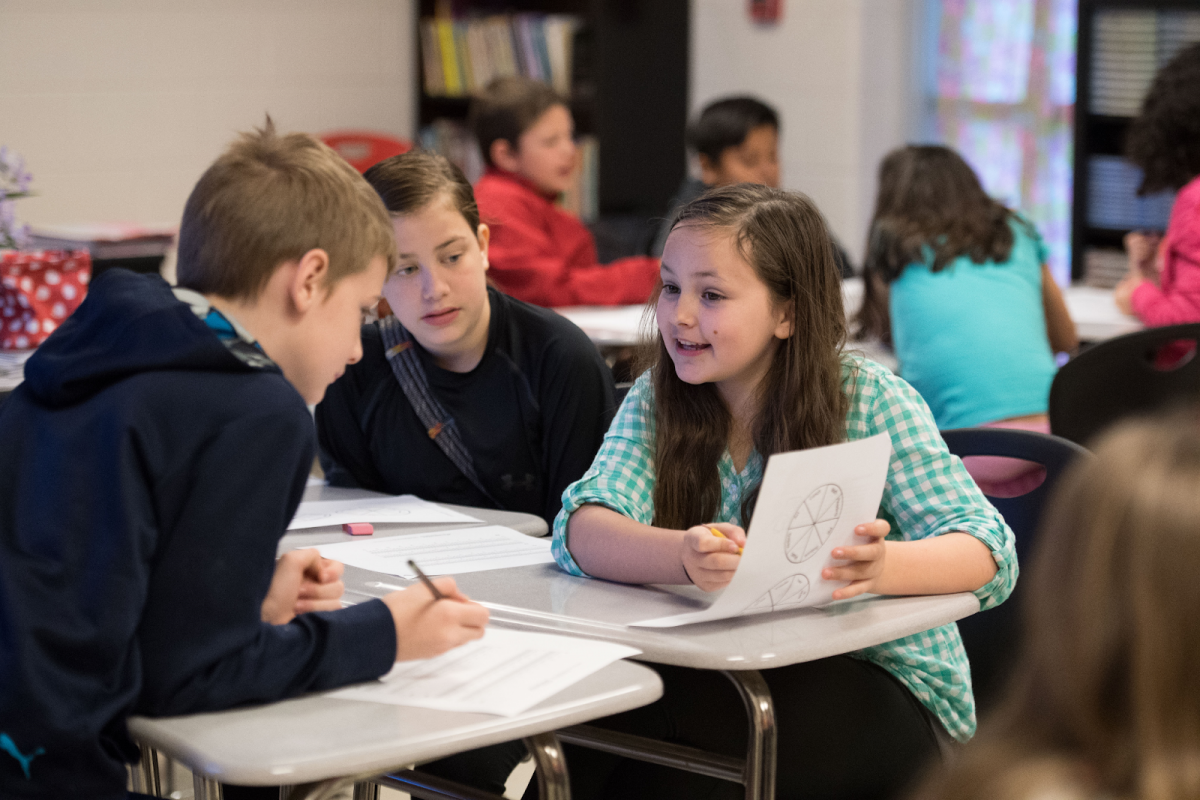 In Tennessee, state-level support for the use of high-quality curricula in math is helping to strengthen math instruction across classrooms. This support is critical as teachers work to adjust lessons so that students are doing the thinking and problem-solving, and the teacher is facilitating the learning.
When teachers act as facilitators, they open up avenues of critical thinking and problem-solving for students by asking deeper questions and encouraging self-drawn conclusions.
"The students are doing the thinking, the students are doing the talking. They're engaging with each other and creating viable arguments. They are modeling the math," NIET Senior Specialist Lydia Stevenson explained. "Sometimes they may be using manipulatives for hands-on learning when they're building conceptual understanding. In a math class where the teacher is effectively using a high-quality curriculum, it's a more student-focused classroom where you literally can see the students doing the thinking and the problem-solving."
High-quality curricula in math and other subjects are critical to academic development. Still, there's another hurdle to clear: how can we ensure that teachers are using their new resources effectively? Teachers who are new, or new to the subject, might not understand the content at the depth necessary to teach it effectively. Teachers may not know how to locate and use curricular resources or whom to ask for help.
Adopting a high-quality curriculum is only the first step of the staircase. Now, in Weakley County Schools and others across Tennessee, districts are working to teach teachers how to use the resources that will help improve instruction. That's where partners like NIET can help.
In 2023, NIET expanded support for districts implementing high-quality math instructional materials for pre-K–12 students with funding through the Tennessee Math Implementation Grant. Districts that participate in the two-year grant can choose a partner to provide school and district staff support in using the state's Instructional Practice Guides and Instructional Focus Documents. These documents describe aspects of learning such as conceptual understanding, procedural skill, and fluency, and connect learning outcomes to grade-level expectations. Partners help participants by building on the strengths and systems each school and district has in place. Currently, NIET is working with 29 districts across the state as a part of the Math Implementation Grant.
"(NIET) helped create a learning environment for us as coaches throughout the year that improved our coaching skills immensely," said Weakley County Schools District Math Coach Ed Baker. "We were supported as district coaches in developing relationships with teachers and providing immediate strengths-based feedback on their use of high-quality instructional materials with their students."
Beginning with learning walks helps leaders to understand what instruction with the new math curriculum looks like in classrooms, and how to identify potential improvements. By seeing the action inside classrooms while keeping state standards in mind, leaders can help teachers recognize and develop ways to use resources to support each student, including those who need additional support.
"We brainstormed and we asked, 'What does a high-quality math classroom look and sound like?'" Stevenson explained. "What did we just see in our classrooms? What is it that we want to see?"
For example, in a classroom using a high-quality math curriculum, teachers may see students asking questions, helping each other solve problems, and asking more open-ended questions. For students who were not previously challenged to engage in critical and conceptual thinking in math, the use of a high-quality curriculum is a catalyst for academic growth and a better understanding of mathematics as a whole.
As districts introduce new high-quality curriculum in math, six recommendations can help:
Focus on leaders first. When school and district leaders can invest time and energy in learning a new high-quality curriculum, they are better able to help teachers see how the materials align with standards and support individual student learning needs.
Create time for collaborative professional learning at the school level to provide teachers with the opportunity to plan, analyze data, set goals, and monitor progress using the new curriculum.
Help teachers strengthen instructional practices through the use of research-based teaching standards such as the Tennessee Educator Acceleration Model (TEAM). TEAM describes high-impact teaching practices that support using high-quality instructional materials and a learner-centered classroom.
Anchor coaching and feedback in the curriculum. Training district and school leaders to base their feedback on the curriculum a teacher is using every day creates a consistent chain of support for understanding what is working within the curriculum and what needs to be adjusted.
Recognize the stages of curriculum implementation and what teachers need to progress to higher stages. Professional learning, individual coaching, and weekly meetings can all help teachers hone their skills and reflect on areas of improvement as they build their knowledge and skills using the new curriculum.
Ensure that district leaders work closely with school leaders to plan for, communicate, and implement school-based professional learning that blends support for curriculum and instructional practice.
State-level funding and commitment to providing teachers with rigorous grade-level materials - and offering avenues for those teachers to learn and be coached on how to use them - are critical for the success of implementing high-quality curriculum. Tennessee's approach to elevating math in the classrooms is showing how state-level leadership and funding are providing the fuel to strengthen teaching and learning in math.
Learn more about how NIET supports high-quality curricula in other states in this featured video highlighting our partnership with Louisiana's Jefferson Parish School System
About NIET
For more than two decades, NIET has partnered with schools, districts, states, and universities to build educator excellence and give all students the opportunity for success. NIET's initiatives, including the TAP System, teacher and leader development, school improvement, rubric and observation systems, and educator preparation, have impacted more than 300,000 educators and 3 million students across the U.S.