Equity and the Road to Excellence: NIET and Partners Share Insights at Federal Summit
June 28, 2023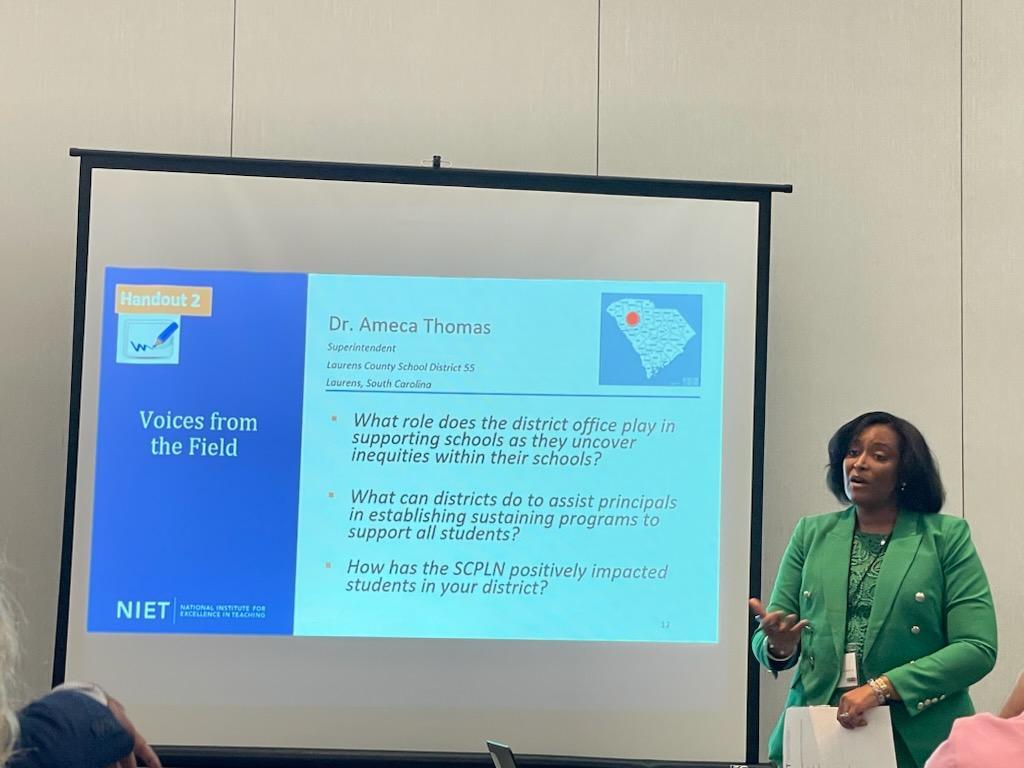 The U.S. Department of Education featured two National Institute for Excellence in Teaching (NIET) federal grant partnerships at an innovation summit June 8-9 in Alexandria, Virginia. The Effective Educator Development Summit, entitled "Raising the Bar: Transforming Education through Equity in Action", brought leaders from across the country to highlight successful reforms in K-12 districts.
Laurens County School District 55 Superintendent Dr. Ameca Thomas joined NIET leaders to present findings from the South Carolina Principal Leadership Network (SCPLN) which is building the skills of school leaders in high-need schools across the state. Superintendent Patrick Manning from Nenana City Public Schools and Sam Jordan, Grant Director for the Alaska Council of School Administrators joined NIET leaders to describe how a consortium of districts are working to recruit, develop and retain teachers in remote rural communities through the Increasing Performance and Retention in Alaska Rural Schools (IPRARS) project. NIET's role in both partnerships is to help districts to improve equitable access to effective classroom teaching by supporting and retaining teachers and school leaders in high-need, rural areas that struggle with teacher shortages.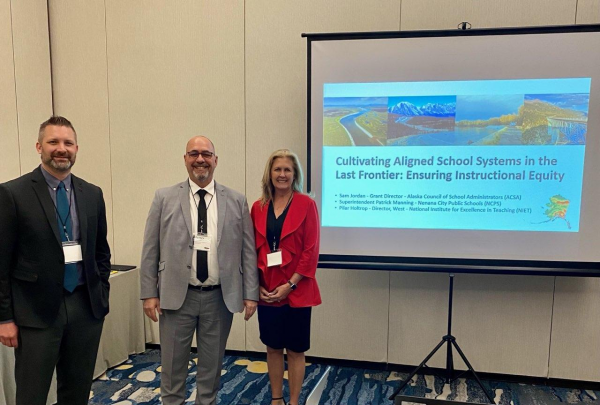 Increasing access to great classroom teaching in the last frontier
In a state where more than 80% of communities are not on a road system, Alaska school districts are carving their own path to provide students with equitable access to high-quality instruction. Nenana City Public Schools is one of four rural districts in IPRARS, a Teacher and School Leader Incentive Program (TSL) grant led by the Alaska Council of School Administrators in partnership with NIET.
Alaska schools face significant recruitment challenges, and many new teachers come from the lower 48 states. These teachers often leave Alaska after a couple of years, creating high teacher turnover. The IPRARS grant has provided the opportunity for Nenana City Public Schools to work alongside NIET and create an instructional leadership team, professional learning model, a comprehensive performance-based compensation system and career pathways that offer an incentive for teachers to stay.
Many of the states partnering with NIET are grappling with similar teacher shortage issues, including South Carolina, where NIET is working to develop a network of principals serving high-need communities, some in rural areas of the state.
Supporting the development of equity-minded school leaders
The South Carolina Principal Leadership Network, created through a federal Supporting Effective Educator Development (SEED) grant, is training and supporting more than 170 school leaders through a partnership with NIET, the University of South Carolina and the Branch Alliance for Educator Diversity. Five districts are supporting school leaders to create more equitable educational opportunities for students, while at the same time, building systems of support for school leaders that address historically high turnover rates in leadership positions.
Laurens County School District 55 Superintendent Dr. Ameca Thomas presented how schools in her district are using equity-based action plans to advance equity in the classroom. During the session, participants discussed key questions around how to identify and address equity issues, including:
What role does the district office play in supporting schools as they uncover inequities within their schools?

How can districts assist principals in establishing and sustaining programs to support all students?
NIET leaders and district partners were excited to share results from federally funded grant projects focusing on solutions for building educator effectiveness and promoting student success. Stay tuned for more conversations on equity, excellence and teacher support on NIET's blog.