Making Leadership Teams the Centerpiece of Your School
July 21, 2017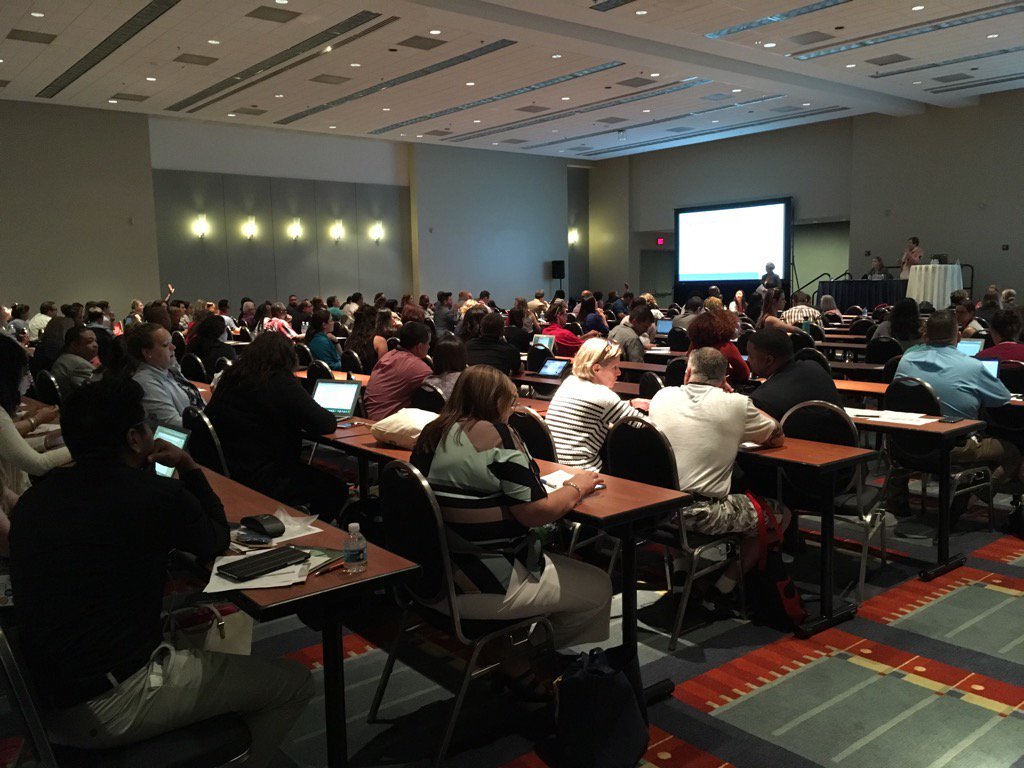 Highlights from NIET's participation at the 2017 National Charter School Conference
While distributed leadership teams and teacher leaders are not new concepts, they are rarely implemented in ways that measurably improve classroom practice and student learning growth.
At the 2017 National Charter School Conference (NCSC), NIET and leaders from Hmong College Prep Academy (HCPA) in St. Paul, Minnesota, presented a training to support charter school leaders in creating, structuring and running leadership teams to improve classroom instruction and student learning.
This session illustrated innovative design, implementation and data analysis practices and tools that enable school and teacher leaders to form instructional leadership teams that measurably increase teacher effectiveness and student learning growth. Hmong College Prep Academy uses the TAP System for Teacher and Student Advancement, or TAP, as the basis for building strong leadership teams that include teacher leaders.
To a high-energy, packed room of more than 150 participants—with others sitting on the floor—they described how effective leadership teams make strong instruction the centerpiece of schools. The subject sparked abundant discussions among the participants, and many stayed afterward to continue asking questions.
Jam-packed room at the 2017 National Charter School Conference
NIET President Dr. Patrice Pujol began the session by describing how leadership teams can strengthen the capacity of team members to support and coach classroom teachers, and to design weekly professional learning meetings that support increases in teacher and student proficiency. Pujol presented evidence of the strong teacher skill development and student achievement impact of these structures and practices across NIET partner school districts in more than ten states. She shared the unique role that teacher leaders play in partnership with school leaders, enabling them to play an active part in designing, delivering and improving professional learning in their schools. She also emphasized the critical role of the district in supporting principals to successfully develop distributed leadership teams and support teacher leaders to deliver school-based, job-embedded professional learning.
NIET President Patrice Pujol prepares for the NCSC session.

What are the components of strong leadership teams? What tools do they use to ensure that meetings are intentionally planned and targeted to key goals? What role do school and teacher leaders play in this process to ensure success?
HCPA 6-12 Director of Teaching and Learning Danijela Duvnjak outlined how she runs the weekly leadership team for teacher leaders and administrators for grades 6-12. This starts with developing a common understanding around key questions:
What do our students need?
What are teacher needs?
What is "good teaching"?
How will we operate together?
How will we ensure our work is united, effective, and meaningful, ultimately impacting student achievement?
Participants discussed current practices in their own districts around leadership teams and teacher leaders, and whether these practices are resulting in strong outcomes for both teachers and students. Pujol shared effective practices used in TAP schools that guide leadership team meetings. The five steps in this protocol align to the same practices in weekly professional learning or "cluster" meetings for teachers.
For HCPA's part, the TAP System has helped the school rise from the bottom 5% in Minnesota to "Celebration" status.
In Her Own Words …
TAP Leadership Teams "Unite Us"
Danijela Duvnjak, 6-12 Director of Teaching and Learning, HCPA
I had the opportunity to share how our school structured our leadership team to address student needs at the 2017 National Charter Conference. The TAP System has given our school the guidance and structure to organize our leadership team to effectively address the various student needs within our school.
Danijela Duvnjak (fourth from right) with her faculty at HCPA

Before TAP, we rated in the bottom 5% of schools in our state. Since TAP was implemented, we are in the top 25% in the state and received "Celebration School" status from the Minnesota Department of Education. TAP gives us the structure to triage and provide support in curriculum, instruction, assessment and student needs. Through collaboration with our TAP mentor and master teachers I have a pulse on what is happening in all aspects of our school. Our mentor and master teachers evaluate teachers, provide ongoing coaching, and facilitate weekly professional development. As a result of our leadership structure, I'm able to anticipate upcoming needs and allocate resources to meet these needs before they become a concern.
HCPA Executive Master Teacher Krista Skoglund described the four essential tasks of EVERY leadership team.
To develop and monitor progress toward meeting school plan goals leading to increased student achievement.
To plan for and monitor effective weekly cluster meetings that directly lead to increased teacher proficiency and student achievement in specific areas of need.
To plan and implement an evaluation and post-conference schedule while continually working to strengthen each team member's skill with evaluating and conferencing, and to use the data from the evaluations to monitor and provide actionable feedback.
To monitor individual growth plans for each teacher, how they are supported, and movement toward meeting both student achievement and teacher improvement goals.
Moving to a discussion of weekly professional learning communities, Pujol asked participants to describe their own professional learning structures, and how these activities are delivering results for teachers and their students. She presented details on how the TAP System provides schools with protocols for ensuring that every professional learning meeting is focused and intentional, and that results are followed up in classrooms and evaluated for impact.
Participants discussed the STEPS for Effective Learning as they apply in weekly professional development cluster meetings for teachers, led by teacher leaders. As outlined above, these steps ensure that teachers are supported in developing strategies targeted to their students' needs and to the specific content they plan to deliver in the coming week. This ensures that professional learning is directly relevant for individual teachers and their students, applied in an upcoming lesson that week, with immediate and detailed feedback. Student work then informs the next professional cluster meeting.
"Overall, TAP has given us the common language of the instructional rubric to identify what strong teaching and learning looks like," said Duvnjak. "Through protocols for data analysis and teacher evaluations, our leadership team has a common expectation for student learning outcomes that unites us and allows us to offer superior support to our teachers and students."