Superintendent Series: Making the Final Push Worth It
April 14, 2020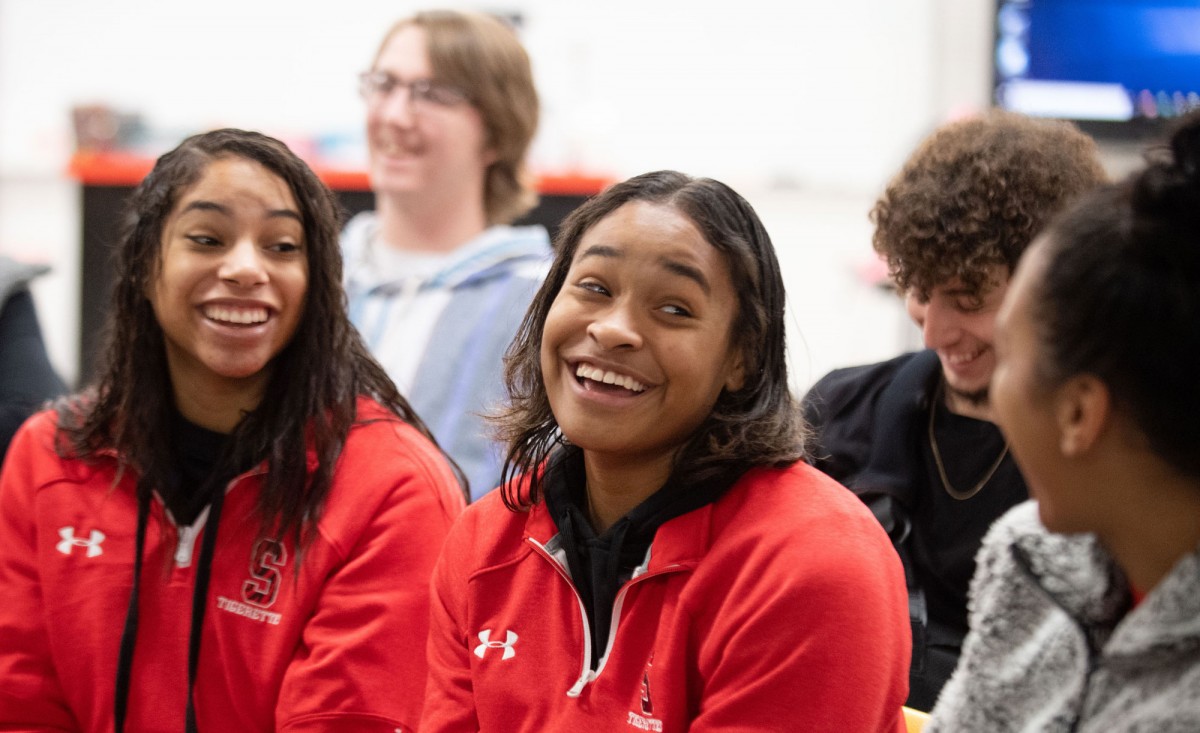 By: Executive-in-Residence and former Superintendent Julee Broscoff
As a superintendent, one of my favorite team shirts was the one that bragged, "Our sport is your sport's punishment!" To prove the point, our cross-country athletes would train in the worst conditions they could find – steep hills, narrow paths, crumbling asphalt, sand, dirt, concrete, and grueling weather – to mentally and physically prepare. Cross-country outcomes are based mostly on effort, focus, and a flexible plan of attack. At the end of each race, I was always amazed to hear our runners reflecting on their performance and planning for the next race.
We are reaching the end of the 2019-20 school year, and it's been similar to a grueling cross-country run on a brand-new course. Even if they are physically and mentally drained, superintendents continue to inform, connect, guide, and unite their communities through some of the most difficult educational terrain we have ever faced – with a finish line that keeps changing. Here are some ways I've seen superintendents set up for the final push and lead their school communities toward the end of the year, as well as some ideas for what that could look like.
Inform and Connect
Creating hope for the future equips you to lead in the present. That starts with strong communications and community engagement. Great superintendents are reflecting on promises that were made before COVID-19 and how they can still keep those, and they are building collective ownership for the solutions.
As you continue to share consistent updates and information with families and school communities, consider how you can make it a two-way street to hear back from students, parents, and educators with their updates, too. Maybe each Friday you send a Google form to families to hear how things are going and what has changed, or you connect with each principal to hear what his or her teachers need most. Host a Zoom call with educators and ask each to share their biggest success and biggest challenge. Ask students about their best ideas for end-of-year celebrations like pep rallies, graduation, school dances, and field day through a form on the website or teacher-led survey. And then make decisions about the best way forward and share that vision with your community. Help them see what the future could look like.
Commencements and graduation deserve a special note. Last month, NIET Executive-in-Residence Randy Speck shared about a senior video compilation project that one district was leading, and many others are doing something similar and have created mini-profiles for each graduate that they put on their website or Facebook page. Another asked the community to share their advice with graduates on social media through a hashtag. You could take traditions like decorating graduation hats to the next level by asking students to share those on social media and ask the community to vote for the best one – maybe with a scholarship prize supported by a local foundation. Ask students to come up with a dance or special handshake they would have used to accept their diploma and have them post it on TikTok. Consider partnering with a local bakery to send each student a treat on the day of your virtual ceremony, and now that graduations are virtual, options for commencement speakers are endless. Perhaps you could surprise your students with a special guest. Remember that students are not the only ones who are sad to miss this moment – teachers are, too. Be creative with how they can be involved with the stories, reflections, and celebration.
One final note on this: Connectivity requires tools. Many wireless providers accepted the FCC's Keep Americans Connected Pledge and are offering expanded, free mobile hotspots. That may be another way you can help your community stay in touch and support virtual learning to continue.
Guide Toward Next School Year
Superintendents must plan for multiple scenarios in the 2020-21 school year. If schools continue distance learning when the year begins, then what can be done now to build some expectations for what that will look like? If schools return to normal in August, but are forced to shut down again with a re-emergence of COVID-19, then how can we more quickly change course? Superintendents must guide the creation of distance learning procedures that clarify tools and resources their educators should use and centralize information and support for families. Online distance learning handbooks set the stage for remote learning that is consistent and transparent and will make future transitions to remote learning more efficient.
If you were able to accomplish remote learning this spring, survey your teachers about the experience and consider hosting a meeting with a few of them on Zoom or Google Hangouts to talk further about what was successful and what needs to change for next time. Do the same with students – and try to get students from all backgrounds, not just student council members or gifted learners. Use that feedback to guide adjustments over the summer. Potentially adjust what back-to-school professional development looks like to focus more on virtual teaching, even if you are able to meet in person.
School districts that have an outlined procedure to transition to and guide remote learning will be more successful in providing quality distance education to all students. That's beneficial even if COVID-19 does not return in the fall – virtual and online learning needs to continue to be part of the conversation for how we educate our kids, and we must identify and address equity gaps in access to technology regardless.
Unite Around Success
Reflecting on our core values, our vision, and our mission can reframe our current reality. Telling our community's story again refocuses collective thinking away from the trials at hand to the vision of the future.
In Slaton ISD, Texas, where I served as superintendent, we measured our success by how well we were dedicated to our core values of respect, responsiveness, and ownership. Respecting our community through ensuring safety, responding through service, developing ways for students and staff to exhibit ownership over remote learning – those are the signs of a successful 2019-20 year. Core values haven't changed because of COVID-19.
Members of the district team, staff, parents, and school board members need to be reminded of the mission. One superintendent asked his staff to share a picture of remote learning and caption it with parts of the mission statement. He shared these out with everyone – mission revisited without a single speech!
I asked Dr. Macy Satterwhite, deputy superintendent of Lubbock-Cooper ISD, how they will evaluate whether they had a strong finish this school year. She said that the district's goal is that when teachers look back on this year, they will do so with professional pride. They will know that students continued to learn through school closures. Parents will understand that they facilitated distance learning for their children with confidence using the tools the district provided them.
This measurement is different than an "A" rating from the state. Those state markers are important, but we should always ask ourselves bigger questions when we evaluate our year: Did we inform, connect, guide, and unite our communities? Are we keeping promises we made? Did we stay true to our mission, vision, and values? Those answers should dictate our success.
We are in the home stretch of 2019-20, even if it may not feel like that. The superintendency and cross-country both take mental toughness, vision, flexibility, passion, and commitment. Neither is a sprint but both deserve a final push at the finish line. That's especially true in a race like this one.