NIET and Partner Educators Visit Capitol Hill to Promote Teacher Leadership
July 10, 2018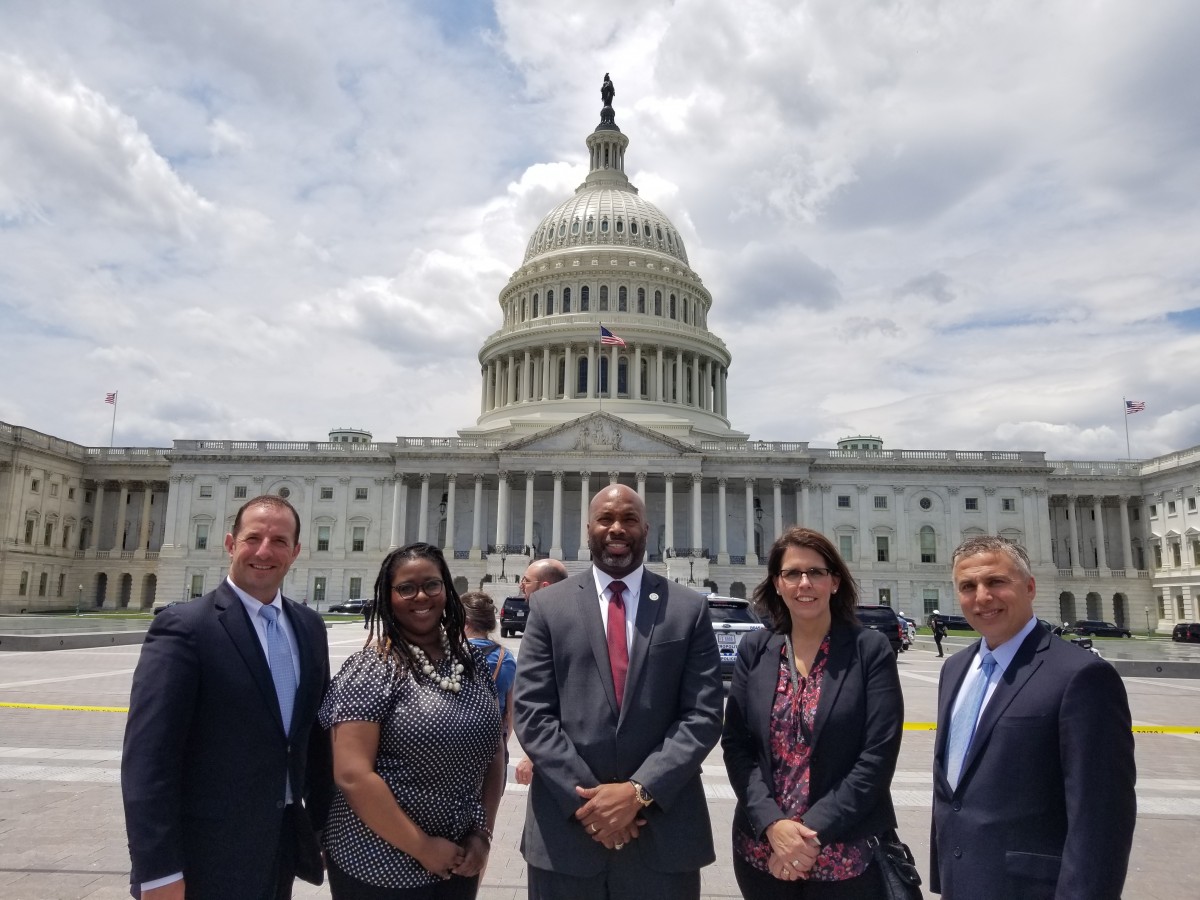 NIET and partner educators take to Capitol Hill. From left to right: Chris Coffelt, Angel Hardaway, Kevin George, Lori Line and Saul Hinojosa
Our focus on the importance of teacher leadership took NIET to the U.S. Senate in June for a congressional briefing. Five educators from across the country joined us, with two serving as panelists at the briefing and others presenting during two days of meetings with policymakers and their staff. The educators who participated included:
Angel Hardaway, Instructional Coach, Athens City Schools in Athens, Tennessee
Chris Coffelt, Superintendent, Central Decatur Community School District in Leon, Iowa
Saul Hinojosa, Superintendent, Somerset Independent School District in Somerset, Texas
Lori Line, Principal, West Goshen Elementary School, Goshen Community Schools in Goshen, Indiana
Kevin George, Superintendent, St. John the Baptist Parish Public School System in Reserve, Louisiana
U.S. Senator Chris Coons (D-DE) sponsored the congressional briefing and U.S. Senator Charles Grassley (R-IA) delivered opening remarks on "How Teacher Leadership Can Improve Instruction, Elevate the Profession and Raise Student Achievement."
At the centerpiece of the briefing, NIET Policy Officer Kristan Van Hook moderated a panel discussion that featured NIET partner educators Angel Hardaway and Chris Coffelt, as well as Teach Plus CEO and President Roberto Rodríguez and New Leaders Senior Policy Director Sarah Rosenberg to demonstrate the impact of national policy.
The importance of teacher leadership
Coons has been a strong advocate for teacher leadership in the U.S. Senate. He is the lead co-sponsor of the Teachers Are Leaders Act (S. 1413), which would create teacher leader development programs to design and implement innovative teacher leader roles in high-need schools.
Grassley, a co-sponsor of the bill, remarked on the importance of teacher leadership and described his experience seeing teacher leadership in action in Iowa schools. "Iowa is a national leader in teacher leadership programs, and I believe the state can be a model for others to follow," he said in a press release on the event. "Teacher leaders teach other teachers so that they can be their best."
U.S. Senator Charles Grassley and Chris Coffelt. Photo courtesy: Office of U.S. Senator Charles Grassley.
Following Grassley's remarks, Van Hook led an engaging hour-long discussion in front of an audience of congressional staffers on how teacher leadership can support teacher development and create a culture of collaboration in schools.
Coffelt discussed the broad impact teacher leadership has had in his district of Central Decatur, saying that it "demystified effective teaching and transformed our old ways of professional development into a high-quality clinical model that supported and sustained teacher learning."
For Hardaway, teacher leadership helps keep highly effective teachers in schools and prepares them for future leadership roles. "Without teacher leadership," she said, "I would be stagnant and looking for something more in my career. Now I am content working with teachers to help them grow, but I'm also ready for the next level."
Rosenberg echoed the benefits of developing teacher leaders at the school level, including for principals, who can build on their skills to move schools forward. "Teacher leadership supports principals through a distributed leadership model," she said, as well as serves as "a way to prepare aspiring principals for future leadership opportunities"—central to New Leaders' mission.
Taking a longer view, the panelists discussed how federal policies and resources can seed and sustain teacher leadership in states and districts. Rodríguez said the policy case for teacher leadership is strong because "one of the most important drivers for changing outcomes for our students is strengthening opportunities for teachers to learn, grow, and take on responsibilities to lead in their schools."
Adding to Rodríguez's point, Coffelt explained that a federal Teacher Incentive Fund grant allowed his district to invest in teacher leadership. The investment not only led to improved student achievement, but also the formation of teacher leadership model that provided a powerful on-the-ground example for the Iowa Teacher Leadership and Compensation (TLC) System.
Read more about Coffelt's work in this Education Week Leaders to Learn From profile.
Meeting with congressional members
In addition to the briefing, Dr. Saul Hinojosa, Lori Line and Kevin George met with their members of Congress to share their experiences with teacher leadership in their communities.
For Somerset Independent School District, Texas, employing a teacher leadership model has provided teaching staff with the support needed to deliver a rigorous and challenging curriculum. These improvements have led to gains in student academic achievement, particularly for students with the greatest learning gaps, including English language learners and economically disadvantaged students.
Hear more from Superintendent Hinojosa in this video.
Line and her staff received 2018's TAP Founder's Award for their exceptional efforts to advance educator effectiveness and increase student achievement. Through leadership and professional learning opportunities, complemented by systems of educator observation and real-time feedback to support teachers' growth, West Goshen Elementary went from a D on Indiana's state report card in 2011-12 to an A in 2015-16. The school has maintained the A grade for two consecutive years.
Read more about West Goshen Elementary and the teacher leadership practices that led to its TAP Founder's Award.
Before Superintendent Kevin George started his career in education, he worked at a juvenile detention center. The potential he saw in mentors to help students realize their dreams stayed with him and shaped his leadership today. St. John the Baptist Public School System increased its graduation rate to its highest level yet—80.7%—in 2016-17. The district outperforms others in Louisiana with high rates of economically disadvantaged students. George hopes to take these successes to the next level with the implementation of the TAP System for Teacher and Student Advancement, adopted in the 2017-18 school year.
Hear more from Superintendent George in this video.
Conclusion
The briefing and meetings offered an opportunity for members of Congress and their staff to hear from educators and organizations who have been successful in supporting student achievement growth in high-need schools and districts through an investment in teacher and school leadership. Overall, the briefing offered numerous insights on the importance of teacher leadership and exemplified the emerging national interest in teacher leadership. NIET and its partners look forward to further opportunities to highlight the direct experience of teachers, principals and district leaders on how to support effective teachers and improve student learning.