TAP Schools Empower Educators
September 12, 2017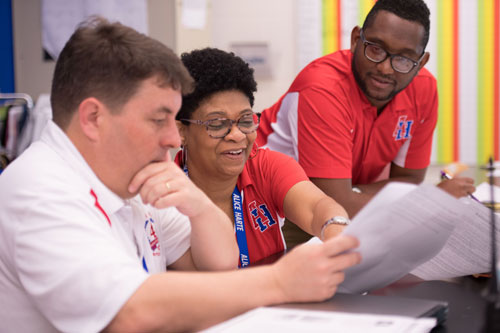 A response to the National Center on Education and the Economy (NCEE) report comparing high-performing school systems in the U.S. and abroad
Marc Tucker of the National Center on Education and the Economy (NCEE) notes in his blog that the organization of schools and high expectations for all students are the two key differences between high-performing school systems in other countries and U.S. schools, as described in the recent NCEE report Empowered Educators. Tucker notes: "It is surely true that there are schools organized as collegiums in the United States and schools in which teachers don't collaborate much in top-performing countries. But the exceptions prove the rule."
Educators from U.S. schools that are exceptions to the rule include those using the TAP System. For nearly two decades, educators have used TAP to organize their schools and districts around improving the instructional skills of every teacher, with opportunities for real leadership by teacher leaders working with administrators, and recognition for growth and success.
Educators at Alice M. Harte Charter School in New Orleans, Louisiana, collaborate on effective strategies.
They are raising student achievement and closing gaps in high-need schools across multiple states and districts. Their approach results in higher expectations and higher performance for educators and students. How? TAP schools improve student performance within schools and within districts in precisely the ways outlined by Tucker in his blog:
Teachers spend more time working in teams to systematically improve their lessons and their instruction.
Teachers observe each other teaching, and learn from their colleagues.
Teachers meet to discuss and analyze the needs of students and are supported by teacher leaders to implement and assess strategies to address student needs.
Teachers help one another improve their performance and seek help from others who are trained to provide consistent, high-quality feedback and support.
Because they see themselves as dependent for their own success on the knowledge and skills of their colleagues, they work hard to keep colleagues they respect and just as hard to edge poor performers out.
Career ladders reward competence at ever-higher levels, teachers have a strong incentive to get better and better at the work, and opportunities to take on leadership roles.
New teachers get very strong support and teachers who still struggle get a lot of help every day and every week from highly skilled, trained colleagues from whom they stand to learn a lot.
Good teachers get better. Better teachers become great.
The TAP System provides one of the most powerful examples of how the best practices identified in Empowered Educators are being implemented on the ground by American educators—resulting in high expectations and measurable increases in performance for students and educators. To see the best practices highlighted in the report implemented in U.S. schools, take a look at the work of these educators right here at home:
Empowered Educators report summary of findings