Teacher Leadership: Building Capacity to Meet the Diverse Academic Needs of Every Student
August 24, 2022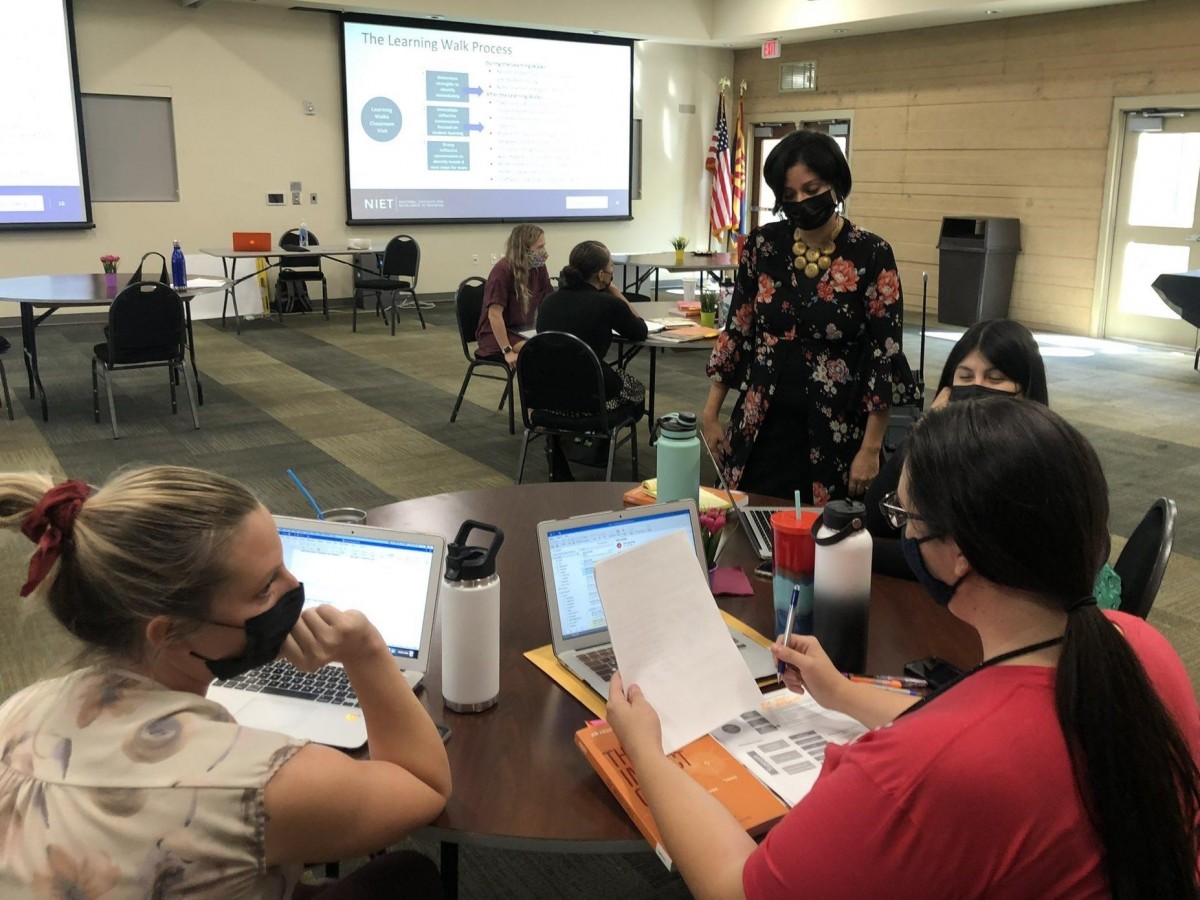 By Ruhi Khan, Senior Specialist on NIET's West Team
As a teacher, I had opportunities to step outside my classroom and improve my practice by working with colleagues and school administrators on committees, being part of a school team, or informally coaching and mentoring another teacher. Despite these opportunities, I was curious that many districts did not have a formalized teacher leader role for classroom teachers to make critical decisions about issues related to teaching and learning. That is why I am thrilled to be working to support the development of a structure that formalizes teacher leadership in the Roosevelt Elementary School District (RSD) in Phoenix, Arizona. RSD is creating powerful teacher leadership roles that form the basis for a more effective system for supporting and growing teacher practice, and benefiting students.
The Roosevelt Story
RSD serves a community of students and families that has grown more diverse over the last decade, and the student body is comprised of 97 percent ethnic minorities. This diversity offers great potential, along with new challenges. Based on data from the National Center for Education Statistics, during the 2018-2019 school year 87.8 percent of students were eligible for free-and-reduced lunch, 22.4% of students were English Language Learners, and 15.4 percent of the student population had an Individual Education Plan (IEP). Before the pandemic (2018-2019), students in Roosevelt scored on average 24 percent lower in math and 23 percent lower in English language arts than students across the state, and these gaps widened during the pandemic. To close these gaps, teachers need to support students to make more than a year of academic growth. Making more than a year of academic growth requires a higher level of teaching expertise in every classroom, and leaders in Roosevelt knew they needed a new approach to achieve this goal.
In the Spring of 2021, RSD partnered with NIET to strengthen their structures of support for classroom teachers. Across the district, Roosevelt had pockets of excellence in schools and classrooms, but needed a system of support that raised the effectiveness and consistency of teaching in every school. To meet this challenge, RSD decided to invest in teacher leaders, who help principals build a system of professional learning and coaching at the school-level. "I believe it begins with making intentional space at the table for teacher leaders," said Megan Gestson, Roosevelt's Executive Director of Leadership and Learning. "When teachers are honored and included, they naturally become more comfortable and confident in sharing their knowledge and talents."
For many teachers, a teacher leadership role enhances their instructional leadership capacity without having to become a principal or assistant principal, and allows them to remain in the classroom and have a direct impact on students. Dr. Dani Portillo, Roosevelt's Executive Director of Teaching and Learning, shared that, "Having a strong teacher leadership presence on a campus increases recruitment and retention of professionals who believe in their agency and the capacity of their peers to make a difference in student lives."
Identify great teachers and give them a formal leadership role
RSD worked to formalize teacher leadership roles through the establishment of a "learning cabinet" in each school. Creating a role for teacher leaders in the learning cabinet brings the classroom teacher voice and perspective into the decision-making process. The district established a rigorous, competitive selection process to identify teachers who can lead beyond the classroom, model best practices, know how to effectively work with adults, and are change agents in their schools. Teachers who serve on the learning cabinet receive compensation for these additional responsibilities. Teacher leaders in this role teach but take on an additional role outside the classroom with the goal of improving student learning. "Teacher leaders have direct experience `living' campus initiatives in the classroom," said Gestson. "They are able to provide some of the most valuable feedback on the effectiveness of initiatives." In addition to monthly meetings, learning cabinet members meet during the summer to plan initiatives and engage in collaborative learning.
Engage teacher leaders in instructional leadership team and shared decision making
As part of serving on the learning cabinet, teacher leaders in Roosevelt work with principals to lead collaborative professional learning. For example, before rolling out a student work analysis protocol to their peers, teacher leaders "go first" and analyze their own student work using this protocol to identify student learning needs and determine interventions to address these needs.
"There shouldn't be an expectation that teachers in the learning cabinet are absolute experts in everything," said Gestson. "Part of the design is the collective inquiry and action research that occurs. When time is protected for this work, all members of the cabinet learn and grow together, increasing the effectiveness of the team and the school." The initial work happens in the learning cabinet so that teacher leaders can best determine how to engage their peers in professional learning about student work analysis. By having teacher leaders engage in this work first, they can anticipate difficulties teachers may have and plan how to address these challenges.
Use teacher leaders to create an effective, coherent professional learning and coaching system
Learning cabinets provide opportunities for members to engage in professional, peer-to-peer learning while they work with the school instructional leadership team to elevate effective teacher practices and contribute to student success.
"One example that comes to mind is at J.R. Davis School," said Gestson. "After site leadership presented achievement and observational data to the learning cabinet, the team made some very intentional decisions to move ELA learning forward. This included all staff engaging in a full day of district adopted ELA curriculum training in order to use the program consistently, with fidelity. They also narrowed their focus to Student Growth Percentile (SGP) and learned how to use that data to predict outcomes and plan accordingly. The result was Davis having the highest scores in the district for ELA on this past spring's Arizona's Academic Standards Assessment (AASA)."
Another strategy Roosevelt is using to create coherence across major instructional improvement initiatives is a research-based instructional framework. The instructional framework describes effective classroom practice across a range of indicators, and equips teacher leaders with a common language that is used across the district and reinforces Roosevelt's "one voice, one message" philosophy. "We call our instructional framework the 'Roosevelt Way'. It was collaboratively created and vetted by various practitioners including campus administrators, instructional coaches, teachers and district leaders. This allows us to focus our efforts on improving instructional practices and student learning, and increase the capacity of all staff at both the campus and district office," said Portillo.
Sustaining teacher leadership roles
Strong teacher leadership has increasingly become part of conversations about how to use federal, state, and local funds to drive improvement. At the federal level, Title II Part A describes how funds may be used to compensate teachers for increased leadership roles and responsibilities. This leverages classroom teachers as leaders who participate in shared decision-making with school leaders, support their peers, and impact student success. NIET's paper titled Unleashing Teacher Leadership highlights many of the practices above as part of recommendations to policymakers and education system leaders to formalize instructional teacher leadership. More recently Congressman Ruben Gallego and Senator Ben Ray Luján introduced the Teachers Leading, Educating, Advancing, and Designing (LEAD) Act to help support schools and districts to create and sustain teacher leadership.
The work of a teacher leader is too often undefined, which limits the potential for positive impact. RSD has made a commitment to school improvement initiatives by establishing learning cabinets on each of their 20 campuses to provide teachers with opportunities to take on formal leadership roles where they can share the responsibility of making instructional decisions. By being a member of the learning cabinet, teachers are able to work collaboratively and use data to guide discussions about student learning and to better address the diverse academic needs of every student. Although the work at individual schools looks and sounds different, teacher leadership roles create opportunities to engage in leadership opportunities that support steady improvement in classroom instruction and student learning across the district.