Vote to Bring Educator Voices about Teacher Leadership to SXSW EDU
August 16, 2023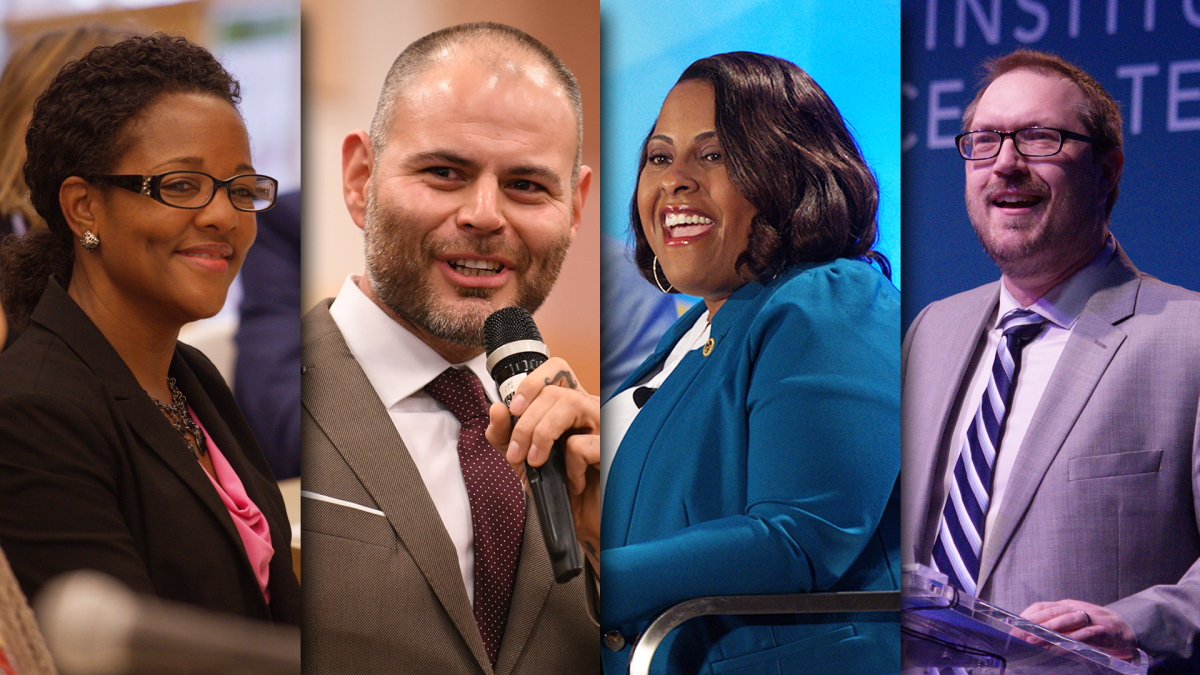 If you ask education leaders, they likely will not mince words: not enough talented young people are choosing teaching and turnover is high among teachers of all ages. At the end of the day, students are the ones who suffer. So what do we do? Some say reduce the requirements to become classroom certified or adjust the standards for certification. Our response, however, is that cutting corners rarely results in quality solutions and teacher retention is no exception. In a moment where we see so many educators leaving the field, what can we do to help them stay and thrive?
It is a question that we know is best answered by those who have lived, breathed, and elevated teaching firsthand - which is why the National Institute for Excellence in Teaching (NIET) is thrilled to have a chance to amplify three award-winning education leaders' voices during a solutions-oriented panel at SXSW EDU 2024.
In NIET's proposed panel, "Saving the Profession by Investing in Teacher Leadership," veteran educators will take the stage to share their experiences with teacher leadership and how they helped transform their districts once teachers–and school leaders–were supported by teacher leaders.
Vote by August 20th to Help This Session Get Picked
NIET submitted a proposal for SXSW EDU 2024, but we need your help to be selected to share our panel at the event.
It takes less than five minutes to sign up (don't worry, it's free!) and vote for our panel to help drive the dream of teacher leadership and school excellence. Here is how you can vote:
Visit

https://id.sxsw.com/sign_up

to create an account or log in.

Once you are signed in, vote for our proposed panel here:

Saving the Profession by Investing in Teacher Leadership

You can vote once per proposal – select "arrow up" in the upper right corner for yes.
The voting period is from Tuesday, Aug. 8 - Sunday, Aug. 20, so make sure to get your vote in as soon as possible and spread the word to hear our brilliant panelists this upcoming March!
Meet the Panelists
All three powerhouse educators on the panel bring their backgrounds, cultures, and areas of expertise in education, adding depth to the panel conversation hosted by National Institute for Excellence in Teaching CEO Dr. Joshua Barnett.
Star Hardimon, Director of Elementary Education, Perry Township Schools, Indiana
Hardimon works in a high-need school district that supports a large number of English Learner (EL) students, lending to her perspective in uplifting students of all different abilities and backgrounds. Hardimon started her journey in education as a third-grade teacher in Toledo, Ohio. She later served as principal of Douglas MacArthur Elementary in Perry Township Schools in Indianapolis, where she led the school to an "A" rating for several years.
Omar Duron, Associate Superintendent, Gadsden Elementary School District #32, Arizona
Duron pioneered as a master teacher in his school district and served as principal of Southwest Junior High School, where he focused on strengthening instruction and meeting the diverse needs of the school's high number of migrant and EL students. Duron's efforts were recognized in 2019 with the Milken Educator Award.
Devon Willis-Jones, Director of Service Operations, National Institute for Excellence in Teaching
Willis-Jones' mindset of "Success and Nothing Less" has followed her through a more than 15-year career. In 2016, Willis-Jones was recognized with the Milken Educator Award as a principal of a high-poverty elementary school in Louisiana, where she made groundbreaking progress in her school. She began her teaching career in special education.
This trio of insightful, experienced, and solution-driven leaders will offer valuable perspectives into how assuming teacher leadership roles helped elevate them as individuals and their schools throughout their careers. Their perspectives as educators of color are especially necessary as we focus on diversifying the teaching profession.
NIET works with states and districts to create high-impact teacher leadership roles that offer all teachers support in their work to strengthen classroom teaching and learning. We are thrilled to have this opportunity to spotlight the work we do to further excellence in classrooms and celebrate educators who are driving innovation and change including Hardimon, Duron, and Willis-Jones.