A Preview of NIET's 2021 National Conference
January 21, 2021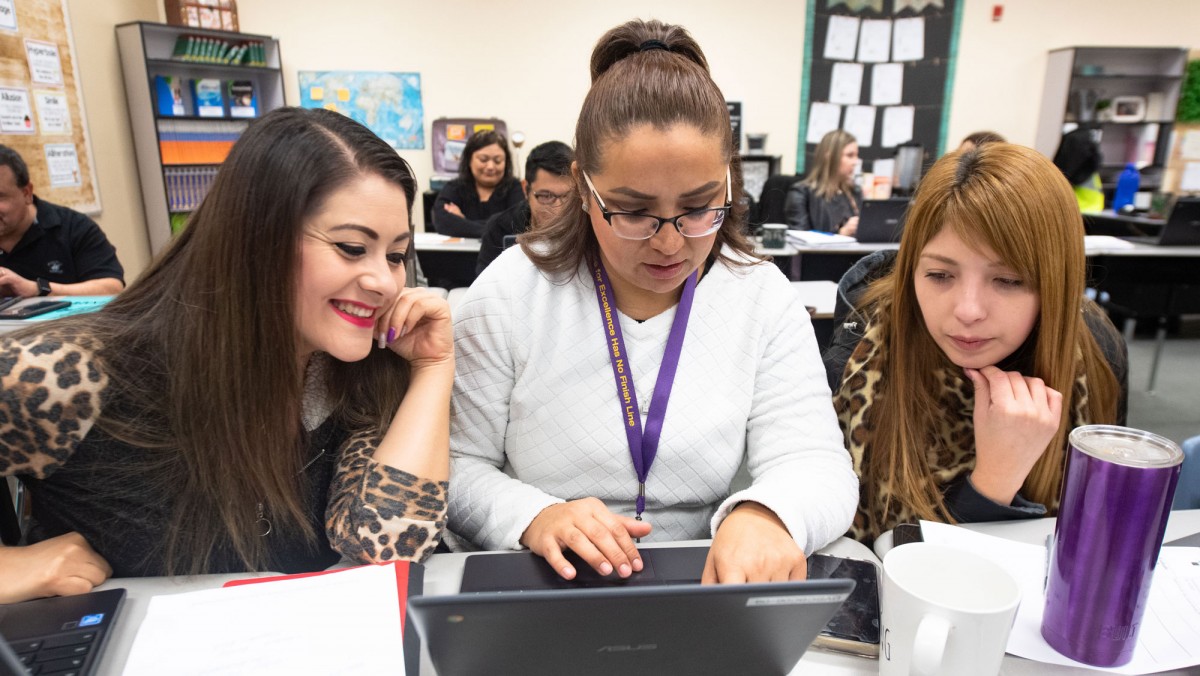 Direct coaching and interactive virtual sessions will take learning to the next level
Each year, the NIET National Conference brings together over 1,000 educators from across the country who share a mission to improve instruction and drive student achievement. While professional learning has looked different during the 2020-21 school year, NIET has been there every step of the way, training partners virtually and creating comprehensive services, tools, and resources to meet these needs. Now, NIET wants to help educators take a step back and plan for how they can go to that next level of practice – in every modality – to become more effective teachers and leaders.
NIET's 2021 National Conference, "Next Level Learning," on March 3-5 will support educators to do just that. NIET's National Conference offers hands-on, interactive training, and even though this year's conference is virtual, that expectation for engagement is no different. Educators will receive highly relevant coaching and interact with NIET specialists and peers to collaborate and learn through a variety of virtual sessions, and NIET will continue to model best practices for how to engage and interact in learning online. In every session, educators will be trained on tools and techniques they can use right away.
"This past year has allowed us to grow stronger and connect with each other in new, meaningful ways," said NIET CEO Dr. Candice McQueen. "NIET's national conference has stood out year after year because educators know they will receive tangible resources and strategies they can use immediately – and that will hold true for 2021. This year's conference cannot be more relevant as our partners continue to navigate the challenges of this school year and look to the next. We will help them dig deeper, reflect, and come away with concrete plans for the future."
NIET has been able to take our extensive experience with virtual professional learning and build a conference environment that will be engaging and productive for educators. Here is what you can expect.
Increasing Content Knowledge and Collaboration – Virtually
Interaction with NIET facilitators and fellow educators has been invaluable in unpacking larger concepts and applying them to school or district settings. NIET's experience with large virtual events that convene hundreds or thousands of educators – including the NIET Summer Institute, state trainings throughout Louisiana and South Carolina, regional sessions, and many more – has shown that the use of interactive technology can make these learnings just as powerful as in-person ones.
This year's conference cannot be more relevant as our partners continue to navigate the challenges of this school year and look to the next. We will help them dig deeper, reflect, and come away with concrete plans for the future.

NIET CEO Dr. Candice McQueen
To capitalize on educators' experience with what they know, the 2021 National Conference will be presented on the Pathable online platform, where educators will be able to engage with fellow participants and attend sessions via Zoom that model high-quality virtual training.
All sessions will be led by NIET's leaders and specialists who have extensive experience working alongside districts and schools and accommodating different learning modalities. These NIET facilitators will create a continuum of learning for participants, and educators will explore successful strategies and learn how to implement them in real-world scenarios. After progressing through their sessions, they will receive additional tools to further reflect and plan next steps in their own schools or districts, building on the many resources NIET has already shared.
In addition to working with NIET facilitators, there will be opportunities to interact with fellow participants during the session, after the session in Q&A, and one-on-one at other times through the platform. While the conference is virtual, we want to ensure participants still have as many opportunities to interact and form connections as possible, just like they would have in an in-person environment.
Personalizing Your Agenda
Targeting Needs
A key lesson learned from the virtual training NIET has led this year is the need for clear, focused learning that provides participants with specific takeaways. With that in mind, NIET designed six strands that reflect the needs we hear most from partners right now. Participants can choose to attend sessions for two of the strands live and watch recordings of all sessions later.
Strand 1: Maximizing Student Ownership of Learning – Whether In-Person or Virtual
Strand 2: Planning, Teaching, and Assessing with the Learner in Mind
Strand 3: Coaching as the Game-Changer
Strand 4: Connecting the Dots between Curriculum and Instruction
Strand 5: The Leader as the Lead Learner
Strand 6: Raising the Bar for Teacher Preparation
Several sessions will cover tools and strategies that have been especially effective this year, such as strengths-based coaching, learning walks, more strongly connecting curriculum and instruction, and helping recover lost or unfinished learning. Others will highlight NIET's new resources, such as an updated Environment domain of the NIET Teaching Standards Rubric, the Principal Standards Rubric, the Aspiring Teacher Rubric, and NIET PREP – an online portal tailored for higher education partners to help them support teacher candidates.
Simplifying Your Schedule
Second, NIET simplified the daily schedule to allow educators to take "breaks" from the virtual setting, and it recognizes that while many educators are focusing on their professional learning all day, the nature of being at home or at school means there may be other demands on their time. There are shorter general sessions each day, and each of the training sessions are 90 minutes, followed by Q&A. Activities will be spread over three days, as opposed to the normal two, to provide flexibility and reduce virtual fatigue.
This flexibility also creates the opportunity for school, district or university teams to meet as a group to talk about their learnings and how they can apply them to their setting. Providing time for teams to gather and process takeaways was a key piece of feedback NIET has heard from other virtual sessions, and the platform will make it easy for participants to set up a private meeting with their colleagues if they are not gathered in person.
Recordings for all sessions will be available for up to 90 days for full conference participants, allowing them to review content and watch sessions they may have missed later on their own schedule.
Learning About What Works Across the Country
NIET's national conference also always includes general sessions that spotlight stories of success and share ideas that other schools can consider to accelerate their progress. This year will be no different.
Opening sessions will feature reflections from NIET Chairman and Founder Lowell Milken, NIET CEO Dr. Candice McQueen, and NIET President and Chief Operating Officer Dr. Joshua Barnett, as well as some of NIET's partners. On Thursday, NIET will present the 2021 Founder's Award to a top-performing NIET partner school, and Friday morning will feature a Q&A with NIET's award-winning partners on what has been effective – both in 2020-21 and beyond. Educators will gain a deeper understanding of how to support and sustain their growth to strengthen teaching and learning.
While we wish we could gather in person, our hope is this conference will still be an engaging and fun way to be together, even if we are physically in different locations. We look forward to getting to hear from and "see" you in March as you share what you have learned and keep going further alongside our team.
To register for the NIET 2021 National Conference, visit NIET.org by January 31.