A Tribute to Former Ohio Congressman Ralph Regula and His Legacy in Education
July 31, 2017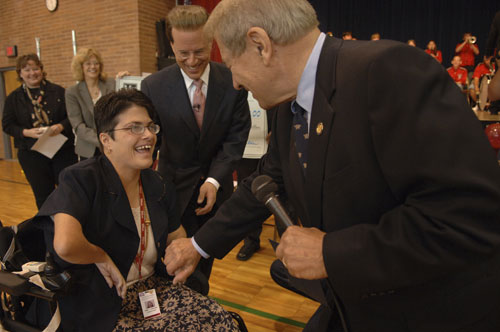 Former Congressman Ralph Regula of Ohio passed away on July 19, 2017, and we are taking a moment to recognize and celebrate the contributions he made to education in this country during his 36-year tenure. Regula, who served as chair of the Appropriations Subcommittee for Labor, Health and Human Services and Education, became interested in the work teachers and principals were engaged in using the TAP model in the early 2000s.
"TAP has demonstrated promising results in increasing student achievement," said Regula at the time, "and in creating a structure within schools that supports professional development based directly on the challenges teachers face every day in their classrooms."
Regula addressing educators at the 2005 Milken National Education Conference
Having been a teacher and principal himself, he understood the power of providing support for improvement, along with clear expectations and guidance around expectations. He also strongly supported the idea that educators should have the opportunity to take on leadership roles and to increase their compensation based on these new responsibilities and their effectiveness in the classroom. Chairman Regula invited educators to testify before his subcommittee on the impact of this work.
An important part of Regula's work was interacting with teachers. Here, he participates in a Milken Educator Award celebration of Canton teacher Julie Herman in 2006. Regula is also pictured with Lowell Milken.
He was instrumental in shaping a new initiative at the federal level called the Teacher Incentive Fund (TIF). Funding for TIF was included by President George W. Bush in his budget proposal, and approved by Congress in 2006. The bold idea behind TIF was to provide support for districts and states to improve educator effectiveness and create better ways of building the capacity of educators over time. TIF had broad bipartisan support, in large part through the efforts of Chairman Regula to reach out to both Republicans and Democrats in the House, and to work in partnership with the Senate.
Senate members actively involved in this effort included Lamar Alexander, now chairman of the Health, Education, Labor and Pensions Committee. As governor of Tennessee, Alexander led efforts to advance career ladders and other supports for teacher effectiveness, to illustrate how this common sense reform was leading to strong results in classrooms. Senator Alexander and his colleagues included the Teacher and School Leader Incentive Program in the Every Student Succeeds Act, authorizing the program for the first time.
Across the country, numerous states, districts, schools and classrooms have been impacted. Just a few examples illustrate the far reaching impact of Chairman Regula in helping to support improvements in teacher and school leader effectiveness through TIF, and thus improving student achievement. Here below are the voices of educators describing what this opportunity has meant for them and their students.
The power of TIF at G.W. Carver Primary School, Ascension Parish, Louisiana
The power of TIF at Southport Elementary School, Perry Township Schools, Indiana
We will always remember Chairman Regula's powerful words:
"I continue to believe that our most important advances in student achievement are based on the foundation of excellent teaching."
His legacy will live on in all the educators and students who benefit from his leadership each and every day.