South Carolina Educators Build Skills in Blended Learning
September 30, 2021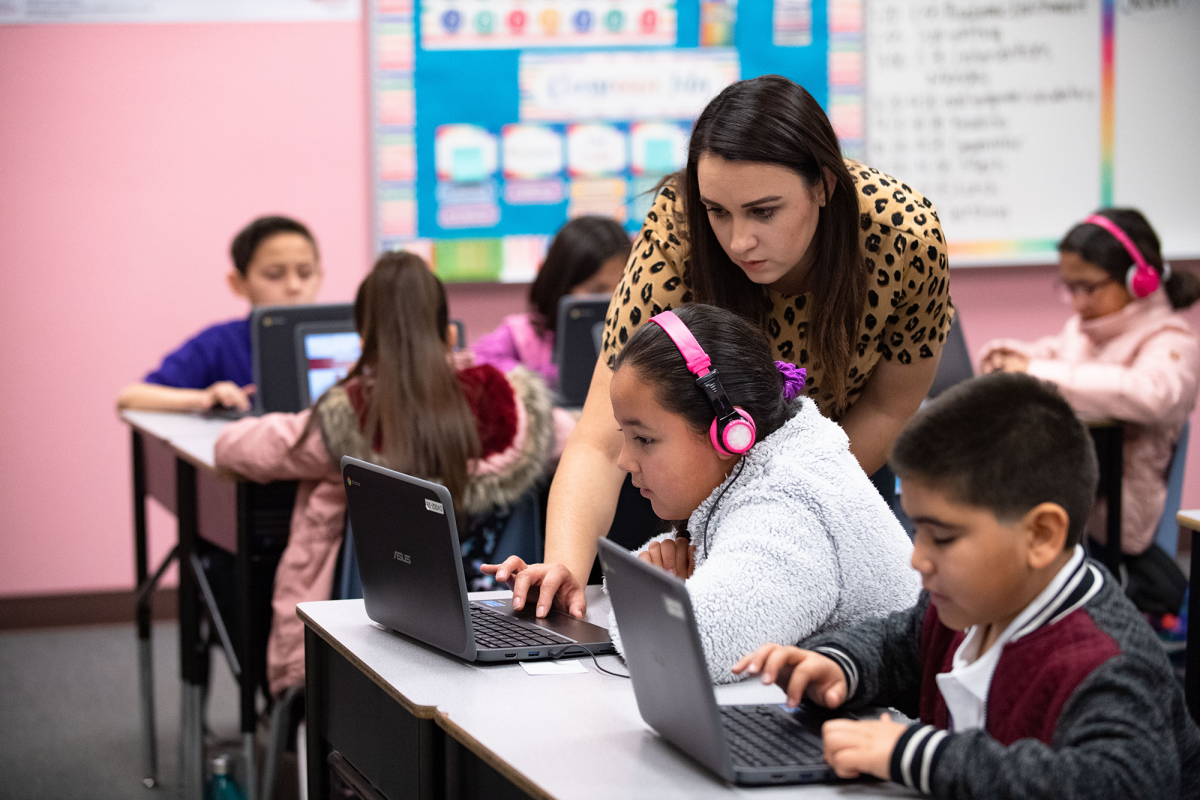 Training partnership with NIET provides key takeaways for how to support teachers with blended and hybrid instruction
This spring, as educators navigated teaching in multiple modalities, the South Carolina Department of Education responded by investing in free professional learning for all teachers in the state to learn strategies for blended and hybrid learning. Hundreds of educators participated and received access to live, 2-hour sessions led by NIET specialists that were focused on 1) planning and delivery and 2) assessment in environments that involve both virtual and in-person components.
NIET's partnership with SCDE was part of a year-long training cycle that aimed to equip South Carolina educators to navigate the demands presented by COVID-19. Now, as schools continue to wrestle with multiple modalities during this next phase of the pandemic, there are three key takeaways from participants' feedback that point to how to make professional learning and instructional support most effective right now:
Help Teachers with Planning and Assessment of Student Learning
When students are transitioning between virtual and in-person environments, sometimes with little notice, teachers need to prepare for a classroom set-up that could look different every day. This preparation can be more intense and more of an unknown. Additionally, it can be hard to determine how to best monitor and assess student learning fairly across multiple modalities. NIET's training for South Carolina educators included strategies for how to plan and assess student learning, not just for direct instruction, while continuing to center on student choice and driving critical thinking. This included guiding questions for teachers and leaders to consider, like:
How do teachers shift from asking all the questions to students asking their own questions?
How do we shift our instruction from student compliance to students self-directing their own learning (e.g., choice, goal setting, etc.)?
How do we shift from students only taking assessments to assessing themselves?
"A key takeaway was allowing the students to be accountable for their learning," one participant said. While blended learning can and should provide multiple ways for students to know and show their learning, teachers may need support in seeing how they can release responsibility for the learning to students and let them take ownership. This is a key way leaders and professional learning can step in.
Equip Teachers with Relevant, Practical Strategies that Empower Students with Choices
Similarly, participants also wanted ideas for how to empower students to take an active role in their learning and continue learning independently, which is helpful when managing concurrent learning modalities. NIET's training was designed to support students' critical thinking and increase student engagement and ownership, including through strategies that require students to actively participate and choose their path forward. For example, NIET shared strategies for providing choice boards or choice maps for students, which give students options for selecting different activities and tasks during a lesson. This can be particularly key if students are transitioning between modalities or if different students are learning in different settings.
The training included models and templates to use, as well as specific advice, including how to build in elements of effective teaching as part of creating choice for students:
Equal Content Weight: Do some tasks require less effort/work? Aim for the same brain work across all components. Think "equal thinking" not just "equal doing."
Intentional Choices: Provide different engaging opportunities for students to show and know. Spend time having students think strategically about their choices before jumping into a specific task. They should provide the "why" to justify the path they pick.
Accountability: How and when will success be measured? What are the success criteria for the task?
Many participants shared how these strategies were "actually something we can achieve in classroom" and helped them to consider how to advance students' learning in new ways. Others planned to group students and rotate them through regular choice stations to provide access to multiple ways of learning.
Build Teachers' Confidence with New Learning and Let Them Know They Are Not Alone
A key aspect of the statewide training was giving teachers across the state a chance to learn from and relate to others who faced similar circumstances every day. Examining new techniques together helped participants make connections to their everyday practice and understand how deeper-level learning can be achieved in any modality. "I loved the opportunity to get into breakout rooms with others and have discussions about what works regarding instruction and get feedback on my ideas," one participant said.
While hybrid learning may not be as new, each day presents different scenarios that educators need support with – and often, their leaders may also need support in how to coach them. Creating environments where educators can learn with each other not only increases their access to effective ideas, but it helps them see they are all in the same place.
For more ideas and resources to support teachers this year, visit NIET.org. NIET houses suites of resources that cover planning and guidance for 2021-22, learning acceleration, content look-fors, virtual and hybrid instruction tools, and more. Visit the NIET website and follow @NIETteach on social media for new resources throughout the year.