Tying Teacher Collaboration to the Classroom in Knox County, Tennessee
February 26, 2019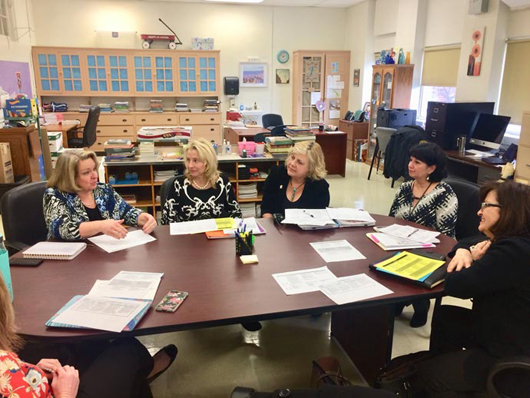 In fall 2018, NIET began working with principals and instructional leaders in six high-need schools in Knox County, Tennessee: Austin East High School, Vine Magnet Middle School, Lonsdale Elementary, Green Magnet Academy, Belle Morris Elementary, and Sarah Moore Greene Magnet Elementary. Each school needed to see rapid improvement that built on its ongoing investments in professional learning. NIET staff partnered with each school to help leaders diagnose barriers teachers faced to delivering effective instruction and has used coaching conversations and schoolwide instructional strategies to create a strong school culture around a common language and goals.
NIET began by understanding each school's unique needs, then worked alongside the school's instructional leaders to enhance their instructional improvement initiatives through hands-on, job-embedded coaching. "I feel that NIET brings a personal touch with wisdom and experience," says Principal Terry Lynn Hursey of Belle Morris Elementary. "Their partnership came with an open door. NIET asked me what I needed in terms of what I am looking for in my next step as a leader, how I want to grow my leadership team, and how we can move our student body to higher proficiency."
Once educators' needs were understood, NIET staff began taking the school's instructional leaders on learning walks on how to analyze the quality and depth of the instruction. NIET grounds learning walks and follow-up in reflective questions that guide the principal's focus towards student engagement and academic growth to determine instructional impact. For example, principals are asked questions such as:
Was the teacher or the students doing more of the thinking and problem-solving in the classroom?
How did students respond to the teacher's instructional strategies?
What kind of student work was produced during the lesson?
Did the lesson align to the rigor and depth of the lesson's objective?
"These learning walks helped us question whether or not the depth and rigor of the student work could be improved and deepened," says Amy Brace, principal of Sarah Moore Greene Magnet Academy. "This may be the disconnect between solid instruction and low test scores, so it's an area we are focusing on."
The strong support and reinforcement that NIET has provided to the school leaders has already begun to have an impact on the instructional skills of teachers. As principals and coaches continue to focus coaching conversations on student work, they have implicitly modeled a common language around instruction that teachers have adopted. In only a few months of work in Knox County, gaining this common language and knowing that everyone is working to improve have opened the doors to new teacher collaboration. Teachers have started meeting to deconstruct standards, discuss ways to give more thinking and problem-solving time to students, and create standards-aligned success criteria for student work.
"I have always held the belief that all students can do math, and what's more, all students can be good at math," says Amber Brubaker, a fifth-grade math teacher at Sarah Moore Greene Magnet Academy. "Developing mastery criteria for each standard has forced that expectation to no longer simply be teacher-driven, but student-driven. Each level of mastery is developed with the push to engage all learners to the next level of mathematical understanding."
NIET is proud to partner with Knox County and is excited to see what growth their students make this year!