17th National TAP Conference to Advance Educator Effectiveness
March 15, 2017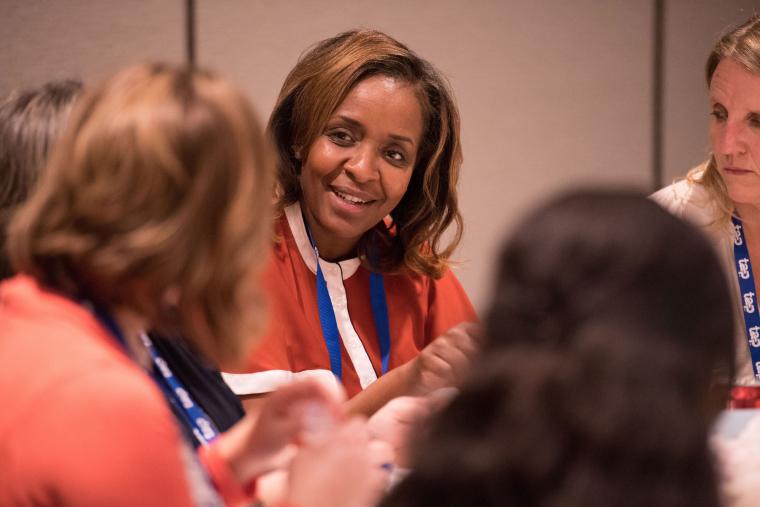 More than 1,000 educators, policymakers, researchers and other influential leaders will gather March 24-25 in New Orleans to strengthen systems of teacher leadership, development, educator evaluation and compensation
WHAT:
In the new education era, states and districts have significant flexibility under the Every Student Succeeds Act (ESSA) to train, develop and support educators. How can they join teachers and school leaders to leverage resources and create systems for teachers and students to thrive?
The 17th National TAP Conference, hosted at the Hilton New Orleans Riverside, will bring together educators, policymakers, researchers and other influential leaders who are doing just that by implementing TAP: The System for Teacher and Student Advancement and other educator effectiveness best practices in schools, districts, universities and states across the country.
Managed and supported by the National Institute for Excellence in Teaching (NIET), the TAP System aligns proven principles that strengthen instruction and student achievement, including teacher leadership; daily job-embedded professional development; educator evaluation, feedback and support; and opportunities for performance-based compensation.
Due to TAP's aligned structure, TAP System schools are thriving at faster rates than comparable non-TAP schools. And 88% of continuing TAP System schools are achieving one year, or more than a year, of academic growth as compared to 77% in similar non-TAP schools.
"The achievement growth we have seen in TAP reflects the extraordinary work of educators committed to driving significant improvements in teacher recruitment, development, practice and retention," said NIET Chairman and TAP Founder Lowell Milken. "The TAP conference elevates the voices of successful educators and provides an important forum to maximize their impact on student learning."
From serving as experts to federal, state and local policymakers to opening their doors to schools and community leaders, TAP conference attendees represent living examples of the progress that can be made when teachers are placed at the center of education reform.
"The 1,000 participants—from K-12 to higher education—will have a powerful opportunity to share their expertise preparing teachers for the challenges of the classroom," added NIET CEO Dr. Gary Stark. "We are pleased to partner with them and look forward to supporting their work to advance educator effectiveness and student achievement."
Louisiana Specifics:
In Louisiana, site of the 2017 TAP conference, TAP has had a significant positive effect on K-8 Assessment Index scores compared to the state average, and significantly greater Assessment Index scores when compared to a group of matched control schools.
Currently approximately 300 Louisiana schools across numerous districts are implementing TAP and other NIET educator effectiveness best practices. The new Louisiana BOLD project, funded by a $49 million federal Teacher Incentive Fund grant, will be based on TAP principles. It will serve 89 schools across six parishes and six New Orleans charter schools.
Louisiana Superintendent of Education John White will be featured on a panel moderated by Lowell Milken to discuss these efforts and more to improve instructional excellence in the ESSA era. He will join Tennessee Education Commissioner Dr. Candice McQueen and former U.S. Education Secretary John King Jr., who now serves as president of The Education Trust. The panel will take place at 9:30 a.m. on Friday, March 24. Other Louisiana leaders and educators will be featured on panels throughout the conference.
The state is home to two of six finalists for the TAP Founder's Award, NIET's highest honor for exemplary implementation of the TAP System. The grand prize is $50,000. School leaders from Alice M. Harte Charter School in New Orleans and G.W. Carver Primary School in Ascension Public Schools will be presented with a plaque and $10,000 each at a luncheon on Friday, March 24, at 11:30 a.m. The winner will be announced at a luncheon at noon on Saturday, March 25. Learn more about the finalists.

WHEN
Friday, March 24 – Saturday, March 25, 2017


WHERE:
Hilton New Orleans Riverside, 2 Poydras Street, New Orleans, LA 70130


AGENDA:
Confirm final rooms of each event upon arrival to the conference.

Highlights:
Friday, March 24:
States as Catalysts for Change: Striving for Excellence in the ESSA Era, moderated by Lowell Milken, 9:30 a.m.
TAP Founder's Award Finalists Luncheon, 11:30 a.m.
State of Educator Evaluation: Capitalizing on Evaluation Policies and Practices, moderated by NIET President Patrice Pujol, 1:15 p.m.
Teacher Leadership: Unleashing the Power of Teacher Leaders, moderated by NIET Chief Communications Officer Kristan Van Hook, 3:00 p.m.
Saturday, March 25:
Sustaining Educator Effectiveness Best Practices, moderated by NIET President Patrice Pujol, 8:30 a.m.
Deepening the TAP Toolkit: Fully Embedding the TAP System in Practice and Preparation, moderated by NIET Chief Learning Officer Josh Barnett, 10:15 a.m.
TAP Founder's Award Luncheon (winner to be announced), noon
An Examination of Principal Evaluation Practices, moderated by Josh Barnett, 1:45 p.m.
Research – Outcomes and Impact of TAP System, moderated by Josh Barnett and NIET Senior Research Associate Tanee Hudgens, 3:30 p.m.
Hear from leaders including:
Lowell Milken, NIET Chairman and TAP Founder
Gary Stark, NIET CEO
Patrice Pujol, NIET President & former Ascension Public Schools Superintendent (LA)
John King Jr., The Education Trust President and former U.S. Secretary of Education
Venitia Richardson, Director of Teacher Quality Programs, U.S. Department of Education
Candice McQueen, Tennessee Commissioner of Education
John White, Louisiana Superintendent of Education
Scott Ridley, Dean of College of Education, Texas Tech University
Holly Boffy, Vice President and District 7 Member, Louisiana BESE
Rebecca Kockler, Louisiana Assistant Superintendent of Academics
Rene Diamond, Tennessee Executive Director of Educator Effectiveness
Lilla Toal-Mandsager, Executive Associate, South Carolina Office of Educator Effectiveness
Fernando Valle, Assistant Professor of Educational Leadership, Texas Tech University
Julee Becker, Superintendent, Slaton Independent School District (TX)
Cade Brumley, Superintendent, DeSoto Parish Schools (LA)
Chris Coffelt, Superintendent, Central Decatur Community School District (IA)
Saul Hinojosa, Superintendent, Somerset Independent School District (TX)
Diane Woodworth, Superintendent, Goshen Community Schools (IN)
Vickie Carpenter, Assistant Superintendent, Perry Township Schools (IN)
Larry Polk, Assistant Superintendent, Terrell Independent School System (TX)
Theresa Hamilton, Chief Academic Officer, Tangipahoa Parish School System (LA)
Alan Metcalfe, Assistant Superintendent for Elementary Education, Goshen Community Schools (IN)
Shannon Luis, Executive Director of Secondary Curriculum, Somerset Independent School District (TX)
Plus, dozens of practitioner- and trainer-led sessions will discuss the TAP System's day-to-day operations in schools. Topics will range from developing "master" and "mentor" teachers and implementing teacher evaluation systems, to learning about NIET's new EE PASS online portal, which provides educators with real-time training and data to improve classroom practice.
Learn more about the need for the TAP System.

JOIN THE CONVERSATION:
News: http://www.niet.org/tap-system/tap-conferences-trainings/2017-tap-conference
Twitter: @NIETteach and @tapsystem
Hashtag: #tapcon17
YouTube: @NIETteach
Web: www.niet.org


RSVP:
Jana Rausch, Director, Media and Public Affairs
(310) 570-4774 office
(310) 435-9259 cell
jrausch@niet.org