Chinle Elementary School Named 2020 NIET Founder's Award Finalist, Receives $10,000
March 3, 2020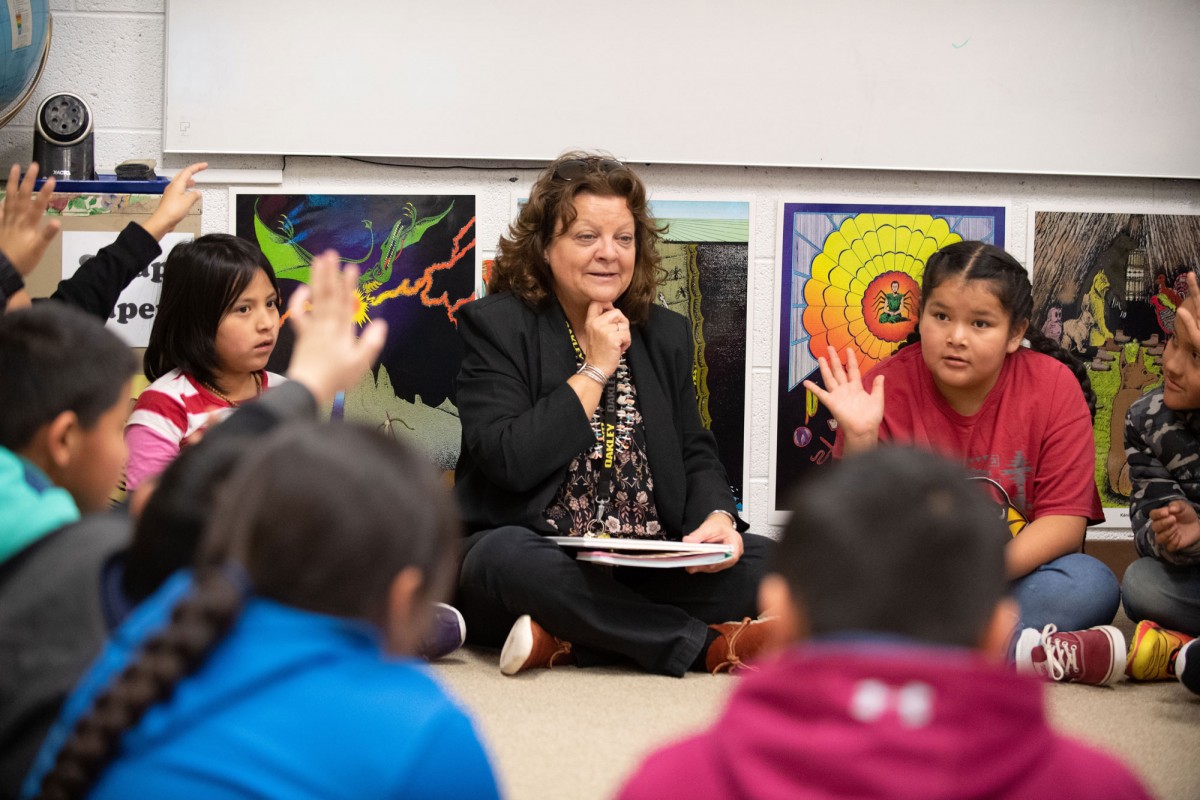 Arizona reservation school among five nationwide in running for prestigious honor and $50,000 grand prize
The National Institute for Excellence in Teaching (NIET) announced today that Chinle Elementary School in Chinle, Arizona, has been awarded $10,000 as a finalist for the NIET Founder's Award. The school is among five across the country under consideration for the $50,000 grand prize, which will be announced later in 2020.
"I applaud Chinle Elementary for its commitment to student-centered and data-driven instruction," NIET Chairman and Founder Lowell Milken said. "Chinle's spirit of continuous improvement and belief in teachers' and students' potential are directly leading to academic success and generating positive momentum the community can build on for years to come."
NIET has a 20-year history of working alongside more than 8,500 schools, districts, states, and universities to ensure that all students have effective educators. NIET's partner schools have shown success by both outperforming similar schools and having greater teacher retention. The Founder's Award was created by NIET Chairman and Founder Lowell Milken to honor one school annually for exceptional implementation of NIET's principles to build educator excellence and advance student success.
"This finalist award is well-deserved as Chinle continues to show what students and teachers can do when they have the right support and leadership," said NIET CEO Dr. Candice McQueen. "Chinle's educators have proven how high-quality education can change the course of students' lives, and it has been an honor to witness what Chinle Elementary has accomplished so far for their students and their community."
Founder's Award recipients are selected by NIET based on their efforts to make instructional excellence the cornerstone of school improvement; plan for regular professional learning focused on daily needs of teachers and students; create a culture of collaboration and reflection; and leverage teacher leaders and administrators to drive student growth. Through partnering with NIET, Chinle Elementary has created a culture of support and excellence to attract, retain, and develop effective teachers in every classroom. Teachers and leaders at Chinle have also utilized performance data to regularly reflect on their practices, striving to grow as educators to make the greatest impact on their students.
What Sets Chinle Apart
Chinle Unified School District, located on a reservation in northeastern Arizona, serves 3,500 students across seven schools. Nearly every student is Native American, and most are members of the Navajo Nation. Chinle Elementary is at the heart of the reservation. Each month, NIET's specialists visit Chinle Elementary's campus to work with leaders and coaches to discuss and refine practices, and these conversations have helped to raise expectations for both teachers and students. Student performance data shows this regular support has had significant positive outcomes.
"Student success is our ultimate motivator at Chinle Elementary School," said Principal Janie Christie. "The positive trajectory of student data is a constant reminder that we are on the right track and are capable of achieving greatness."
Since the introduction of Arizona's new statewide assessment in 2015, Chinle Elementary students in grades 3-6 have increased their passing rate for English language arts by 31 percentage points and in math by 24 percentage points. In 2011, when NIET first brought training to the district, Chinle Elementary was identified as a Focus School by the state of Arizona with a letter grade of "D." By adapting the TAP System and NIET Teaching Standards Rubric, Chinle Elementary is now a "B" and just shy of earning an "A." Across the district, students' growth has propelled Chinle USD from one of the lowest-performing reservation districts to the highest-performing reservation district in the state.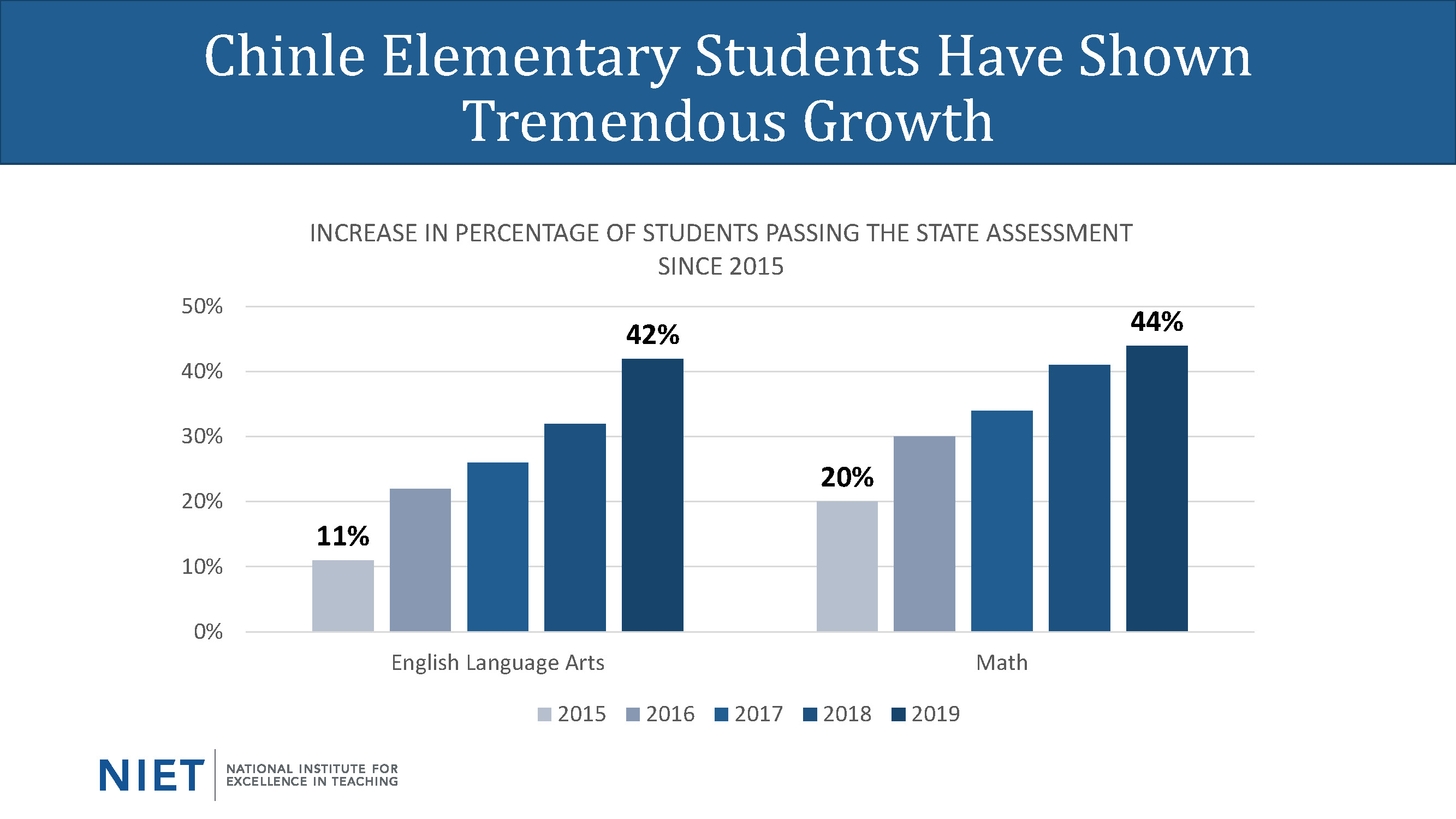 Teachers have had the opportunity to experience similar growth as professionals. "I belong to a district who saw great potential in its people and invested a lot of training and support in us," said Academic Coach Melissa Martin. "Over the years, I have been able to embrace and benefit from the multiple career paths laid out by the NIET process. Chinle USD leaders saw my potential and have invested in me through the NIET framework. I have been able to grow as a teacher and as a leader to have a greater impact on our students, our school, our district, our community, and our great Navajo Nation."
Chinle Elementary School joins fellow NIET Founder's Award finalists Desert View Elementary School (Gadsden Elementary School District #32, Arizona); Duplessis Primary School (Ascension Public Schools, Louisiana); Slaton High School (Slaton Independent School District, Texas); and Slaughter Elementary School (East Feliciana Public Schools, Louisiana).
For graphs and images of Chinle Elementary, visit the NIET newsroom. For interviews, please contact Jana Rausch at jrausch@niet.org or (310) 435-9259. For more information, visit www.niet.org. Follow conference news – including the Founder's Award – on Facebook and Twitter @NIETteach or via #NIET2020.