Desert View Elementary in Yuma County Earns $10,000 as NIET Founder's Award Finalist
March 3, 2020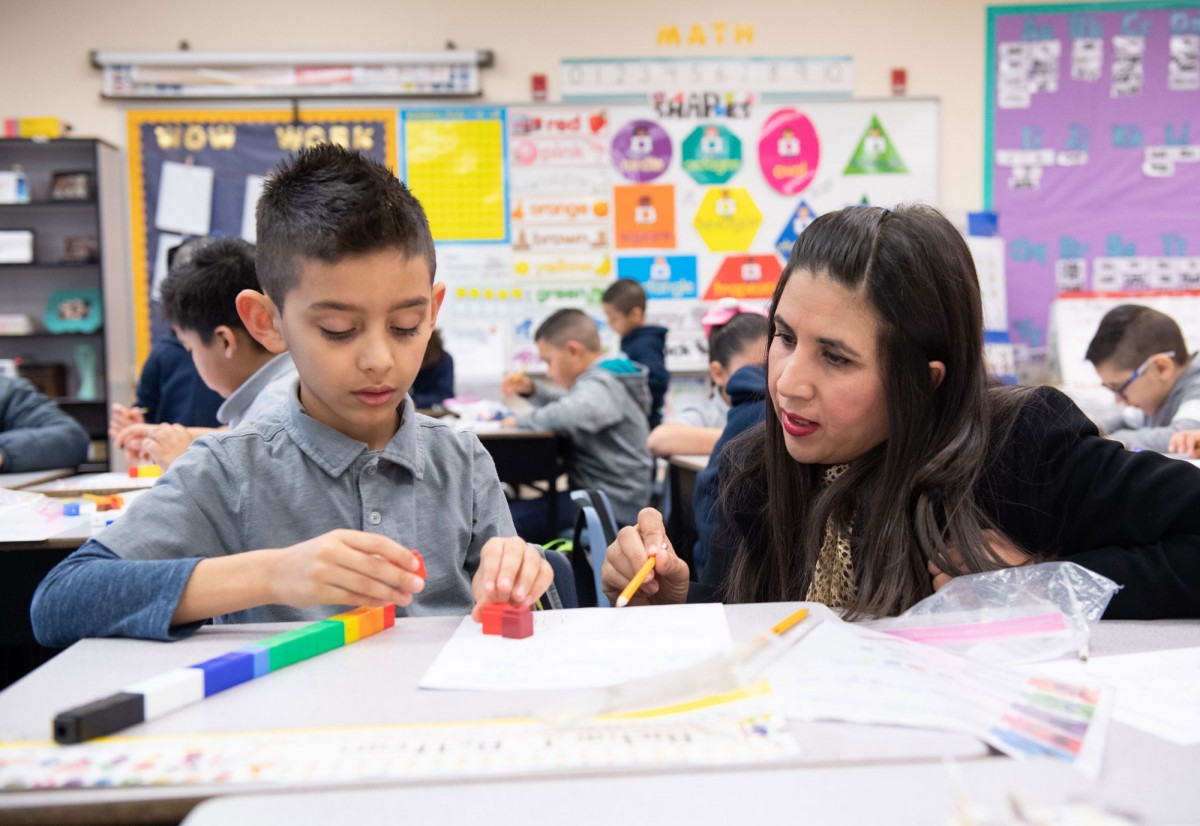 Five schools across the U.S. are in consideration for prestigious designation and $50,000 grand prize
The National Institute for Excellence in Teaching (NIET) announced today that Desert View Elementary School in Gadsden Elementary School District #32, Arizona, has earned $10,000 for being selected as an NIET Founder's Award finalist. The school is among five across the country under consideration for the $50,000 grand prize, which will be announced later in 2020.
"Desert View is representative of the dedication the entire Gadsden community has made to strengthening their faculty and improving student achievement," NIET Chairman and Founder Lowell Milken said. "Using the TAP System and NIET rubric to address the specific needs of each classroom, Principal Meredith Nelson and educators set the bar for high-quality education for every child, and students exceed growth targets every year."
NIET has a 20-year history of working alongside more than 8,500 schools, districts, states, and universities to ensure that all students have effective educators. NIET's partner schools have shown success by both outperforming similar schools and having greater teacher retention. The Founder's Award was created by NIET Chairman and Founder Lowell Milken to honor one school annually for exceptional implementation of NIET's principles to build educator excellence and advance student success.
"Desert View Elementary School is creating the learning community we want every child in America to have," said NIET CEO Dr. Candice McQueen. "These educators are the ones we look to as an example of how teachers can work together to fundamentally shift opportunities for students' futures."
Founder's Award recipients are selected by NIET based on their efforts to make instructional excellence the cornerstone of school improvement; plan for regular professional learning focused on daily needs of teachers and students; create a culture of collaboration and reflection; and leverage teacher leaders and administrators to drive student growth. Desert View Elementary, now in its ninth year of working with NIET, has exemplified excellence with its fifth straight "A" rating from the state, and Principal Nelson has created an environment where teachers feel comfortable opening their classroom doors, observing each other, and sharing best practices to reach all students.
What Sets Desert View Elementary Apart
Desert View's campus sits along the U.S./Mexico border, with a nearly 100% Hispanic/Latino population and more than a third of its students classified as English language learners. Principal Nelson credits Desert View's success to using the TAP System as a tool for establishing a consistency in structure and follow-up support, as well as for differentiating instruction based on specific needs of teachers and students. Many teachers have moved through TAP's career path, starting from instructional aides all the way to teacher leaders – creating a continuous pipeline of talent from the community.
In addition to Desert View's "A" letter grades, the school's scores increase every year. In 2019, Desert View was named the No. 1 school in Yuma County, and it earned a spot in the top 5% in the state for the percentage of students passing AzMERIT and in the top 10% of growth. From 2015 to 2019, Desert View students consistently achieved more than a year's worth of academic growth.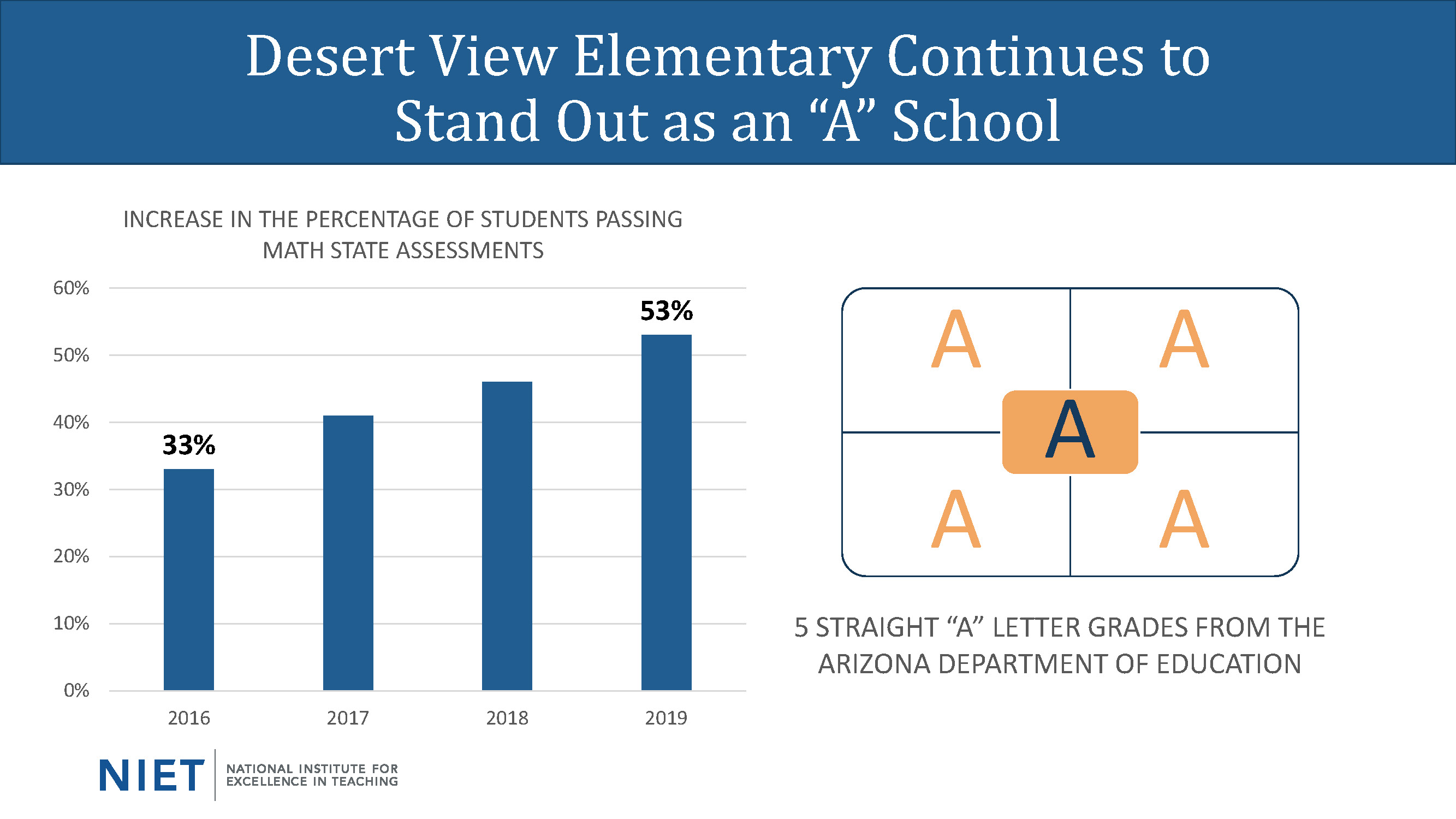 "All of this has made me a better leader," Principal Nelson said. "I hold all accountable, especially myself. Our motto is: The Race for Excellence Has No Finish Line. We live that every day."
Desert View Elementary School joins fellow finalists Chinle Elementary School (Chinle Unified School District, Arizona); Duplessis Primary School (Ascension Public Schools, Louisiana); Slaton High School (Slaton Independent School District, Texas); and Slaughter Elementary School (East Feliciana Public Schools, Louisiana).
For graphs and images of Desert View Elementary School, visit the NIET newsroom. For interviews, please contact Jana Rausch at jrausch@niet.org or (310) 435-9259. For more information, visit www.niet.org. Follow conference news – including the Founder's Award – on Facebook and Twitter @NIETteach or via #NIET2020.