Desert Thunder School Named a Finalist in Prestigious NIET Founder's Award
March 7, 2023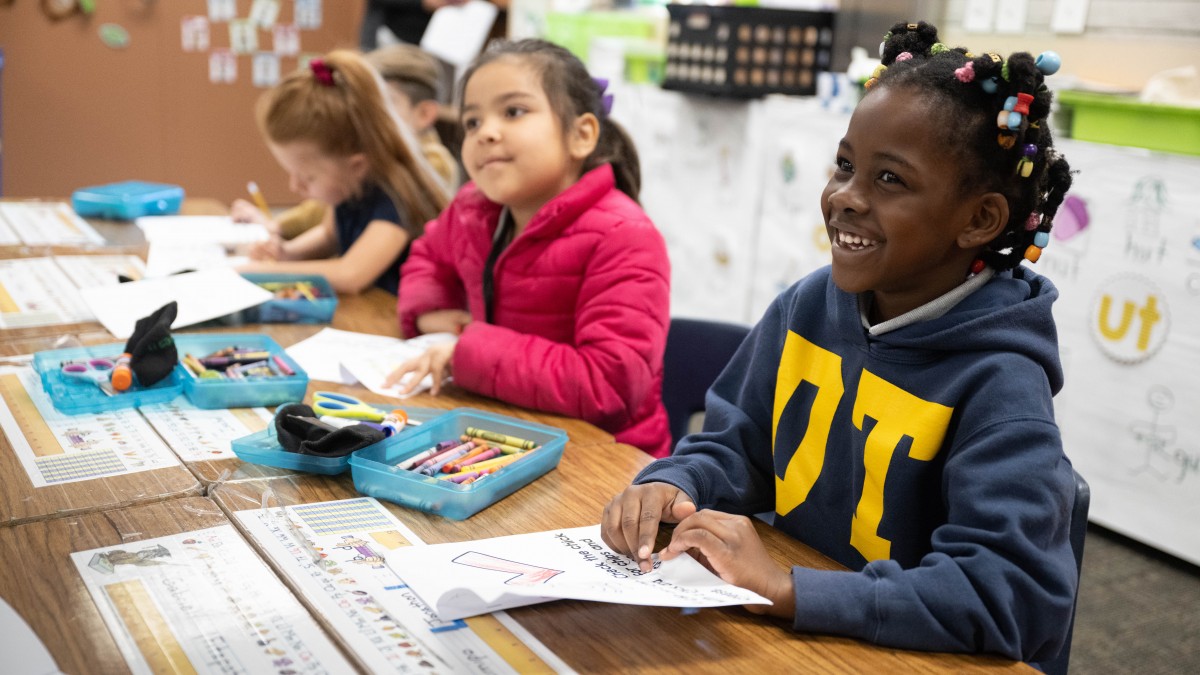 School one of just five in nation in the running for $50,000 grand prize award
Avondale, AZ (March 7, 2023) - The National Institute for Excellence in Teaching (NIET) announced today that Desert Thunder School in Avondale Elementary School District, Arizona, won $10,000 for its selection as an NIET Founder's Award finalist. The prestigious Founder's Award was created by Lowell Milken in 2008 to honor one school in the United States each year for exceptional implementation of NIET's principles to build educator excellence and advance student success. Desert Thunder School is among five schools across the country under consideration for the $50,000 grand prize, which will be announced at the NIET's national conference on March 23.
"Desert Thunder's strong system of teacher leadership and support empowers educators and students to grow at high levels," said NIET Founder Lowell Milken. "A focus on student-led learning prepares all Eagles to 'soar' academically and become responsible, confident and independent thinkers – skills critical to navigating learning and life. We commend Dr. Ryan LoMonaco and his staff, as well as the leadership under Superintendent Dr. Betsy Hargrove, for making educator effectiveness a priority."
Founder's Award recipients like Desert Thunder School are selected by NIET based on several factors, including their efforts to make instructional excellence the cornerstone of school improvement, plans for regular professional learning focused on real-time needs of teachers and students, creating a culture of collaboration and reflection, and leveraging teacher leaders to drive student growth.
NIET's partner schools have shown success in improving educator, student, and school outcomes. Desert Thunder School, among other schools, has continuously elevated its educators through the use of NIET's tools and resources to support instructional excellence and create career pathways.
"Closing achievement gaps and creating more equitable learning opportunities is challenging, long term work. Desert Thunder School made a commitment to improving outcomes for all students and has remained true to that goal by working collectively as a strong leadership team," said NIET Chief Executive Officer Dr. Joshua Barnett. "By focusing on great classroom teaching in every room, Desert Thunder has opened the doors of opportunity and success for all their students."
What Makes Desert Thunder School Unique?
Desert Thunder School, located outside of Phoenix, Arizona, is one of 11 schools in Avondale Elementary School District and serves more than 900 students in pre-kindergarten through eighth grade. Over 58 percent of students are Hispanic and half of the school's students are in a dual-language program. Over the last several years, Desert Thunder School's student population has grown in number and diversity. A commitment to the best practices and structures of NIET has allowed the school to continue meeting the needs of all students. Principal Ryan LoMonaco and his leadership team are building the capacity of teachers through dedicated time for collaboration and school-based professional learning, creating a positive learning environment for teachers and students alike.
"As a seasoned educator but a leader new to this school in the past year, introducing NIET's recommendations into our approaches to education has allowed me to ask questions and see the curriculum in a new light," said LoMonaco. "As a result of investing time, effort, and resources into developing the professional capital of the staff and the distributed leadership at Desert Thunder, I have had the privilege of learning alongside my staff as we grow together."
With its implementation of NIET structures, Desert Thunder School has earned an "A" rating for several years under Arizona's A-F school letter grade system – including most recently in 2022. From 2021 to 2022, student performance on state assessments improved in English Language Arts and math. In 2022, 48 percent of Desert Thunder's students passed the English Language Arts state assessment, compared to 39 percent in 2021. With these student achievement results, Desert Thunder School students have outperformed students statewide on state assessments.
Desert Thunder School has adopted a distributed leadership approach in which the principal and a dedicated instructional leadership team (ILT) provide school-based professional learning for teachers. The ILT is composed of school leaders and teacher leaders who analyze student data, coach teachers, and provide professional learning on instructional strategies. Distributed leadership, and the inclusion of teacher leaders, has strengthened the support provided to teachers and created a career pathway in Desert Thunder School.
"The level of professionalism in Desert Thunder is not something I have seen before," said LoMonaco. "The trajectory of a career opportunity for these teachers is important. It gives them an evidence-based opportunity to grow their skills and their abilities."
Desert Thunder School uses the NIET Teaching and Learning Standards Rubric to create a common language that ensures consistency in the support and feedback provided to teachers. Specifically, leadership team members have used the rubric to transform professional learning meetings to focus on student action and student ownership of learning. This transformation has changed the coaching conversations between the ILT and teachers during professional learning, as well as changing conversations between teachers and students.
Students are seeing their teachers learn and try new strategies and, in turn, are excited to talk about the learning strategies they are using to master content.
"As a student, when you see your teachers trying new things, learning new things, and testing their ideas, it changes how you learn," said LoMonaco. "Students are not in a classroom participating in stale classroom instruction from a teacher who learned something years ago and is sharing it each year. They are listening to their teacher share new tools and instructional materials they just learned that week. As a result, our classrooms are dynamic and our students are enthusiastic to learn!"
Desert Thunder School joins fellow finalists William Henry Burkhart Elementary (Perry Township Schools, Indiana); Slaughter Elementary School (East Feliciana Public Schools, Louisiana); Forest Acres Elementary School (School District of Pickens County, South Carolina); and Dr. Lonnie Green Elementary (San Felipe Del Rio CISD, Texas) in contention for the $50,000 Founder's Award grand prize.