Irene Lopez Elementary School Named 'School of Promise' by National Institute for Excellence in Teaching
April 5, 2023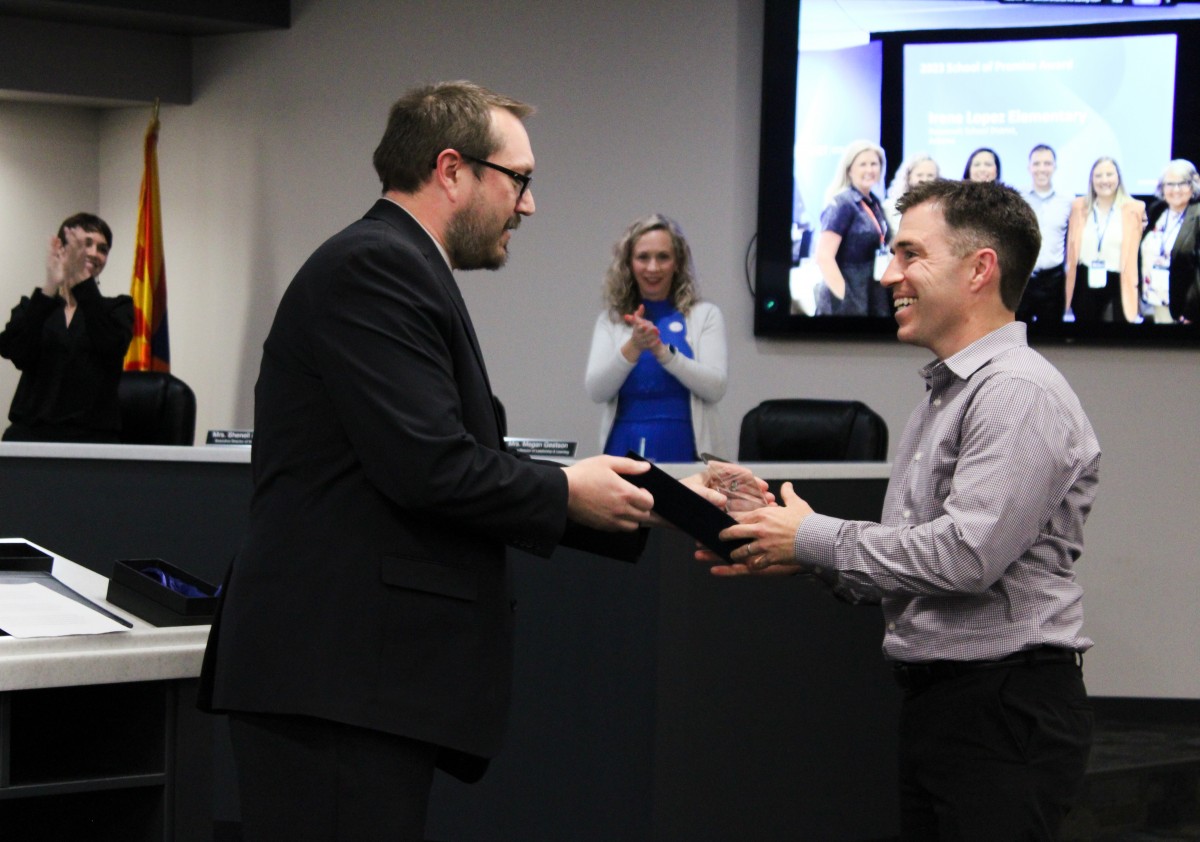 Irene Lopez Elementary surprised with $5,000 award for its dedication to improving instructional practices and continued student progress
Phoenix, Ariz. (April 5, 2023) – The National Institute for Excellence in Teaching (NIET) announced Roosevelt School District's Irene Lopez Elementary as one of its 'Schools of Promise' for its continued effort to strengthen instructional practices and sustained student successes. The school was just one of two across the country to receive the award this year, which includes a $5,000 prize. Each were presented by NIET Founder and Chairman Lowell Milken and Chief Executive Officer Dr. Joshua Barnett during NIET's national conference in Indianapolis at the end of March.
"We applaud Irene Lopez Elementary School for earning the School of Promise Award," said Founder Lowell Milken. "Principal Nick Oviedo, the leadership team, and staff are working diligently to prepare students for success in every stage of learning by developing and supporting talented educators. Superintendent Dr. Dani Portillo and her team's support to sustain the requisite structures for excellence across the district are yielding promising results. Congratulations."
Recipients are selected by NIET for their efforts to make instructional excellence the cornerstone of school improvement; plan for regular professional learning focused on daily needs of teachers and students; create a culture of collaboration and reflection; and create systems that maximize the talents of teacher leaders and administrators to drive student growth. Leaders are able to spend the money as they choose to support their educators.
"I am honored to recognize Irene Lopez Elementary School in Roosevelt School District as a 2023 School of Promise," said CEO Dr. Joshua Barnett. "Change takes time and dedication, and it takes teamwork. The staff at Irene Lopez are showing great promise in their work to transform opportunities for students. Strong district-level support is also a critical factor to their success."
NIET has a 20-year history of working alongside more than 9,000 schools to ensure that all students have effective educators. NIET's partner schools have shown success by both outperforming similar schools and having greater teacher retention.
About Irene Lopez Elementary
One of 20 schools in Roosevelt School District, Irene Lopez Elementary School serves almost 500 students in grades kindergarten through eight, 88 percent of whom are Hispanic. Principal Nick Oviedo and his faculty and staff work to ensure that all students are inspired and challenged to learn at their highest level. The school has partnered with NIET to support this work through the use of data to guide discussions about student learning and to better address the diverse academic needs of their students.
As a result of their efforts, Irene Lopez Elementary School was able to improve their state assigned letter grade from a "C" in 2018 to a "B" in 2019. They have since been able to maintain this "B" rating. From 2021 to 2022, Irene Lopez Elementary increased the percentage of students passing the state ELA assessments by 7 percentage points and the state math assessments by 10 percentage points. The 7-point and 10-point increases in ELA and math, respectively, were greater than the 2-point increases in both ELA and math for students in Arizona statewide.
"It's so affirming to see our school recognized in this way," said Principal Nick Oviedo. "The teachers at Irene Lopez are relentless, dedicated, smart and caring, and every single day they do the right work for our kids," he continued. "NIET has made a tangible, visible difference at our school and I'm certain this momentum will only continue."
About NIET
For more than two decades, NIET has partnered with schools, districts, states, and universities to build educator excellence and give all students the opportunity for success. NIET's initiatives, including teacher and leader development, school improvement, rubric and observation systems, and educator preparation, have impacted more than 300,000 educators and 3 million students across the U.S. Learn more at niet.org.