Building the Profession: Three-year federal grant will grow and retain educators in Arizona
September 27, 2023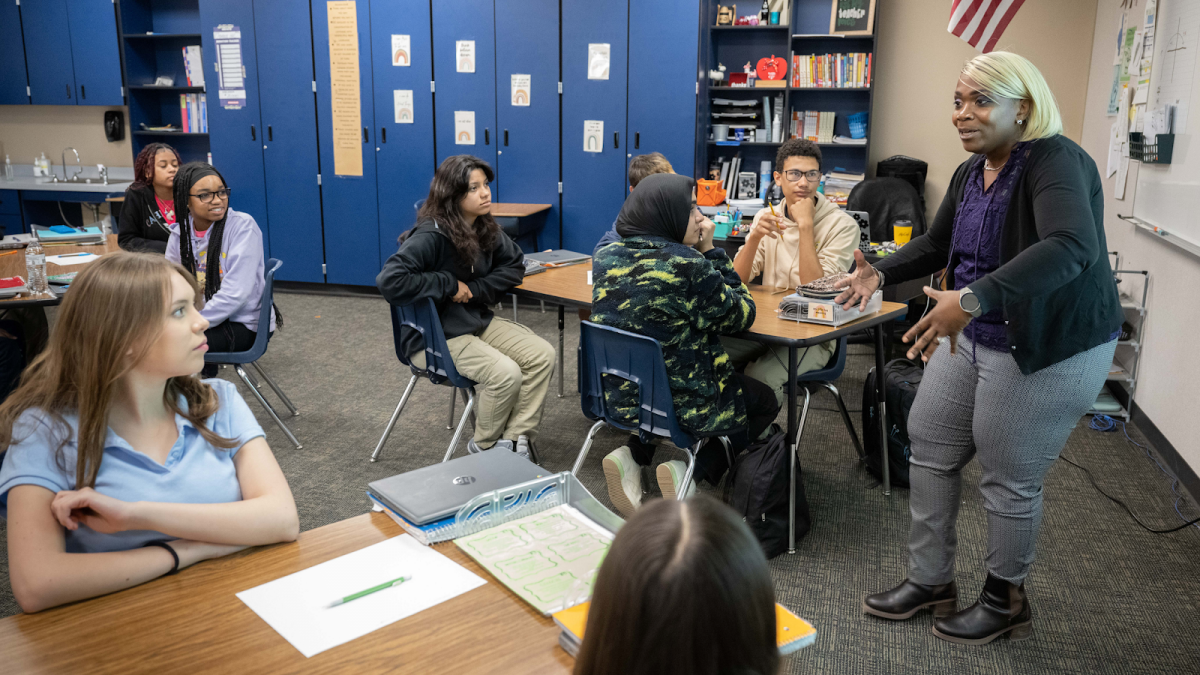 Phoenix, Arizona (Sept. 27, 2023) — The National Institute for Excellence in Teaching (NIET) announced today the award of a three-year $16 million grant from the federal Teacher and School Leader (TSL) Incentive Program to help grow and retain teachers and school leaders serving high-need student populations in Arizona. School district partners include Avondale Elementary School District #44, Gadsden Elementary School District #32, Osborn School District #8, and additional districts to be selected during the project. The grant funds districts to strengthen systems of support for classroom teaching, build instructional leadership capacity for school leaders, and raise student achievement.
"I am excited to work with these innovative districts to serve as exemplary models of how more effective staffing structures can increase the quality of classroom teaching and learning," said Dr. Joshua Barnett, NIET CEO. "Leveraging teacher leaders to create excellence in every classroom for every student is urgently needed for Arizona schools, and these districts are prepared to lead the way."
The project, entitled AZ PRIME (Arizona Prioritizing Recruitment/Retention and Induction to Maximize Equity) will focus on aligning, expanding, and improving systems for educator effectiveness including career advancement opportunities for teachers to serve in leadership roles in high-need schools. Further, this project will increase the effectiveness of each district's ability to recruit, develop, support, and retain diverse educators to promote educational equity and more effectively reach underserved students.
"I am proud that the work we are doing in Avondale Elementary School District has been recognized with a federal innovation grant," said Superintendent Betsy Hargrove. "This support, in partnership with NIET, will help us continue to elevate impactful classroom teaching and ensure that every student has the opportunity to pursue their future without limits."
AZ PRIME will enhance districts' capacity to recruit and retain experienced, certified, effective, and diverse educators. Additionally, it will provide induction support for new teachers and improve school environments, thereby fostering equity in student access to educational resources and opportunities.
The work will be grounded in NIET's research-based TAP System, which the school districts have successfully used to improve classroom instruction. Research consistently demonstrates that the TAP System positively impacts teacher effectiveness and retention, and student achievement.
"In the last few years, we have been emphasizing the importance of a strong school culture that supports every student to set ambitious learning goals and meet those goals," said Superintendent Lizette Esparza of Gadsden Elementary School District. "Partnering with NIET will help us advance this work."
This grant will take the work to the next level by creating a new teacher induction model and supporting the implementation of strategies to strengthen the school and classroom environment that are integrated with daily teaching and learning practices. The success of this work will serve as a model for other districts in the state, particularly in how to better train and retain talented teachers and school leaders. AZ PRIME will begin with twenty-three schools serving 13,364 students, 735 teachers, and 34 school leaders in the three named districts, and will expand to include additional districts in year two.
"We have anchored our academic and student success goals around accelerating student learning while improving teacher effectiveness. As leaders we are growing our individual leadership with a shared purpose centered on student success. This grant will help us build the capacity of our teachers and school leaders to do just that," said Osborn Elementary School District Superintendent Michael Robert. "I am excited to bring these new resources to our community. This project in partnership with NIET will enable us to collaborate with other districts as we continue to grow and improve."
The partnership between NIET and Arizona districts brings a nationally recognized organization together with innovative districts in different parts of the state, to address the unique needs of educators and students.
"Funding will allow these Arizona school districts to develop and advance teacher and school leader effectiveness in order to improve learning opportunities for students within their community," said Arizona Senators Kyrsten Sinema and Mark Kelly in their joint letter of support.
About the School Districts
The AZ PRIME districts are spread across diverse locations in Arizona. Avondale Elementary School District #44, located in the suburbs of Phoenix, includes nine schools that serve 5,889 students from preschool to eighth grade. Osborn School District #8, situated in the heart of Phoenix, encompasses six schools that serve a racially and ethnically diverse student body, including 14% Black, 62% Hispanic, 5% American Indian/Alaskan Native, and 4% multiple races. Gadsden Elementary School District #32, positioned in a town along Arizona's southwest corner near the international border, consists of eight schools that serve 4,955 students, with 99% of them identifying as Hispanic, and approximately 94% qualifying for free or reduced-price lunch. Additional Arizona school districts will be selected to join the project in the second year.
About NIET
The National Institute for Excellence in Teaching is a national nonprofit based in Phoenix, Arizona that serves states and districts nationwide. For more than two decades, NIET has partnered with schools, districts, states, and universities to build educator excellence and give all students the opportunity for success. NIET's initiatives, including the TAP System, teacher and leader development, school improvement, rubric and observation systems, and educator preparation, have impacted more than 300,000 educators and 3 million students across the U.S. Learn more at niet.org