Educators Across America Announced as Teach Factor Fellows; Helping Advance Teacher Leader Roles Nationwide
April 19, 2018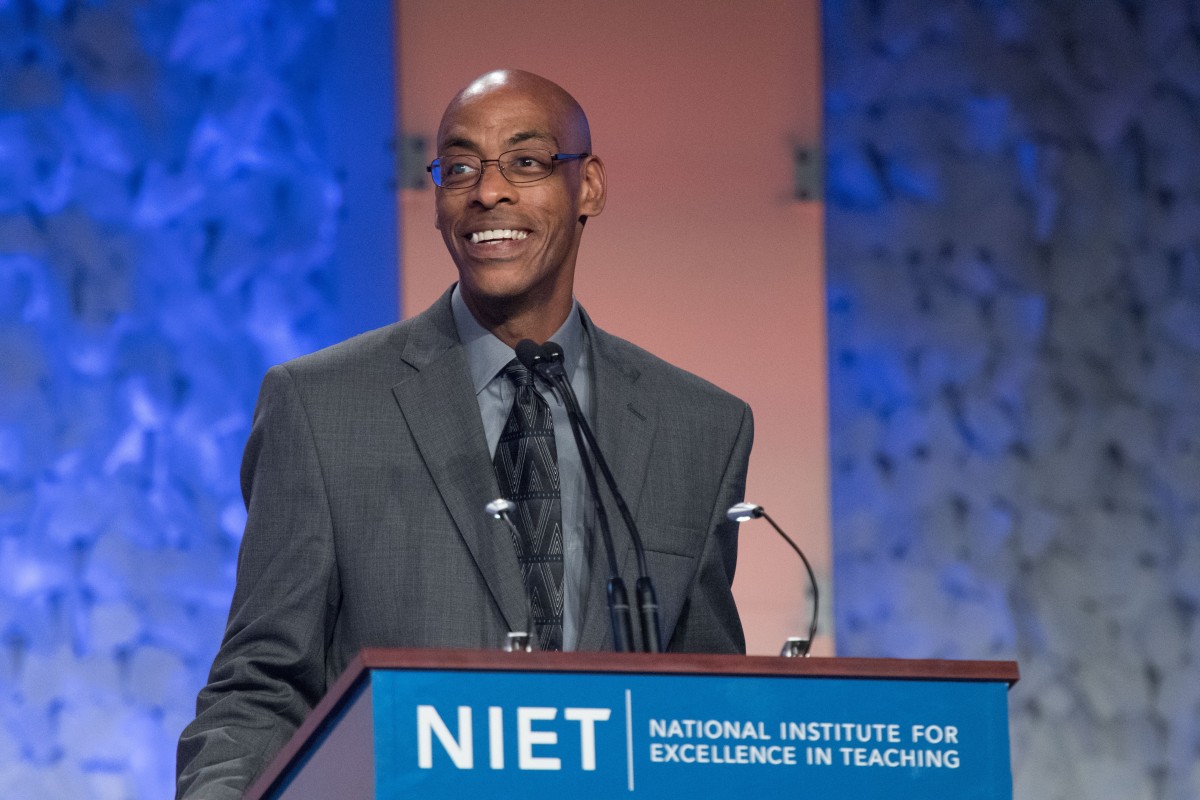 National Institute for Excellence in Teaching's Teach Factor Engages Effective Educators to Lend Their Voices to the U.S. Education Conversation and Drive Improved Student Achievement
Santa Monica, Calif. — The National Institute for Excellence in Teaching (NIET) has named 12 of the most accomplished and experienced educators across the nation as Teach Factor Fellows for the recently launched Teach Factor initiative. This initiative illuminates the stories of effective teachers, principals and superintendents to reveal scalable solutions for teacher leadership – a factor pivotal to the profession and student achievement. Teach Factor Fellows include superintendents, principals and teachers working in diverse districts and include:
Nicole Bolen, Executive Master Teacher, DeSoto Parish Schools in Mansfield, Louisiana
Shaneka Burnett, Master Teacher, Duplessis Primary School, Ascension Public Schools in Gonzales, Louisiana
Corrie Callahan, Master Teacher, Abraham Lincoln Elementary School, Perry Township Schools in Indianapolis, Indiana
Kevin George, Superintendent, St. John the Baptist Parish Public Schools in Reserve, Louisiana
Angel Hardaway, Instructional Coach, Athens City Schools in Athens, Tennessee
Robert Hill, Head of School, Alice M. Harte Charter School, InspireNOLA in New Orleans, Louisiana
Saul Hinojosa, Superintendent, Somerset Independent School District in Somerset, Texas
Lori Line, Principal, West Goshen Elementary School, Goshen Community Schools in Goshen, Indiana
Katelyn Orloski, Master Teacher, Wildflower Elementary School, Avondale Elementary School District #44 in Goodyear, Arizona
Joni Readout, Master Teacher, Central Decatur Junior High and High School, Central Decatur Community School District in Leon, Iowa
Laura Roussel, Instructional Supervisor, Ascension Public Schools in Gonzales, Louisiana
Geneva Salinas, Principal, Barrera Veterans Elementary School, Somerset Independent School District in Somerset, Texas
Since implementing formal teacher leader roles in partnership with NIET, schools and districts in which Teach Factor Fellows work have seen positive changes not only in teacher effectiveness, but also a vast improvement in student and overall school achievement.
Through The Teach Factor, NIET is working with these educators to define the most effective models of teacher leadership and develop a formal structure that schools, districts and states can implement to maximize the impact of teacher leaders.
Teach Factor Fellows will participate in panels and roundtable discussions and share their stories of success in teacher leadership as well as their trusted resources at teachfactor.niet.org and on NIET's social channels. They will share proven methods that have led to increased student achievement and promote these methods as best practices.
Fellows will also encourage other educators to share their stories on the site or via social media using #TeachFactor. Stories collected will be used to develop additional resources to benefit teacher leaders.
"We're proud to have such an accomplished group of education leaders as Teach Factor Fellows," said NIET Co-President and Chief Strategy Officer Patrice Pujol. "Their success advancing teacher leader roles and impacting achievement in schools embodies The Teach Factor and serves as an example all schools, districts and states can follow."
More information and resources, including videos from Teach Factor Fellows, are available by following @NIETteach on social media and at teachfactor.niet.org.