From Classroom to Capital: NIET Educators Meet with U.S. Education Secretary Betsy DeVos and Congressional Members on Advancing Educator Effectiveness
July 18, 2017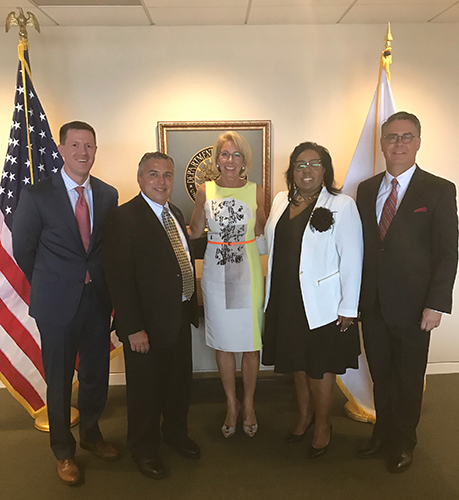 Educators whose districts are making significant student achievement gains and closing gaps traveled to Washington to share how federal innovation funds enabled them to make changes at the district and school levels. These leaders, from districts in Louisiana and Texas, used five-year Teacher Incentive Fund (TIF) grants to seed district transformations which have been sustained and expanded after the grant period.
DeSoto Parish Schools (LA) Superintendent Dr. Cade Brumley, Somerset Independent School District (Texas) Superintendent Dr. Saul Hinojosa and G.W. Carver Primary School (Ascension Parish Schools, Louisiana) Principal Latatia Johnson, along with NIET CEO Dr. Gary Stark and Chief Policy Officer Kristan Van Hook, visited with U.S. Education Secretary DeVos and congressional members on the forefront of federal education policy.
The meetings enabled NIET leaders and educators involved with the implementation of TAP: The System for Teacher and Student Advancement to illustrate how making educator effectiveness the central focus of their efforts is leading to powerful results in their highest-need schools and districtwide. They also explained how the improvements made under the grant allowed them to more effectively use local, state and federal Title I and II funds to increase student academic success in high-need schools.
"We value this important opportunity to meet with Secretary DeVos and federal policymakers to share what is working at the local level," said NIET CEO Dr. Gary Stark. "Creating collaborative and supportive environments for teachers to thrive is the most important work in education today. Dr. Brumley, Dr. Hinojosa and Principal Johnson are working hand-in-hand with teachers to ensure that all students receive the opportunity to succeed. They demonstrate that when effective teachers lead the way, schools in any setting can flourish."
Through TAP, Brumley, Hinojosa and Johnson have built systems of teacher leadership, daily job-embedded professional development, educator evaluation, observation and feedback, and performance-based compensation.
These districts are continuing to build on the work they started under the TIF grants.
"The experiences of these districts illustrate the positive role federal funds can play in supporting state and local innovation," added Van Hook. "These funds have enabled districts to make bold and substantial improvements in the way they attract, retain and develop talented educators."
Result Highlights
DeSoto Parish Schools, Louisiana
Since implementing the TAP System as the district's instructional model during the 2008-09 school year, DeSoto Parish Schools' growth has soared. In 2010, the district, located just south of Shreveport, ranked #45 out of Louisiana's 70+ districts; now it's #14. DeSoto exceeds state averages on proficiency rates for the first time in history, all the while serving a student body of whom 67% are economically disadvantaged. Also an historic first, the district received an A state rating in 2016.
The increased educator effectiveness and student learning led to other impressive achievements: the largest ACT growth in the state, the top Louisiana district for improving special education outcomes, and a nearly 30% increase in graduation rates since 2009—from 68% to 94%, the highest in northwest Louisiana. The release of LEAP scores in July 2017 showed DeSoto Parish making the fifth-largest growth levels in the state. Learn more about DeSoto's historic growth, chronicled in TAP in Focus.
Somerset Independent School District (SISD), Texas
Located outside San Antonio, SISD serves 4,000 students, of whom 86% are Hispanic, 78% are economically disadvantaged and 59% are considered "at-risk." The rural district joined the TAP System with one pilot school in the 2010-11 school year, and expanded the initiative in the 2013-14 school year. During that time, student achievement and graduation rates have increased. For example, third-grade student proficiency rates have improved from year to year, including the Economically Disadvantaged, Limited English Proficient and Bilingual subgroups. Notably, bilingual students made the largest gains in reading proficiency, from 61% in 2016 to 100% in 2017.
Graduation rates have remained high and have steadily grown—from 92% in 2014 to 94% in 2017. In spring 2017, DJ De La Fuente became the first SISD student to be accepted to an Ivy League school and will start Cornell in the fall.
Focused on sustaining and expanding this work, SISD is a network district under Texas Tech University's partnership with NIET to strengthen new teacher and principal preparation.
Ascension Public Schools
Saul Hinojosa, Latatia Johnson and Cade Brumley
The 2017 TAP Founder's Award recipient, G.W. Carver Primary School, located in Ascension Public Schools, Louisiana, is led by Principal Latatia Johnson. Before staff implemented the TAP System in 2012, teacher turnover was high and student achievement was low. Not one third-, fourth- or fifth-grader was reading at grade level. Now certified teachers fill 30+ positions, retention is at 91%, and student achievement is improving. Third-graders have increased their English Language Arts Academic Index, and in the upper grades, proficiency jumped from 0 to 75%-and-above in two years' time. Today, more than 90% of third-, fourth-, and fifth-graders are reading on grade level or above. As a result, Carver's School Performance Score grew more than seven points, moving its letter grade up from a C- to a B+. The school is also exceeding student value-added growth targets when compared to similar schools throughout the state.
"Our high-poverty students are moving past proficiency to achieving mastery and above," said Johnson. "We have created the structures, culture and practices to support our teachers as they help students to reach higher levels of achievement." Johnson will broaden the impact of her work as Ascension's new instructional supervisor for elementary education.
G.W. Carver's progress as a school is reflective of the marked improvement made by the district through instituting the TAP System and sharing best practices among schools. Ascension currently has an A state rating and is ranked among the top in the state for student performance. According to new LEAP data released in July 2017, Ascension achieved the second-highest combined scores in Louisiana. The district increased by four percent and three rankings over the last year despite being severely impacted by the August 2016 flood that closed five schools and displaced 5,000 students.
Look inside G.W. Carver and learn more about Ascension's history with TAP in this TAP Founder's Award video profile.
NIET impacts more than 250,000 educators and 2.5 million students across the country. Learn more at www.niet.org.