Jefferson Parish Elementary School Named 'School of Promise' by National Institute for Excellence in Teaching
April 17, 2023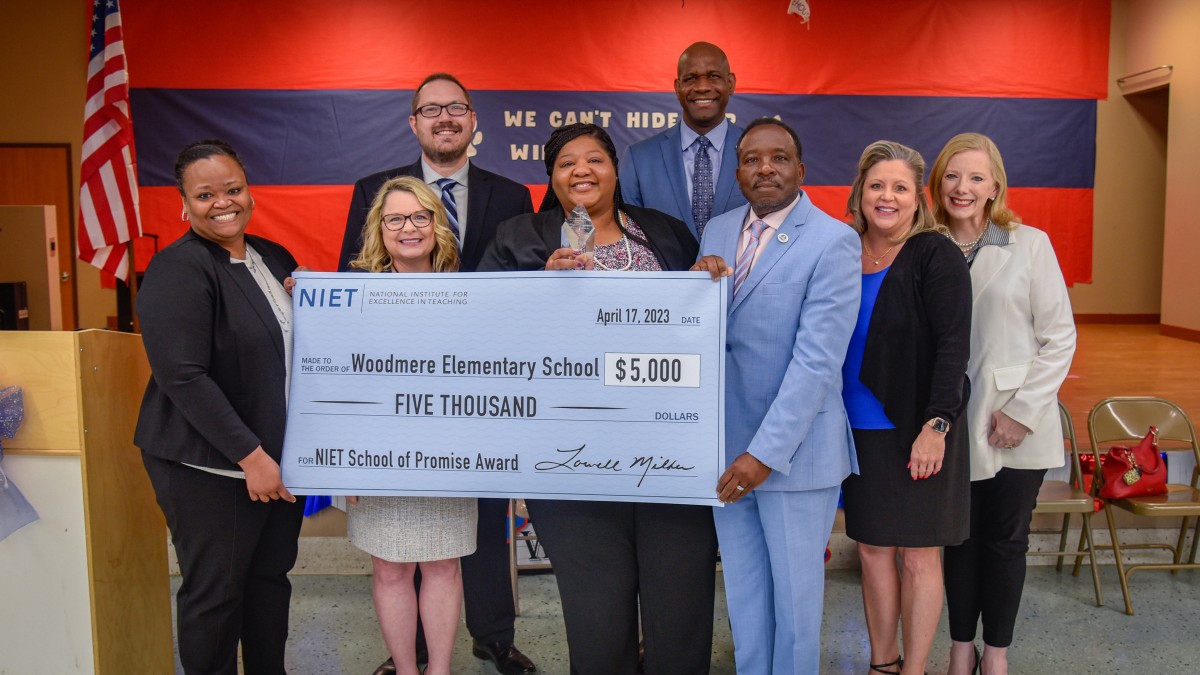 Woodmere Elementary surprised with $5,000 award for its dedication to improving instructional practices and continued student progress
For photos from the event, please visit here.
Harvey, La. (April 17, 2023) – At a schoolwide assembly today, The National Institute for Excellence in Teaching (NIET) announced Jefferson Parish Schools' Woodmere Elementary as one of its 'Schools of Promise' for its continued effort to strengthen instructional practices and sustained student successes. The school is just one of two across the country to receive the award this year, which includes a $5,000 prize.
"We are pleased to congratulate Woodmere Elementary on receiving the School of Promise Award," said NIET Founder Lowell Milken. "Principal Givonna Hymel, the leadership team, and the entire faculty are making the advancement of effective instruction a top priority to improve student learning. We also commend Superintendent Dr. James Gray and his team, for their leadership and vision in implementing the requisite structures for academic excellence that will benefit thousands of educators and students throughout the largest district in Louisiana."
Recipients are selected by NIET for making instructional excellence the cornerstone of school improvement; planning for regular professional learning focused on daily needs of teachers and students; creating a culture of collaboration and reflection; and creating systems that maximize the talents of teacher leaders and administrators to drive student growth. Leaders can spend the money as they choose to support their educators.
"I am delighted to recognize Woodmere Elementary School as a 2023 School of Promise. Woodmere is taking strong steps to transform opportunities for students by investing in great classroom teaching. Support for this important work from Jefferson Parish Schools leaders is a critical factor to their success," said NIET CEO Dr. Joshua Barnett. "I look forward to seeing how the school and district continue to grow, improve and support student success in the coming year."
NIET has a 20-year history of working alongside more than 9,000 schools to ensure that all students have effective educators. NIET's partner schools have shown success by both outperforming similar schools and having greater teacher retention.
"Woodmere Elementary's success can be attributed to utilizing high-yield instructional strategies. They increased academic achievement by tracking individual student data to ensure goals and targets were met," said Dr. James Gray, Superintendent of Jefferson Parish Schools. "We are extremely proud of Woodmere Elementary. Their gains would not be possible without the hard work and commitment of their administration, staff, and parents. Woodmere has shown that when you do what's right for kids and focus on the educational foundations, schools can grow. This year, not only is Woodmere one of two schools nationally to be recognized as an NIET School of Promise, they are also the only Jefferson Parish school to be named a Louisiana Comeback Campus recipient."
About Woodmere Elementary
Woodmere Elementary School, located on the Westbank of New Orleans, is one of 81 schools in Jefferson Parish Schools, the largest and most diverse district in Louisiana. The school serves approximately 330 students in grades pre-K through eight. Over 78 percent of students are African American and approximately 82 percent of students are from an economically disadvantaged background. Principal Givonna Hymel and her leadership team have set a mission to provide students with a high-quality education in a positive learning environment. The leadership team helps advance this mission by implementing NIET structures to create a strong school culture around a common language and goals.
The school's implementation of these strategies has proven effective, as evidenced by recent improvements in student academic outcomes. In 2022, Woodmere Elementary School was honored as a "Louisiana Comeback Campus" by the Louisiana Department of Education in recognition of the school performing at higher levels in reading and math than before the pandemic. Additionally, from 2021 to 2022, the percentage of Woodmere Elementary School students scoring mastery and above increased for all tested subjects, and these increases were greater than the increases for students in Louisiana statewide. On the English Language Arts assessment, Woodmere Elementary School students saw a 9-percentage point increase, compared to a 3-percentage point increase statewide. Over the same time period, Woodmere students improved by 3 percentage points in social studies, compared to no change statewide.
"The Woodmere Elementary team was shocked and honored to receive the 2022-2023 School of Promise Award," said Principal Givonna Hymel. "Receiving this award will continue to encourage our students and teachers to keep striving for success, and NIET has helped us build a culture of collaboration while leading us to become successful at growing our students academically, as well as strengthening teacher knowledge and instructional practices."
About NIET
For more than two decades, NIET has partnered with schools, districts, states, and universities to build educator excellence and give all students the opportunity for success. NIET's initiatives, including teacher and leader development, school improvement, rubric and observation systems, and educator preparation, have impacted more than 300,000 educators and 3 million students across the U.S. Learn more: niet.org.
About Jefferson Parish Schools
Jefferson Parish Schools is the largest and most diverse public school system in Louisiana and the 98th largest in the nation. Our system of 81 schools serves approximately 47,000 students on both banks of the Mississippi River. With approximately 6,400 employees, JP Schools is one of the largest employers in Jefferson Parish. Our district exists to provide the education our students deserve to succeed in life and make our world a better place. Learn more here.