Living Its Motto, "All Accelerate All Kids," Wildflower School Is Selected as NIET Founder's Award Finalist and Receives $10,000
March 7, 2019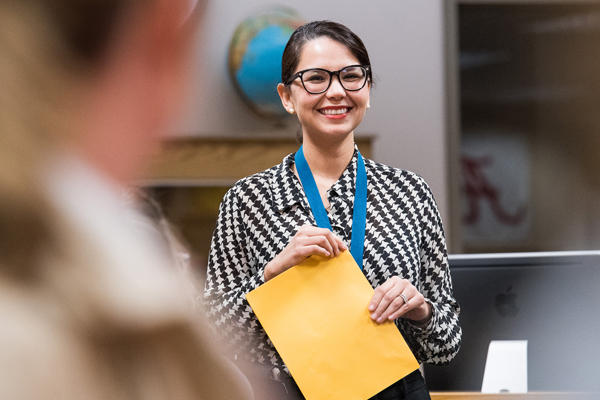 School among five nationwide under consideration for prestigious honor and $50,000 cash prize
Santa Monica, Calif.—Teachers and students at Wildflower School in Avondale Elementary School District #44, Arizona, are celebrating their selection as a finalist for the NIET Founder's Award, the National Institute for Excellence in Teaching (NIET) announced today. Created by NIET Chairman and Founder Lowell Milken, the Founder's Award is given annually to one school for exceptional implementation of NIET's principles to build educator excellence and advance student success.
Each finalist receives a plaque and $10,000. The winner, to be announced during NIET's National Conference in New Orleans on March 22, 2019, will take home the grand prize of $50,000.
On the ground for two decades, NIET has partnered with schools, districts, states and universities to ensure that all students have access to talented teachers every year they are in school. It does so by helping schools create formal structures for teacher leadership; regular, job-embedded professional learning; and a system for educator support, observation and feedback tied to high expectations and real time needs of teachers and students. Today, NIET's initiatives are impacting more than 250,000 educators and 2.5 million students.
"I commend Wildflower School for its commitment to excellence at all levels," says Lowell Milken. "Teachers and students are not only inspired to reach their goals, but also to improve their personal best every day. This cannot be done without building collaboration, trust, respect and the eagerness to innovate—all foundational to lifelong learning."
"This finalist award is well-deserved as Wildflower is showing what students and teachers are capable of when they receive the support they need," says NIET CEO Dr. Candice McQueen. "We are proud to see the successes they have accomplished so far and look forward to watching them continue to build on this progress."
Inside Wildflower School
For eight years, NIET's school improvement model has helped Wildflower focus on data-driven decision-making, open doors to innovation, and work as a team to reinforce strengths and tackle areas of need. These factors represent the school's motto, "all accelerate all kids"—commonly known as the "Wildflower Way."
Principal Araceli Montoya benefits from having a leadership team, made up of master and mentor teachers as well as administrators, to represent diverse voices at the table. No decision is made in a vacuum.
"Within the NIET system, we are able to gather and look at observational data and trends based on teacher evaluations and surveys," Montoya says. "I am able to determine next steps and challenges based on this data to then bring back the leadership team for their involvement and input. We then develop a plan to include teachers. We monitor results and make adjustments. With new adjustments, this cycle begins again."
Unifying around a common language and vision for high expectations, Wildflower has created a positive school culture that has translated into gains in student achievement. Since the 2015-16 school year, students have increased their proficiency in English language arts from 40% to more than 50% by 2017-18, and from 39% to 61% over the same timeframe in math. Over 70% of the students are eligible for free or reduced-price lunch.
In 2017, the "A" state-rated school ranked 3rd in Arizona for total growth points earned in a K-8 setting.
Teachers are seeing changes in their personal trajectories, too. "Through the master teacher position and the NIET rubric, I have become a better classroom teacher," says Elizabeth Ellis, who has served in her role since 2011. "This is a position that is never routine and has continued to engage and challenge me as a teacher and coach."
When teachers thrive, so do students. "The teachers always find the right ways to teach us and the right things to teach us," says eighth-grader Zoe Canada. "They've made me want to become a teacher myself."
About the NIET Founder's Award
The NIET Founder's Award comes with a $50,000 cash prize, funded by the Lowell Milken Family Foundation, to be used toward school improvement efforts. All five Award finalists will be recognized at a noon luncheon on Friday, March 22, 2019, during the 19th Annual National NIET Conference in New Orleans, Louisiana, before more than 1,000 educators, policymakers, researchers and other influential leaders. The winner will be announced at the end of the luncheon.
Wildflower School joins fellow NIET Founder's Award finalists Alice M. Harte Charter School in InspireNOLA, Louisiana; Cross County Elementary Technology Academy in Cross County School District, Arkansas; Desert View Elementary in Gadsden Elementary School District #32, Arizona; and Dodson Branch School in Jackson County, Tennessee.
The finalists were selected based on their efforts to make instructional excellence the cornerstone of school improvement; plan for regular professional learning focused on daily needs of teachers and students; create a culture of collaboration and reflection, and create leadership teams made of teacher leaders and administrators.
NIET Founder's Award recipients are selected by NIET. The honor yields benefits that will strengthen the individual school and support its teachers. This is done by means of prominent public recognition and by opportunities to substantively interact on issues of educator effectiveness and student learning with leaders from government, business and academia.
Photos from the NIET Founder's Award finalists' recognition luncheon on March 22 will be available for download at http://www.niet.org/newsroom/photos.
For interviews with the NIET Founder's Award finalists during the conference or to attend, contact Jana Rausch at jrausch@niet.org or (310) 435-9259. For more information, visit www.niet.org. Follow conference news on Facebook at NIETteach and Twitter @NIETteach or via #NIET19.
About NIET
On the ground for two decades, NIET partners with schools, districts, states and universities to develop formal systems for building educator excellence and advancing student success. Today, NIET's initiatives impact more than 250,000 educators and 2.5 million students.