St. Paul's Hmong College Prep Academy in Minnesota Announced as 2017 TAP Founder's Award Finalist
March 1, 2017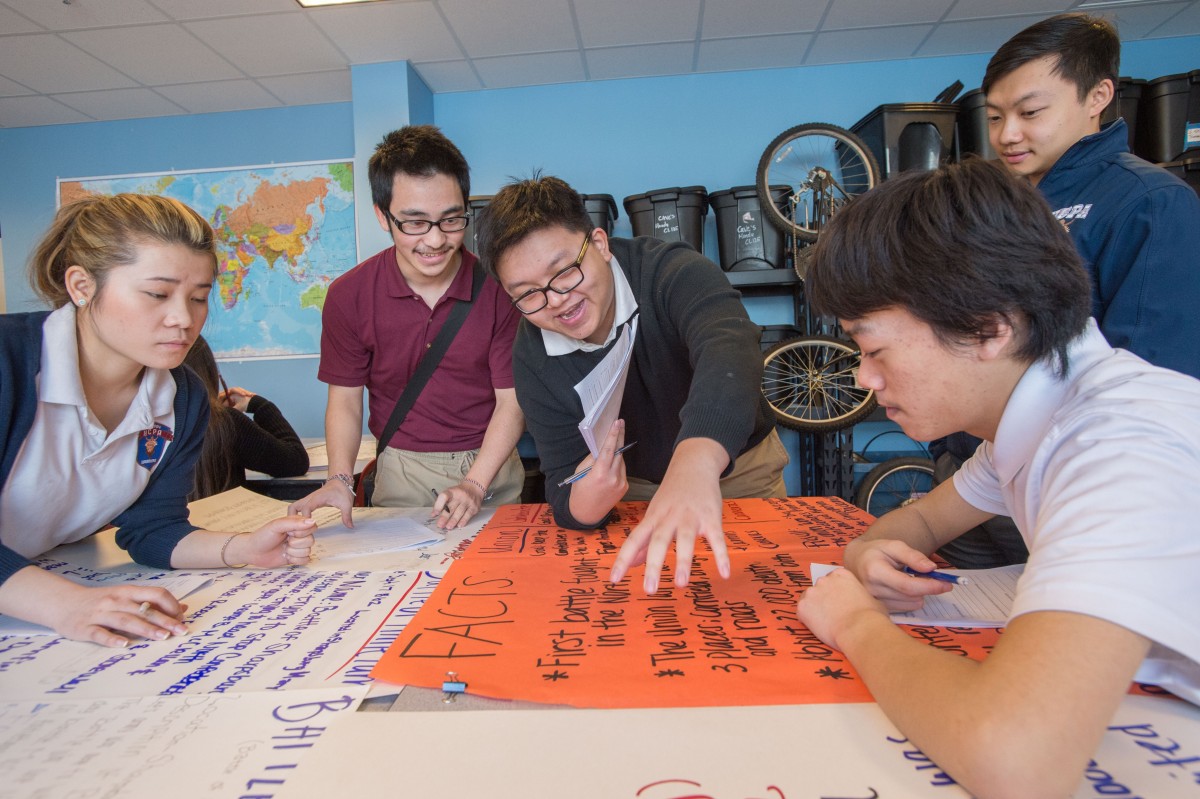 Hmong College Prep among six schools nationwide in running for NIET's top honor, which comes with $50,000 cash prize
Santa Monica, Calif.—The National Institute for Excellence in Teaching (NIET) today announced that Hmong College Preparatory Academy (HCPA) is among six schools from across the country chosen as a finalist for the TAP Founder's Award, NIET's highest honor. Created by NIET Chairman and TAP Founder Lowell Milken, the TAP Founder's Award is presented annually to one school for exceptional efforts to implement and represent the principles of the TAP System for Teacher and Student Advancement—resulting in improvements in student achievement, among other goals.
The TAP System is America's leading comprehensive educator effectiveness model that aligns teacher leadership, daily job-embedded professional development, educator evaluation and support, and opportunities for performance-based compensation. Introduced in 1999, the TAP System supports schools, districts, universities and states to advance educator effectiveness and student learning.
Funded by the Lowell Milken Family Foundation, the TAP Founder's Award comes with a $50,000 prize to be used toward efforts to improve instruction and academic achievement. The Award finalists will be recognized on Friday, March 24, 2017, during the 17th Annual National TAP Conference in New Orleans, Louisiana, before 1,000 educators, policymakers, researchers and other influential leaders. The Award winner will be announced on Saturday, March 25, 2017.
Each finalist will receive a plaque and $10,000. HCPA joins Alice M. Harte Charter School in New Orleans, Louisiana; Barrera Veterans Elementary School in the Somerset Independent School District, Texas; Dodson Branch School in Jackson County Schools, Tennessee; G.W. Carver Primary School in Ascension Public Schools, Louisiana; and West Goshen Elementary School in Goshen Community Schools, Indiana.
Each finalist implements the TAP System by establishing leadership teams, made up of master and mentor teachers as well as administrators, who drive instruction. These teacher leaders guide weekly professional development and provide individual coaching in classrooms.
TAP's teacher leadership opportunities and professional development are complemented by systems of educator evaluation, feedback and support, as well as a compensation system that rewards educators for increased skill and student performance, and for taking on new leadership roles and responsibilities.
Inside HCPA:
In 2010, before TAP System implementation, Hmong College Preparatory Academy (HCPA) was identified as one of the 32 lowest-performing schools in Minnesota. For student achievement and growth, HCPA was categorized in the bottom 5%. An outside consultant asked to review the school by the State found that HCPA teachers were not differentiating instruction, implementing current instructional practices, using data to improve instruction, and effectively instituting professional development and the evaluation of teachers. Principal Danijela Duvnjak was told that if the school didn't make drastic changes, it would face the risk of being restructured or closing altogether.
Superintendent Christianna Hang chose TAP among a suite of options, determining that its structure and practices would effectively target the school's needs. Duvnjak notes that they haven't looked back. Three years later, in 2013, HCPA earned Celebration status—the second highest state recognition—from the Minnesota Department of Education based on its progress applying initiatives that lead to positive student outcomes as measured by proficiency data, student growth, achievement gap reduction and graduation rates.
The school was honored as a Celebration School again in 2015, and in 2016, received a value-added score of 5—the highest possible score indicating that students achieved significantly more than a year's academic growth compared to similar schools throughout the state.
"TAP has remarkably changed our school and the expectations we have of our students' performance," Duvnjak says. "TAP has helped me to grow as a leader who guides teachers to properly interpret the standards, apply strong instructional practices, and interpret student work that leads to growth and mastery."
"I commend Superintendent Hang, Principal Duvnjak and HCPA staff for tackling their educational challenges head-on, systematically focusing on teacher and student outcomes, and obtaining outstanding achievement growth as a result," says Lowell Milken. "I look forward to following their progress."
Observing the collective improvements allows teachers to reflect on their individual trajectories. "The TAP System has given me a very concrete way to evaluate and examine my teaching while providing practical support to make improvements," says teacher James Cave. "TAP has had a greater impact on my teaching in the last five years than anything that happened in my first 15 years."
---
TAP Founder's Award recipients are selected without their knowledge by NIET, which manages and supports the TAP System. The honor is based on distinction in the following areas: proficient implementation of TAP's four core elements, student academic growth according to state or federal measures, and notable recognition as a center and resource of best practices.
The TAP Founder's Award yields benefits that will strengthen the individual school and support its teachers. This is done by means of prominent public recognition and by opportunities to substantively interact on issues of educator effectiveness and student learning with leaders from government, business and academia.
For more information about the 17th TAP Conference and the 2017 TAP Founder's Award announcement on March 25, visit http://www.niet.org. For interviews during the conference or to attend, contact Jana Rausch at jrausch@niet.org or (310) 435-9259.
Based on the knowledge and experience gained from over a decade of on-the-ground implementation with TAP, combined with the growing demand for proven reforms in teacher and principal effectiveness, NIET supports schools, districts, universities and states with educator evaluation training, evaluator certification modules linked to learning platforms and human capital management systems as well as tools and resources for educator preparation.