TeachStrong Highlights a Mostly Untapped Resource—Teacher Leaders
October 26, 2016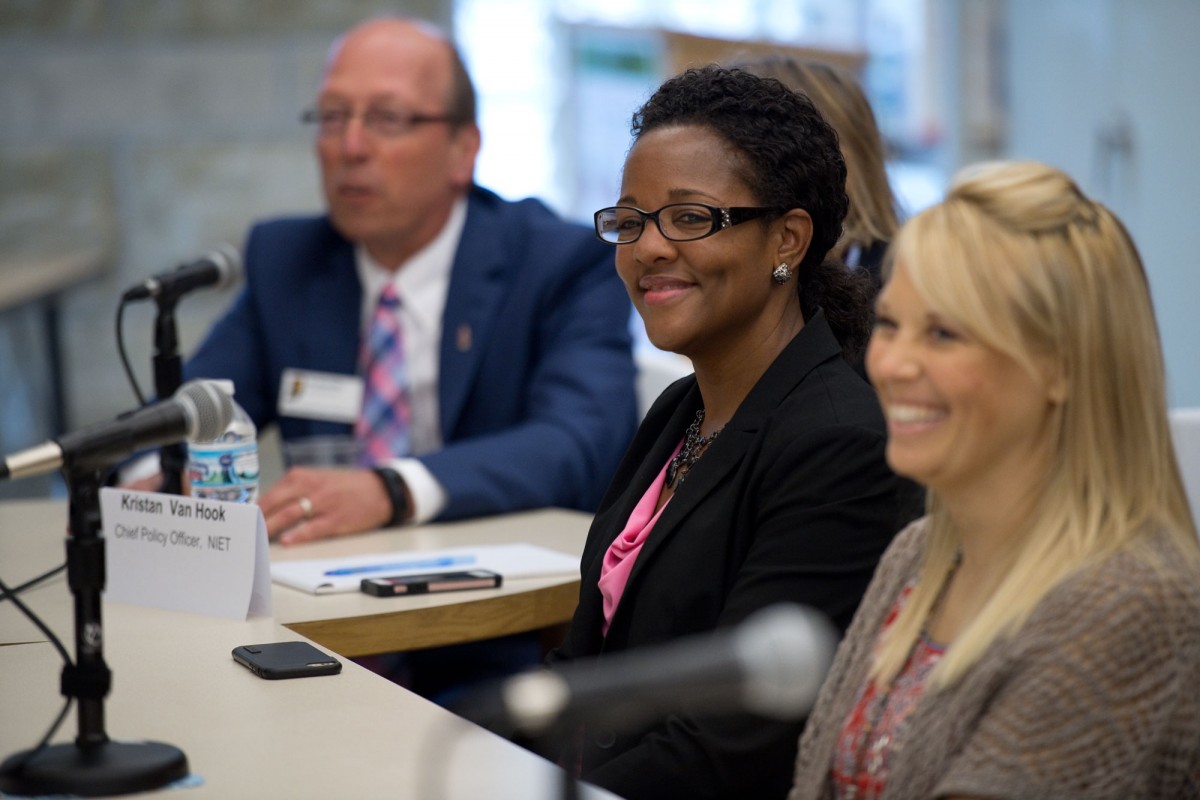 The TeachStrong coalition releases a policy proposal that recommends that states and districts create career pathways and additional leadership opportunities for teachers with commensurate pay. The TeachStrong campaign brings together more than 60 teacher
Washington, D.C.—Most teachers today only have the chance to advance their careers and grow their leadership responsibilities by assuming administrative positions, which often require them to leave the classroom. Today, the TeachStrong coalition released a new policy proposal that calls on states, districts, and schools to create career pathways that give teachers opportunities to lead and grow professionally, with additional pay and without having to leave the classroom.
The TeachStrong campaign is a coalition of more than 60 leading education groups aimed at making modernizing and elevating the teaching profession the top education policy priority in 2016 so that students, especially those from low-income families, can be taught by great teachers. The campaign's nine policy principles detail the need for comprehensive, systemic change to the teaching profession. To accomplish this goal, TeachStrong believes that we must invest in and develop policies that better recruit, prepare, support, and compensate teachers through all stages of their careers. The policy proposal released today emphasizes that schools and districts need to create career pathways for teachers with distinct roles and pay to match those roles in order to attract and retain excellent educators.
"Teachers assuming leadership roles is a critical component of elevating the teaching profession. Through the leadership opportunities described in TeachStrong's latest policy proposal, teachers will develop along a clear career continuum from preservice through Board Certification and teacher leadership. It will help keep teachers in the classroom and will ultimately benefit students, schools, and their communities," said Peggy Brookins, NBCT, president and CEO of the National Board for Professional Teaching Standards.
TeachStrong's new policy proposal offers the following policy recommendations for states, school districts, and schools to consider when creating career pathways that give teachers opportunities to lead and grow professionally:
States and school districts should create career pathways and additional leadership opportunities for teachers.
Schools and districts should provide compensation that is commensurate with teachers' new levels of responsibility.
Schools and districts should leverage teacher expertise to determine the most appropriate teacher-leader positions within individual school and district contexts.
Schools and districts should build the capacity of teacher leaders to ensure they have the expertise to transfer professional knowledge and skills to other teachers.
"To attract and retain great teachers to our profession, it is critical that we establish career advancement pathways for expert teachers, like those described in TeachStrong's latest policy proposal," said Katherine Bassett, president and CEO of the National Network of State Teachers of the Year, or NNSTOY. "NNSTOY has deeply researched both the needs for these structures and examples of them in action. Virtually every other profession has such pathways in place; they serve as indicators of a true profession."
"The success of our schools and the performance of our students hinge on our ability to ensure that teachers are able to improve their teaching skills on an ongoing basis. As TeachStrong's latest policy proposal suggests, teacher leaders are the best drivers of this change given their proven ability to translate high expectations into effective instructional practices in every classroom," said Lowell Milken, founder of the National Institute for Excellence in Teaching.
The TeachStrong campaign has also released policy proposals on recruiting diverse, high-achieving teacher candidates; reimagining teacher preparation; raising the bar for licensure; providing new teachers with residency and induction programs; ensuring that all teachers have the time, tools, and support necessary to succeed; and redesigning professional learning to better address student and teacher needs.
Information for this press release is taken from The Center for American Progress (CAP). The original release can be found here.