Indiana Districts Utilize NIET Structures and Support to Navigate Virtual Schooling in First Two Years of Federal Grant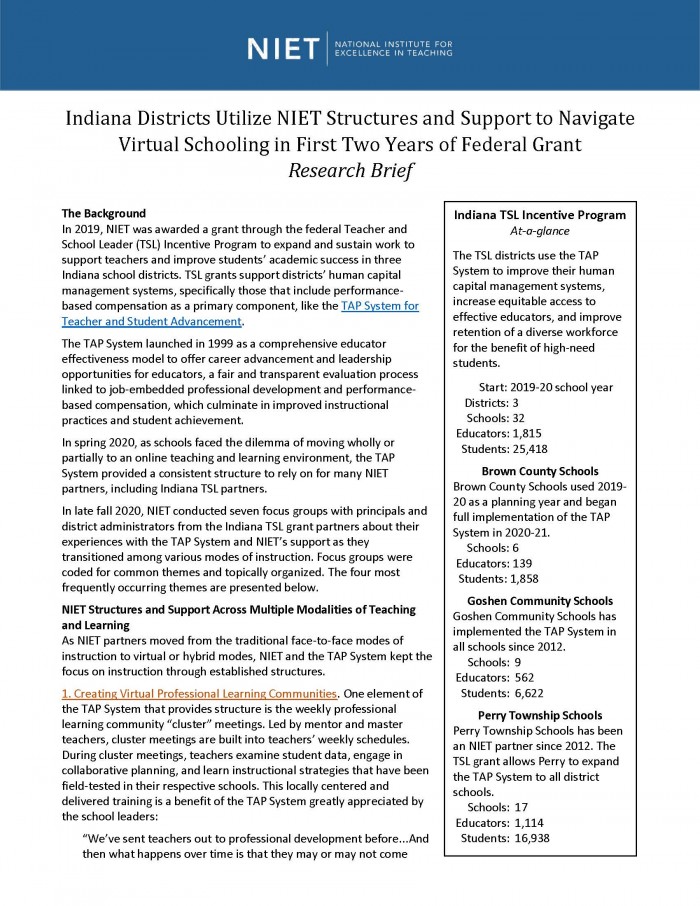 With the help of a federal grant from the Teacher and School Leader (TSL) Incentive Program, Indiana's Brown County Schools, Goshen Community Schools, and Perry Township Schools have benefited from NIET's TAP System for Teacher and Student Advancement, especially during the pandemic. During focus groups conducted in fall 2020, principals and district administrators shared how TAP sharpened their focus on high-quality instruction as they transitioned from face-to-face to virtual learning modalities. Here are the four most commonly reported themes:
Creating Virtual Professional Learning Communities: During TAP's professional learning "cluster" meetings, teachers have been able to examine student data, engage in collaborative planning, and learn instructional strategies that have been field-tested in their respective schools. School leadership teams utilized this structure to prepare teachers for the virtual environment.


Leveraging Teacher Leaders: This grant component leverages the contributions of highly skilled teachers who want to advance their careers without having to leave the classroom to become administrators. These teacher leaders have played a key role as a link between school administration and classroom learning. This role intensified in work with their teams during COVID-19 to ensure effective instructional practices continued.


Aligning Practice to the NIET Teaching and Learning Standards Rubric: The three districts view the NIET Teaching and Learning Standards Rubric as the common denominator for providing effective instruction regardless of delivery mode. The NIET Rubric Companion for Virtual Instruction helps educators deepen their understanding of high-quality virtual learning.


Coaching and Support: As part of the TSL grant, schools and districts are supported by a team of NIET coaches and support staff and have access to a number of materials and resources. These include the NIET Rubric Companion for Virtual Instruction and accompanying handbook, "deep dives" into transforming lessons from in-person to virtual, webinars on observation and evaluation in a virtual environment, and formal NIET trainings.
Our virtual clusters have been absolutely brilliant. We're talking about virtual instruction and we're teaching about virtual instruction. We're giving so many tools for the teachers to take back into use. Our transition to virtual has been so smooth because of our master teachers, their use of virtual clusters, and using the tools that were going to be needed.

Perry Township Schools Principal
For the first year and a half of the grant period, district and school leaders report the effectiveness of instruction remained high through the efforts of their personnel and the TAP System. They look ahead with resounding pride and confidence of their partnership with NIET and the progress they have achieved.