2022 NIET National Conference Recap: Accelerating Educator Impact
March 24, 2022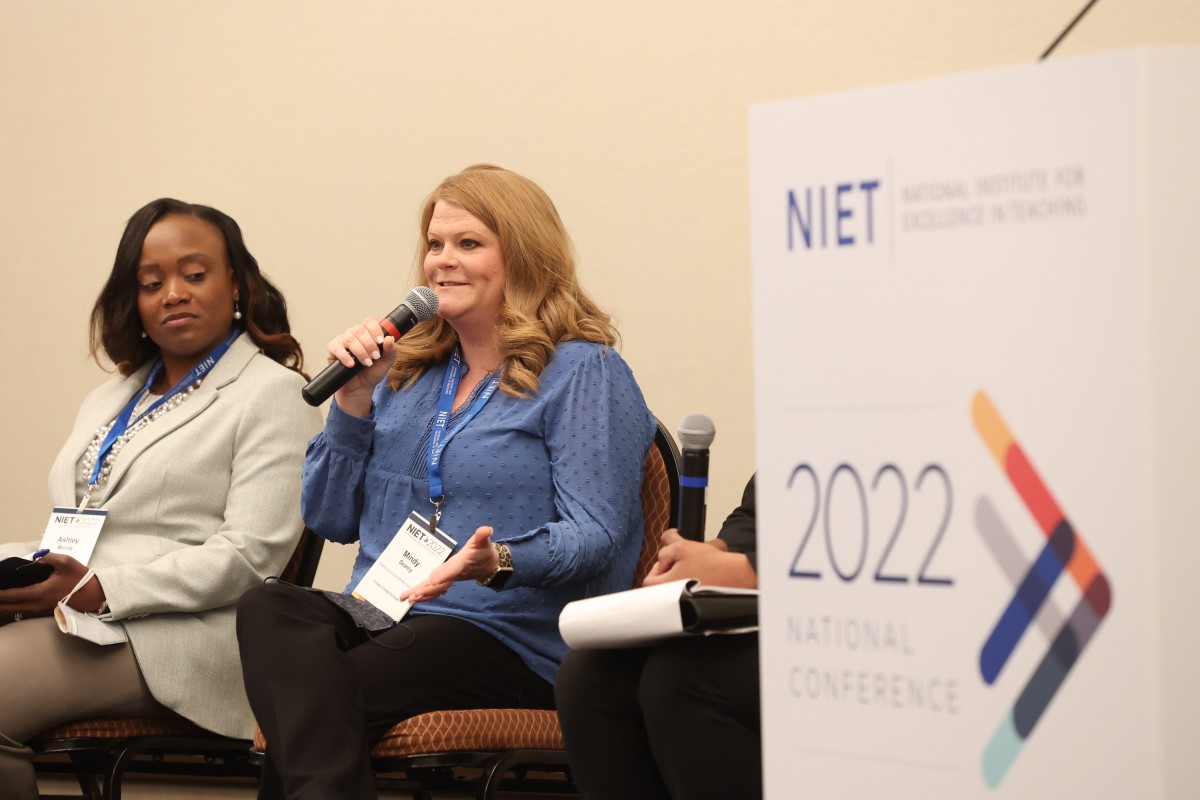 Every year, NIET's National Conference brings together educators from across the country to experience hands-on, interactive training with the goal of strengthening instructional practices and advancing student success. On March 10-11, more than 1,200 educators traveled to Dallas to attend the 21st annual NIET National Conference and engage in professional learning around accelerating the impact of educators. During the two-day conference, educators collaborated with and learned alongside NIET specialists and peers through a variety of professional learning sessions and walked away with actionable strategies that can be implemented in their schools immediately.
"Everything that has been provided is exactly what I needed at this time," said a conference attendee. "I'm excited about implementation returning to school, and I'm ready to get started with the new learning that I've obtained."
The conference offered 25 different professional learning sessions, including several panel discussions and bubble sessions for educators to observe collaborative meetings in action. Each session connected to one of six different strands of learning that support learning acceleration:
Equitable Access to Rigorous Learning

Strong School Culture, Character, and Environment

Excellent Instruction and Student Ownership

Leadership and Collaborative Learning

Effective Use of Instructional Materials and Curriculum

Building New and Aspiring Teacher Supports
Learning Highlights from Some of Our Most Popular Sessions
At the conference, NIET facilitators delivered relevant and impactful sessions to support partners in moving forward successfully and accelerating the learning of their students. Over the next few weeks, NIET is excited to release several new materials from the conference for all educators to access. The materials will be available on the Learning Acceleration Resources section of the NIET website as they are released.
Here's a peek inside some of the learning that took place at the 2022 NIET National Conference:
Establishing a Student Ownership Culture by Utilizing Success Criteria
During this session, leaders at all levels identified next steps for establishing a culture of student ownership by learning to identify what evidence of student ownership looks like and sounds like. "The resources shared during this session are ones I can carry into my classroom immediately," said a conference attendee. "I primarily work with bilingual students and this session's [focus on] success criteria is great for building exemplars [to support their learning]."
In the training, participants learned to recognize and discuss traits of a learner and describe accelerated learning. They also explored how student interaction with success criteria builds the foundation for student ownership and collected evidence to explain how to "see and hear" ownership of learning. Partners walked away from this session prepared to coach strategies that engage students with success criteria to accelerate learning.
You've Got to Move It, Move It! Leader Moves to Strengthen Curriculum Implementation
This session explored the powerful connection between high-quality curriculum and effective leadership practices and highlighted specific leadership moves that enable teachers to implement curriculum effectively. "[This was] the most valuable session for me as a district leader who is currently in the process of textbook adoption," said a conference attendee. "[It had] very applicable resources to use instantly with my principals and their staff."
During the session, participants learned to identify specific leadership practices that support high-quality curriculum implementation and how to identify their current status and next steps in the implementation process. Partners left this session equipped with a specific framework and set of actions that leaders can take to support teachers with curriculum implementation.
Dismantling the Culture of Nice to Leverage Collective Leader Efficacy
This session focused on the impact of intentionally recognizing, building, and leveraging leader strengths to positively impact teacher effectiveness and student achievement. "If I want to hold team members accountable, I have to be willing to go first," said a conference attendee after participating in this session.
During the training, participants developed an understanding of collective leader efficacy and its impact on leadership teams, teachers, and students. Participants also reflected on and identified the conditions and mindsets that leaders need to support continuous improvement. During the session, partners created a plan to accelerate adult learning by intentionally leveraging the strengths of the leaders on their team.
Honoring Excellence in Teaching
During the conference, NIET recognized multiple schools and one district for their efforts to accelerate educator impact and improve student achievement.
Cross County High School in Cross County School District, Arkansas, was named the 2022 NIET Founder's Award winner and received the $50,000 grand prize. The school received the Founder's Award because it exemplifies NIET's work with schools to develop teacher leaders, collaborate on successful instructional practices, and provide feedback and support to address teacher and student needs. The other four finalist schools were also honored for their achievements with $10,000: Brown County High School (Brown County Schools, Indiana); Logansport High School (DeSoto Parish School Board, Louisiana); Somerset Elementary (Somerset Independent School District, Texas); and Southport 6th Grade Academy (Perry Township Schools, Indiana).
In a surprise award ceremony, Ascension Public Schools was presented with the 2022 NIET District Award of Excellence for Educator Effectiveness and $50,000 for its focus on educator excellence and student progress. Ascension Public Schools initially partnered with NIET to start a turnaround zone with two schools in 2008 and eventually expanded their partnership to all 31 schools in the district. Ascension has intentionally integrated NIET structures that accelerate educator impact and scaled those systems across the district to elevate every school to ensure every child is taught by a highly effective teacher.
A Lasting Educator Impact
NIET's National Conference is the culmination of its mission – working with leaders from every corner of the country to build educator excellence to advance student success. Partners are already implementing strategies learned at the conference in their districts, schools, and classrooms that will have a long-lasting impact on the achievement of their students. NIET is honored to have the opportunity to support these leaders in accelerating their impact and looks forward to building upon this work throughout the remainder of this school year and into 2022-23.