Working Remotely: If you want to curl up in a ball in the corner of the room, you are not alone!
April 8, 2020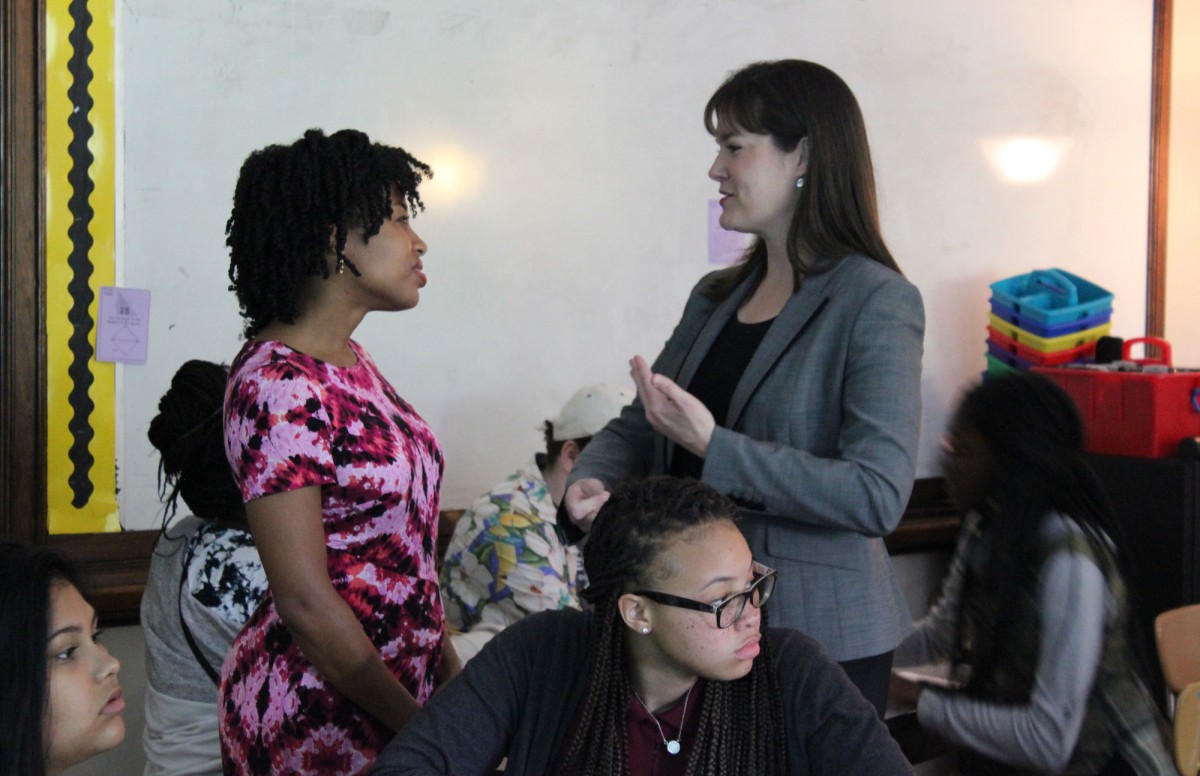 By: NIET CEO Dr. Candice McQueen
When I consider the most asked question I have received lately, it is not what you might think. While developing structures and plans for virtual teaching and how to support teachers remotely are in the top 5, the most asked question I have received is one that hits much closer to home – in fact, very close to home: How can you work from home and manage your kids "schooling" at the same time?
After all, I am an educator, but I am also a mom of two kids and a spouse to a full-time worker. And right now, juggling all of those roles is one of my biggest challenges, too.
I want to say first that this is really hard, particularly in the early weeks. You are building out new habits – and new habits always take time. In an ideal setting, building new habits require that you start slow, you practice, and you do not take on too much else that is "new." Unfortunately, we have broken all of these rules as the COVID-19 "remote world" happened to us. At the same time, you are also experiencing grief about what you have lost, so this is a particularly challenging moment to take on new routines. So, that is my first message: forgive yourself when you fall short.
Second, there is no playbook for the moment we are in, so the tendency to want to "retreat" and give up is real. In fact, on day one of my kids' remote learning and my remote job, I had already said (in my head) this was definitely not going to work. I looked very similar to Jack Nicholson in The Shining as I eventually lost it by about 9:30 that morning. We simply could not embark on this journey correctly: starting slow, practicing the new routine, and eliminating lots of other "new" things in our life. We jumped all in because we had no choice. I believe, right now, the best thing we can do is start somewhere, be willing to alter the plan when we need to, and develop the playbook as we go.
I asked some other top educator-moms – Jessica Baghian, assistant state superintendent of assessment, accountability, analytics and early childhood for the Louisiana Department of Education, and Cicely Woodard, 8th grade math teacher and former Tennessee Teacher of the Year – for their thoughts on how they have made this transition work, and it seems like all of us are relying on what we know works with students. As an educator, I have tried to remember my top three keys to success when I was in the classroom – communication, clarity, and consistency – and apply them to this moment with my own kids. They are beginning to work for me, although I have certainly altered them a few times already. I do hope they are helpful to you and you build on them as we write this playbook together.
Here are my top tips.
Get organized and prioritize in ways that keep you sane
Just because you are at home, you may try to multi-task. DON'T! Build in time for "home" tasks that are scheduled as much as possible outside of the "work day." You can lose your sanity trying to prep for work, stay connected with your team, manage work time at home with kids, plan and make meals, and clean the house at the same time. Divide this up as you would other days of the week.
Create work space/work times for everyone. If you don't have dedicated space for everyone, divide up who uses what and when. Alternate to keep the peace if one work space is perceived as better than another.
Create a consistent work space within your space, but encourage everyone to move around and change it up at various points/by day.
For lunch, I have tried to get things the kids can microwave, fix themselves, or prepare in lunch boxes the night before like a school day. This allows schedule flexibility and some independence. It also eliminates the need for cooking breakfast, lunch, and dinner every day.
Your kids' schedule should generally include time for school work as well as doing something physical (walk outside, kick the soccer ball, run) and creative, with possible options to do something for someone else/something social (write notes, text grandparents, clean up, FaceTime with friends, etc.). We have made one of our tables the "creative table." This is where they can go during that time to paint, write, draw, or make up a game to play later. They also write notes once a week.
Jessica also suggested a great idea in our Q&A that may add some structure to your kids' world: if they wear a uniform every day, continue to wear it. "It felt a little bit silly at first, but it's helped me as much as my son," she said. "I just think it's helpful to say: this is the school day and this is the weekend."
Develop a general communication strategy with your kids
Morning meetings fit my family well. Here is how this works for me: I am personally reviewing my work plan for the day by 7:30 and doing any quick "office" work I can do.
Then, the morning meeting with my kids is at 8:15 or so. We share what the school work is for the day, schedule/write down a plan, eat a quick breakfast, and then execute on the schedule.
I break up the day by hours, and it always starts at 9 a.m. I split a blank piece of paper into three columns – one for me and one for each of my two children. More kids, add more columns.
All of us share what we are doing for the day and note what hour it will occur or when it will be prioritized. I quickly write this in columns, and we discuss if priorities can't be set well.
If conflicts emerge, we discuss and try to work them out together (such as, I need a particular space for a Zoom meeting and one of my children wants it, too, to watch a video and or chat with friends).
If I need to check on work that one of my kids may need to submit to their teacher, I share when that might be possible on the day's schedule. This prevents them from interrupting me at the worst possible times.
Build in connection protocols, signals, and breaks in the day
If one of my kids needs me, we have come up with non-intrusive signals (text me, lay a note on the table where I am working, etc.) to get my attention. I can then let him/her know when I can connect. This takes practice as kids believe you should be available all of the time – because you are at home, right?
It is important to schedule or let them know when you can take a break to check on them, and I communicate that explicitly. Cicely also noted the importance of breaks in her routine to connect with her kids. After all, "I can't teach my own students and teach my kids at the same time," she said.
Try to provide an end time for work and what you want to do when the "end time" comes – go outside, make dinner/cookies together, read something they have written, do something creative, play a game, choose a show to watch, etc.
If schedules allow, eat lunch together and each of you can talk about what has happened in your day so far.
And try to prioritize taking care of yourself. "Finding some time to read a book or go for a run or take a nap. … Just being able to take care of ourselves mentally and physically as well is key," Cicely said.
This plan may change tomorrow, but right now, it works for us. As Jessica said in our Q&A, "Day 1 of quarantine I was like a lot of other former educator-moms: I had my schedule, I had the time slots. And I realized about 36 hours into that the schedule was probably a good idea, but the time slots were a joke. At this point, we are just trying to follow the same flow of the day and we are less committed – except for naptime, which my 2-year-old has to have – to how long we are doing each activity."
Cicely is operating similarly. "I've seen a lot of parents adhere to the school schedule, and I found that just did not work for us," she said. "I allow the kids to sleep in, and they know when they get up and after they eat breakfast, they need to do work. But I've found that everyone is happier if they can get their rest that they need."
The important steps right now are recognizing all of us – including our kids! – are in this together. I want my kids to look back on this time and remember it for the fun moments we created together and the little moments of connection we made. There is very little we can control right now, and reminding ourselves of that may help us let go of the need for perfection – as long as we are doing our best and doing what we can, that's the model our kids will remember.
Q&A with NIET CEO Dr. Candice McQueen
What management system do you use for coordinating remote work and schooling from home schedules (digital calendars, handwritten calendars/schedules)?
I continue to use the Outlook calendar for work, but I transfer key items onto a regular notepad for our daily calendar as a family.
If you have multiple adults in the house, how to you tag-team/supervise the children's learning?
This starts with strong communication about each other's schedules. It will most likely be hard to do the same tag-team routine every day, but if you can have some moments that are consistent, it can be better for younger children in particular. For example, one adult could always facilitate breakfast on Tuesday/Thursday while another adult works for an hour, and this is flipped on Monday/Wednesday. Regardless, I use the same techniques with my husband that my kids use with me to "get attention" about a need. I just text or slip him a post-it note to help!
How do you balance work with breaks, time outside, self-care, etc.?
Based on the daily schedule, we try to intentionally build in breaks, physical time, and creative time for each child. They do overlap these at times – like going outside on the porch to paint or draw – depending on the day.
How do you address competing remote work and schooling from home priorities?
I talk about it – with whoever can do something about it. I try not to agonize and worry about it when a conflict arises, but go directly to the impacted person or one who could change it. For example, if I have a call come up that was not anticipated and that now falls at a time when I was going to talk to my son about this math work, I share this with him (maybe even via text or sticky note) and we "reschedule" or I work to alter the call by 15 or 20 minutes so I can have the math conversation and he can move forward with his school work. My kids and I also each have "offices" (which is basically our designated work space – card table in the bonus room, for instance). We know work time is happening when each of us in our "office" and we try to operate like co-workers. We schedule and reschedule each other, as needed.
Q&A with Louisiana Assistant Superintendent Jessica Baghian
- YouTube
Q&A with 2018 Tennessee Teacher of the Year Cicely Woodard
- YouTube