Charting Our Course: Honoring Teachers during Teacher Appreciation Week
May 8, 2017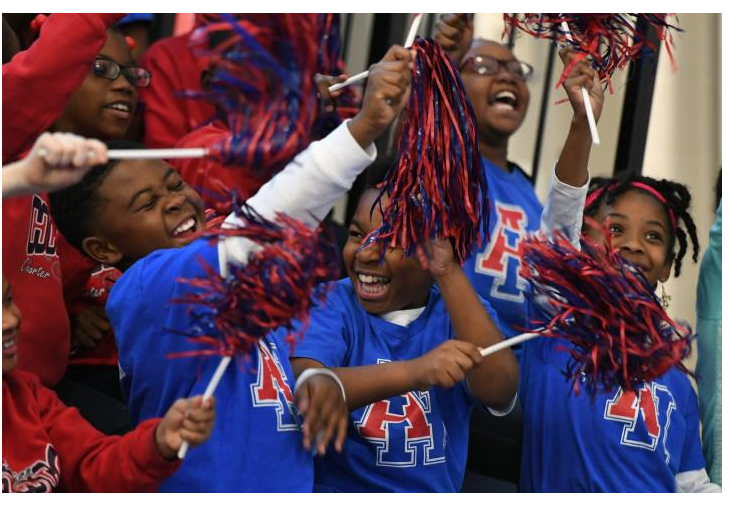 Share Your Story with #ThankATeacher
May 7-13 is Teacher Appreciation Week, and the National Institute for Excellence in Teaching can think of no better way to celebrate than to lend its thanks to the many outstanding teachers who have shaped the lives of its staff.
Supporting educators in preparing young people to succeed in school and life is the bedrock of NIET. For many NIET professionals, having effective educators at early ages fostered a lifelong dedication to education that has transcended from generation to generation. Here's where it all began.
Click on the links below to read our stories, and share your own using #ThankATeacher on social media.
Lowell Milken, Chairman and Founder
Gary Stark, Chief Executive Officer
Patrice Pujol, President
Joshua Barnett, Chief Learning Officer
Kristan Van Hook, Chief Communications Officer
Katie Von Rembow, Chief Financial Officer
Teddy W. Broussard, Senior Trainer
Ann Shaw, Director of Training
Danielle Ferreira, Director of Learning Technology
Michael Derrick, Senior Program Specialist
Jodi Leckbee, Senior Program Specialist
Dedra Lee-Collins, Senior Program Specialist
Stephanie Mosqueda, Senior Program Specialist
Jen Oliver, Senior Program Specialist
Natalie Szakacs, Senior Program Specialist
Amanda Warwick, Policy Assistant
Hayden Peters, Senior Support Manager
Bonnie Somers, Senior VP of Communications, Milken Family Foundation
Jana Rausch Coffey, Director of Media and Public Affairs
Over three decades of visiting thousands of classrooms across the country, I have always made it a point to tell teachers that they have the most important job in our country. This message draws from professional experience, but is also rooted in a personal belief developed during my formative years at Hesby Street Elementary School in Los Angeles' San Fernando Valley. There, I was fortunate to have talented teachers, such as Mr. Lou Fosse and Mr. Elliot Sutton in the fifth and sixth grades, who nurtured the love of learning instilled by my parents early on.
Warm and caring while firm and challenging, Mr. Fosse and Mr. Sutton created special environments that inspired us to achieve at high levels and become independent thinkers. What rings true for many effective educators, they shared a goal of making direct connections between what we learned in school to the skills, knowledge and experiences that we would need to live productive lives. I often look back at Mr. Fosse's way of tying America's quest for independence to my own young journey towards self-sufficiency and high standards of excellence. Mr. Sutton's lessons in extemporaneous speaking encouraged us to think on our feet, and his focus on geography gave me a greater appreciation for our own place in the world that I value to this day.
Yes, one outstanding teacher can make a profound difference in hundreds—even thousands—of young lives. This Teacher Appreciation Week, I pay tribute to Mr. Fosse and Mr. Sutton and salute all those who have cultivated the maximum potential in their students. Your work is imperative in sustaining our course as a democracy with opportunities for all.
-Lowell Milken, Chairman and Founder, National Institute for Excellence in Teaching; Chairman and Co-Founder, Milken Family Foundation
One of my really great teachers from high school was Linda Griffiths. She had an amazing command of mathematics and had a sincere desire to teach. I grew up in a small rural town, but Mrs. Griffiths really challenged students and made math relatable to the world.
It was inspiring to see Mrs. Griffiths advance her career by obtaining her Ph.D., and continue on to lead the state with several large scale math initiatives. Last I heard she was a professor, teaching tomorrow's math teachers.
I was very honored to have been a student in her class. Dr. Griffiths, and other great teachers in my rural town, really made an impression on me and my current work. The importance for every student to have a great teachers at every level in every subject has been at my core as CEO of the National Institute for Excellence in Teaching. Thank you to all teachers for changing lives and building our nation's future—one young person at a time.
-Gary Stark, Chief Executive Officer
As a child, my nose was always in a book and the power of words intrigued me, but Ms. Alexander, my eighth-grade speech teacher, really pushed me to use the talents and interests I had around language to become a better communicator. She inspired me by what she challenged me to read and by how she challenged me to think. I became an English teacher and an educational leader certainly in part because of her investment in me. Thank you, Ms. Alexander, for believing in me and feeding my passions.
-Patrice Pujol, President
Educate the whole child or the three Rs? I didn't know much about educational philosophy throughout my actual education. However, I suppose I would've leaned toward a three-Rs philosophy had someone explained it to me at the time. These are skills everyone should know and translate into a job; these other courses are for "fun" or "easy As," right? As a student, I viewed education as an opportunity to pursue a job, a profession. Yet, when I reflect on the teacher who had the most influence on me, it was unquestionably my debate teacher, Mrs. Balgavy. Unlike core subject teachers, with whom one might have a course or two, Mrs. Balgavy taught the advanced/gifted classroom in my junior high and was also the high school debate teacher. As such, I had Mrs. Balgavy for six years of my education, which included time in class each day as well as out at school trips and competitions. Now, as a parent, I see the power and influence from my own experience of the arts educators who spend years working with students expanding the mind of my own children. These teachers help unlock the potential of students across subject areas and are not test-bound. However, they focus on creativity, application of information, and the integration of information that makes use of, but ultimately usurps, the content of any one subject area course. Thank you to all of those teachers who serve our students each day to awaken and challenge their minds, and thank you to Mrs. Balgavy.
-Joshua Barnett, Chief Learning Officer
My fifth-grade teacher Mr. Godfrey was passionate about theater, and especially Shakespeare. We read Shakespeare plays out loud and he told us we would put on A Midsummer Night's Dream as a class. To say I was uncomfortable with the idea of being in the play, and performing in front of an audience, doesn't begin to capture how reluctant I was. But his enthusiasm was contagious. The rehearsals were long and painful as he struggled to get a group of fifth-graders to meet his expectations for the performance. I will never forget the feeling of working really hard at something I knew I was not good at, and seeing how as a group we were able to create something that rose above individual efforts. We were thrilled by our feeling of success in front of an admittedly biased audience. He noted our hard work, praised a few highlights, and explained in detail how much better we could do the next time. I often think of Mr. Godfrey when confronted with the challenge of doing something I know I am not good at. Thank you, Mr. Godfrey, for helping me learn about perseverance and the importance of high expectations.
-Kristan Van Hook, Chief Communications Officer
The teacher who has had the most impact on my life is my mom, Ms. Rye. Although she was never my classroom teacher, she instilled in me at an early age a love of learning and an appreciation of the value of education. She encouraged me as I began my own teaching career and supported me as I decided to further my education and pursue my CPA designation. Now I get to support educators like my mom in my role with NIET. Thanks, Mom!
-Katie Von Rembow, Chief Financial Officer
Growing up in a poor family in south Louisiana, school was very often the best part of my day. Kenneth Deen, my high school Algebra 1 and geometry teacher helped me to realize that my parents gave me much more than material things—they gave me the will, ambition and drive to become anything I wanted to be. I became a high school science and math teacher just like him. He made me realize early on that teachers are responsible for teaching more than just content. He was a true model for me to look up to and admire and always showed that he truly cared about what happened to me. The examples he set have guided my work over the last 40 years as a teacher, administrator, school turnaround specialist, and now in my work supporting teachers and schools around the country in the TAP processes. Thank you, Mr. Deen, for all you did! Know that your guidance still influences me today!
-Teddy W. Broussard, Senior Trainer
While I have been blessed with many outstanding teachers I will always be thankful to my high school literature teacher Mrs. McClain. I often thought of Mrs. McClain as somewhat of a "rebel." Her teaching style was different than others in our rural southern high school. She exposed us to a variety of literature and always encouraged us to dig deeper to analyze themes, characters and plots. Discussion wasn't just encouraged but required and you never came to a discussion without being prepared. (Believe me, it was brutal if you did.) She questioned us and encouraged us to question her and the authors we read. She pushed all of us in her class to further our education. She proofed every college and scholarship application before we submitted and rejoiced with us when we were successful.
-Ann Shaw, Director of Training

I remember my older sister really being into books and thinking to myself, "What is it about books she's so into?" It wasn't until I had Mrs. Manolacks as my fifth grade teacher that the adventures that books can bring to you became crystal clear to me. No matter how much curriculum we had to get through, Mrs. Manolacks made sure we had time every day to listen to her read to us books like A Wrinkle in Time or From the Mixed-Up Files of Mrs. Basil E. Frankweiler. Though her read-alouds only took about 15 minutes of our entire day, the impact that time had on my future was vital. Mrs. Manolacks showed me how to gain understanding from text and make the context relevant to me. She questioned the actions of the characters, she inspired us to relate to character choices and experiences, and she taught us how to use those perspectives to make sense of our own experiences. As a professional I continue to stay close to literature about the best practices in education in order to seek out the most efficient and effective ways to support fellow educators. I believe that Mrs. Manolacks, her ability to show us how to connect to literature and show us how to use empathy with others to drive successful change provided me my path into my profession. Mrs. Manolacks, thank you for your large contribution in shaping me into my future self!
-Danielle Ferreira, Director of Learning Technology
When I reflect on a teacher who really had an impact on me, the first person I think of was my philosophy professor at the College of Charleston, Dr. Perlmutter. He made me think in a way I hadn't really had to do until that point in my educational career. Whether religion, social, or other issues, I was forced to challenge thoughts and beliefs I had and explore ideas I had never considered before. I think it was then that I become more of who I am today—an open-minded, tolerant person who can consider other perspectives and ideas. I then went on to be a middle school teacher and tried to get my students to think from multiple perspectives as well. Thank you, Dr. Perlmutter!!
-Michael Derrick, Senior Program Specialist
The first in my family to go to college I tentatively enrolled in classes at my local community college. I signed up for Government and met a professor that would change my thoughts about my intelligence and my way of viewing the world. Dr. Kitzmiller informed us on the first day of class that he would celebrate all "A" students by calling them to the front of the room to receive their test papers. His assignments were never factual or fill in the blanks. He would make us watch news clips and videos from documentaries and then answer questions about why we believed what we believed. He made us think about government and government policies as it pertains to our own ethics and morals and he made us defend every opinion we had. I had always been an OK student, but never a great student. However, in this class, I wanted to be called to the front to receive my "A" test paper more than anything I had ever wanted before. I rose to the challenge by creating study groups where we could talk about the issues before any test and I read things I probably would never have read before with a critical eye. He changed the way my brain worked and I am forever grateful.
-Jodi Leckbee, Senior Program Specialist
It is very uplifting as a sixth-grader when you know that your teacher really wants the best for you. Mrs. Jolly was the teacher that always encouraged me to focus on the task at hand, use critical thinking skills to solve problems, and to always double check my work. She would gently push me when I needed to challenged, provide a kind word when I needed to be uplifted, and correct me when I needed to make better decisions. During my middle, high school, and college years, I would eagerly visit Mrs. Jolly to share my accomplishments because I knew she would be proud of me. Because of my sixth-grade teacher, I value education and understand the importance of being a lifelong learner.
-Dedra Lee-Collins, Senior Program Specialist
The teacher who had the greatest impact on me personally and educationally would hands down have to be an amazing man named Mr. Newberry. Mr. Newberry was my high school chemistry teacher. Math and science were always a challenge for me, but not the way he taught his content. He had a special way of breaking down the content to make it seem very easy, and a special way of connecting with his students. We all knew that he cared about us and making us as successful as we could be. Nicknames and funny analogies made us all excited to go to his class every day!
-Stephanie Mosqueda, Senior Program Specialist
One teacher that has had a profound impact on me was my kindergarten and first-grade teacher, Mrs. Cathy Ellsworth. If I close my eyes now 37 years later, I can transport myself back to her classroom where she taught an unruly bunch of five-year-olds, sitting on pastel green carpet squares with little legs folded, to read. She did so through her magical way of bringing stories to life and using puppets to teach us how to sound out letters. My favorite was the blue dolphin puppet! Mrs. Ellsworth, with her enthusiasm and big, red circular glasses—it was the 80s!—simply enthralled us all. My love of learning and reading first sprouted in Mrs. Ellsworth's class, and I remember reflecting on her teaching skill and kindness as I made the decision to become a teacher myself. Not only did she attend to my academic needs, she also supported me when I experienced a death in my family. I even remember her taking me out to lunch with her one day during that time period which made me feel so extra special and important. A lifelong educator, Mrs. Ellsworth moved from teaching herself to a university position where she currently instructs pre-service teachers, including one of my own cousins. Thank you, Mrs. Ellsworth, for teaching, supporting, and inspiring me and undoubtedly so many others that have had the good fortune to know you!
-Jen Oliver, Senior Program Specialist
Ms. Dori Keyser, in Goshen, Indiana, changed my life through her ability to care and push with my best interest at heart. She was my PE teacher through middle school and my basketball coach from sixth grade through my senior year. Because of her leadership, I believed anything was possible. She saw small successes and pushed me to reach the next level—celebrate but get back to work learning more. This was a time in my life where her influence helped me to realize anything was possible. I developed a love for learning and I continue to try to learn something new every day. It has been 40 years. Thank you to my dear coach, Ms. Keyser!
-Natalie Szakacs, Senior Program Specialist
As a student, Washington, D.C., was a bit of a mystery to me. I could recite the Preamble to the Declaration of Independence and name the branches of government like any good grade-school student, but it was not until Mr. Gross' government class that I truly learned about the work and nuances of the federal government. Mr. Gross was the first to teach me how government and policy influence a broad range of issues, like education. It was during a trip to the state capitol at the end of Mr. Gross' class that I realized I am genuinely interested in government and how it works. This interest carried over into college, and ultimately into my job with NIET. Thanks, Mr. Gross, for all that you did!
-Amanda Warwick, Policy Assistant
As a student, I was always interested in foreign languages. Unlike most students, I didn't view Spanish as boring or unnecessary. Mrs. Dillard fostered my interest in the language with her sarcasm, wit, and ability to turn complex verb conjugations into either phrases or songs that I still remember 10 years later. She also took the time to explain Mayan folklore to her Spanish 4 students, as well as the satire in Don Quixote. As a result of this, I majored in Spanish/Latin American Studies in college, and am now the bilingual employee in the NIET Fayetteville office. Thanks again, Señora!
-Hayden Peters, Senior Support Manager
From fourth through sixth grades, I was fortunate to be a guinea pig for a University of Illinois research study of gifted education. (This was an era when the emphasis on high achievers probably outweighed the attention paid to children who required remedial support to succeed.) Mrs. Genevieve Carr, who taught us for the first two years, did a lot of what we would now call project-based learning. One of my favorites was an exploration of Japan to show off to our parents during open house. As one example, our class collaborated on an enormous butcher paper mural of Japanese life and traditions; my painting was of a kimono-clad woman serving tea. If you come to my home now, you will see evidence of my lifelong appreciation for Asian art. We also wrote individual travel diaries of an imagined trip to France, budgeting every hotel, meal, museum entrance, etc. This experience had a profound impact as I went on to study French for eight years, became an exchange student (not to France but South Africa), and coordinated and helped to lead an international course during grad school. Thank you, Mrs. Carr, for nurturing my curiosity and lifelong passion for diverse cultures!
-Bonnie Somers, Senior Vice President of Communications, Milken Family Foundation
This Teacher Appreciation Week I'm reminded of one of the toughest days of my childhood: the transition to a new school during fourth grade. Our family moved neighborhoods, and with that came a new school, a new way of learning, and a new way of life. When it came to picking my teacher, my mom—also a teacher—was given two choices: "the nice one" or "the strict one." She picked "the strict one."
Those months of catching me up to the other students were hard and were met with afterschool tutorials, one-on-one student mentoring, parent-teacher conferences – the works. I resented my parents for making me go through that blood, sweat and tears. But then I began to see the fruits of my labor. I started passing exams with flying colors, and even more rewarding, got a nod from my teacher. "You see?" she said.
I didn't only exceed my expectations for fourth grade, but set the bar for my entire academic career.
I will always remember fourth grade for getting my momentum into gear and propelling the drive that I have today. Thank you to Ms. Yano for pushing me to reach my highest potential, and to Mrs. Rausch for putting me in her classroom.
-Jana Rausch Coffey, Director of Media and Public Affairs