Creating a Safe Space for Students After Disaster Strikes
September 27, 2017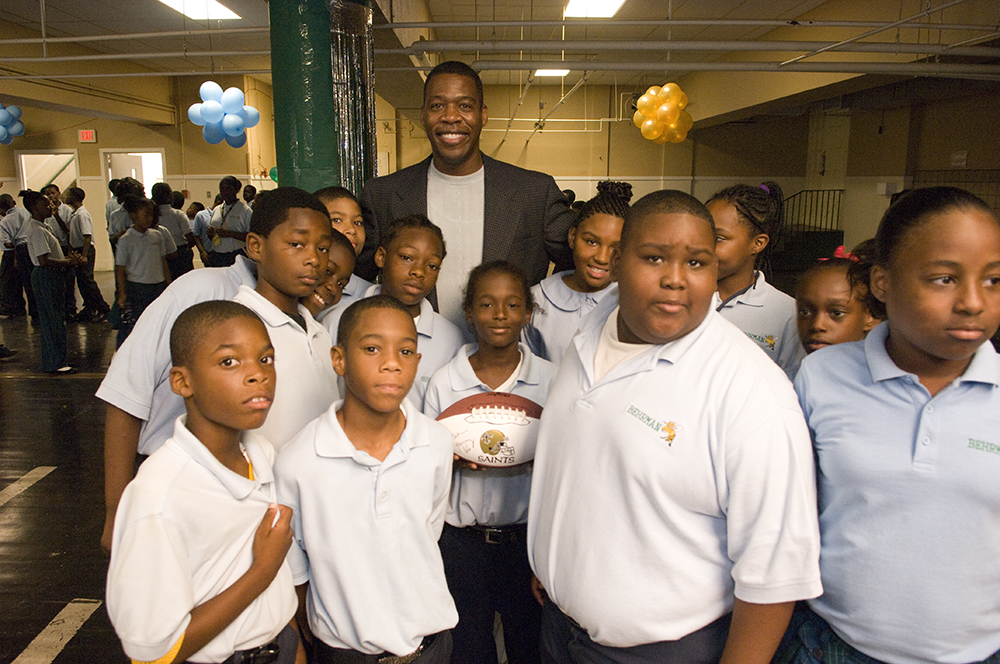 By Brian Young, TAP Principal, Algiers Charter School Association
This article originally appeared in Education Week Teacher on September 13, 2017. It is republished with permission from the author.
Words will never begin to describe the devastation of a storm and the repercussions it has on a community for years to come. It has been 12 years since Hurricane Katrina ravaged my city of New Orleans—and changed the face of education in our region forever. Because I took refuge in Houston during Katrina and had colleagues and students who did the same, Hurricane Harvey is hitting close to home. I empathize with the educators, students, and their families who are bracing for what will be a difficult year of recovery after Harvey and now Irma. But it will also be a year of strength.
Having taught in one of the first schools to reopen after Katrina, I know the feeling of the weight of the world in your hands and the magnitude of the responsibility educators hold to create a safe, nurturing environment for students to grow and thrive, no matter the circumstances.
At the Martin Behrman Charter School Academy of Creative Arts and Sciences—a preK-8 school where I now serve as principal—we knew that we needed to put the best interests of our students before all else. We called this approach "the Behrman way." When we opened in December 2005, three months after Katrina, more than half the student population was homeless. How were we going to help students focus on schooling when they didn't even have a permanent home?
The Road to Recovery
Fortunately, our charter network—the Algiers Charter School Association—adopted the TAP System for Teacher and Student Advancement, an instructional model developed by the National Institute for Excellence in Teaching in Santa Monica, Calif. TAP gave us a structure for helping teacher leaders in our school building, along with the principal, continue to drive schoolwide educational improvement. We carved out time for collaborative professional development each week and used the TAP teaching standards to drive instructional best practices. After the first full year of the program, 98 percent of 4th graders scored proficient or above in English and 96 percent scored the same in math.
These guidelines gave us a common language of what effective teaching looked like and helped us communicate a clear understanding of where we were and where we needed to be. During a time of chaos and unpredictability, TAP was our anchor. Having a structure of cohesion and support helped us to focus on what mattered most: the students.
There are five principles that helped get my team through the recovery of the storm and may be helpful to other educators, no matter how their schools are structured:
1. Return determined to rebuild your school, whatever it takes. I contemplated working in Houston after the storm, but wanted to return home to teach the students of New Orleans. A group of us banded together to get to work: We mopped floors, painted, and went from school to school around the city to gather materials that had been put in boxes next to dumpsters. Educators should be prepared to do the heavy lifting, knowing that their schools and cities will be functioning differently.
2. Create an environment of positivity and normalcy for your students. In readying Behrman for students, we established a cheery place for them to learn. Outside the school walls, we were bombarded by media. We decided that the weight of the tragedy would be put on the shoulders of the adults. That didn't mean that we barred the media from speaking with students, but we were mindful of making sure students focused on the tasks at hand. Having them relive the harrowing events perpetually would have distracted them from their schooling. We wanted Behrman to be a place of help and healing to move students forward academically.
3. Rely on leadership and data to establish best practices and build curriculum. At Behrman, we faced a new school environment, staff, and student population. We couldn't expect to pick up where we left off. Because we had no background information on many of our students, we didn't know what grades they were in or what their learning needs were. Opinions were flying. But with a formalized TAP structure, we had teachers ready to take on leadership positions, a mechanism for analyzing student data, and a rubric of research-based best practices that pulled us together as one unit. If there are 50 people on staff and 50 are captains, nothing will get done. If you don't have a similar structure in place, identify leaders who will guide the ship, determine agreed-upon best practices backed by data, and narrow your focus.
4. Integrate the storms into your curriculum. There's no doubt your students will have questions about the storms, and they will turn to you as their educational leaders. For us, students wanted to know everything from why there was a problem with the levies to what the city was going to do to prevent another Katrina from happening. There is a time and place to infuse these topics into the educational sphere. At Behrman, we turned these questions into opportunities to enhance higher-level thinking skills in our students. When students have questions or concerns, ask yourself: "How can I create lessons tied to a larger objective?"
In science, you may develop a unit around weather and atmosphere. In social studies, you may discuss how government works. We made sure to hit the benchmarks articulated in our rubric. All questioning was intentional, and because of that, we were able to create high-level lessons that refined critical attributes and engaged students in the process.
5. Instill lifelong learning in your students to weather any storm. As teachers, we're natural planners. Long-range plans may be deferred to favor the here and now. But that doesn't mean you can't plan the greater vision of your school. As a principal, I believe in what I call "true education." This is fostering the development of lifelong skills that will help our students through any situation, big or small. Tests are valuable, but here, we are not a test-taking mill; we are a place of inquiry. Twenty-five to 30 years from now, I want students to know how to be lifelong learners. For educators facing the return to school, root your larger vision in the life lessons you are teaching students every day.
Teaching in the aftermath of a disaster is daunting. But I've learned that teachers exhibit tremendous determination and resolve. At Behrman, we were committed to creating a place where students felt safe. Today, we are stronger for making our school a place where students and teachers feel at home. Know that every day is a new day and one day farther from the tragedy. You, too, will survive these disasters. Working together—with a little grit—can help guide teachers and students from recovery to renewal.
Brian Young is the principal of Martin Behrman Charter School of Creative Arts and Sciences in New Orleans. Young received a national Milken Educator Award in 2007 as a master teacher at Behrman.