Evidence Shows Impact of Investing in Teachers and Leaders
April 19, 2023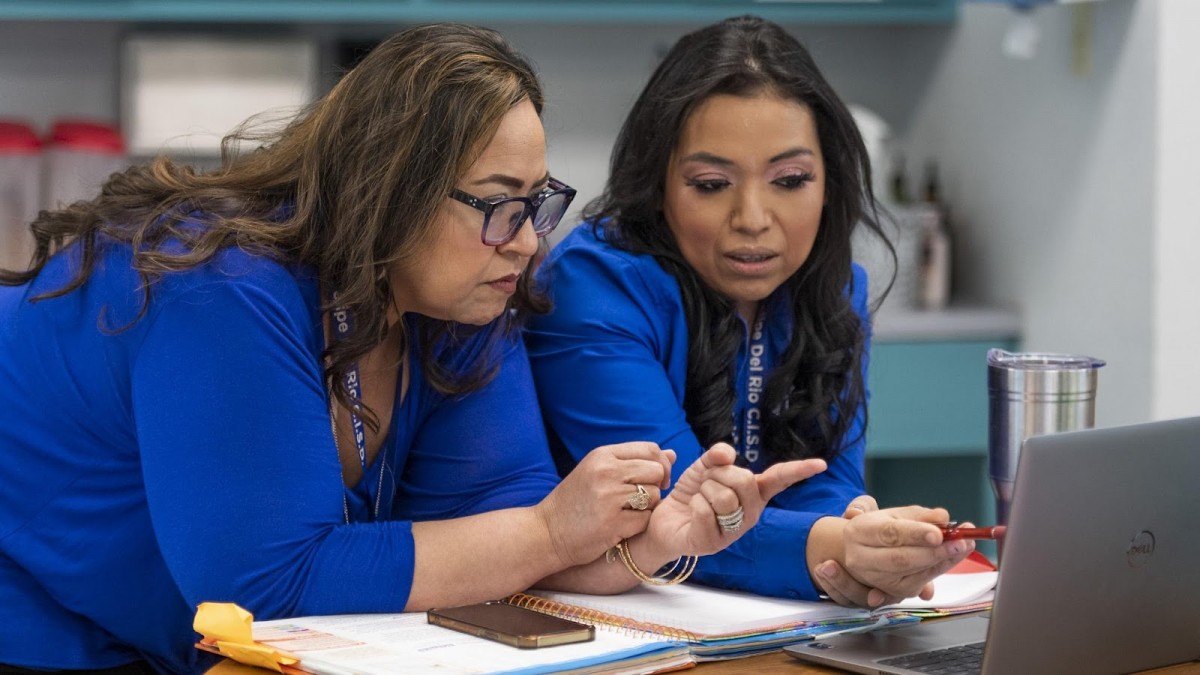 This year, the National Institute for Excellence in Teaching will present four studies at the world's largest gathering of education researchers, the American Educational Research Association (AERA) annual meeting. The studies, chosen for their rigor and depth, cover a range of topics illustrating the impact of NIET's partnerships on teacher and school leader effectiveness, new teacher preparation, teacher retention, and student achievement. As districts continue to search for strategies to address teacher effectiveness and retention, and to close student learning gaps, NIET will present evidence of the impact of its work with partners across multiple states to accomplish these goals.
NIET's studies this year are:
Will Teachers Stay? Teachers' Intentions to Remain in Teaching during the Pandemic
The COVID-19 pandemic disrupted normal school operations nationwide, heightening the level of stress and burnout and adversely affecting working conditions for teachers. This study investigates teachers' intentions nationwide to remain in the profession during the pandemic years. Findings show that 95% of middle school teachers in NIET-supported schools intend to stay in the teaching profession for at least the next five years. These results could be attributed to the strong collegial and collaborative working conditions perceived by the teachers in the studied schools. Learn more about the findings here.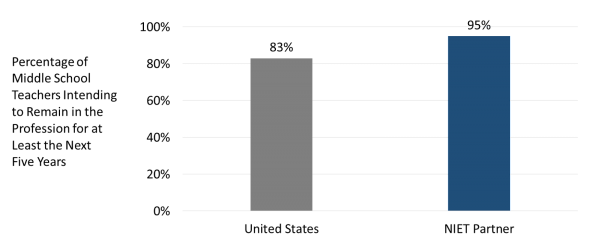 Aspects of Professional Learning That Are Most Valuable: Perspectives of South Carolina School Leaders
Many professional learning programs for principals lack the features that make them effective — tailoring learning to principals' needs and providing opportunities to apply new skills or work with a coach and collaborate with peers. To address these limitations, NIET designed a two-year program for school leaders in South Carolina that includes three interconnected learning opportunities: professional development, on-site coaching, and virtual networking. The study found that participants spoke favorably of each learning opportunity. Additionally, the on-site coaching provided the most value for participants. This finding speaks to the importance of integrating on-site coaching in school leaders' professional learning. Learn more about the program here.
Retaining Talent: Newly Hired Teachers' Perceptions of Their Jobs and The Role of Prior Experience
Teacher turnover poses a challenge to educational equity, especially in high-poverty schools. As high teacher turnover necessitates hiring new teachers, understanding newly hired teachers' perceptions can help improve their retention. This study, which was conducted in a high-poverty district in Indiana, found that all new teachers, regardless of whether they have prior teaching experience, experience stress. Further, the study found that newly hired teachers without prior teaching experience perceive maintaining classroom discipline as more stressful than newly hired teachers with prior experience. Overall, findings from the current study offer some insights into better supporting and retaining new teachers.
Develop and Retain: Building Excellent Educators to Improve Educational Equity
To develop and retain effective teachers in schools with a high proportion of students from economically disadvantaged backgrounds, NIET supported the implementation of the TAP System for Teacher and Student Advancement in high-need schools in Indiana. Findings include increased percentage of effective teachers and high retention of effective teachers during the examined three-year implementation period. This study provides evidence that policies for developing, supporting, and rewarding effective instruction result in improvement and retention of the teacher workforce in high-need schools.
Read the NIET Service Summary: TAP System for Teacher and Student Advancement.