Districts: The Time Is Now to Support Principals
April 7, 2021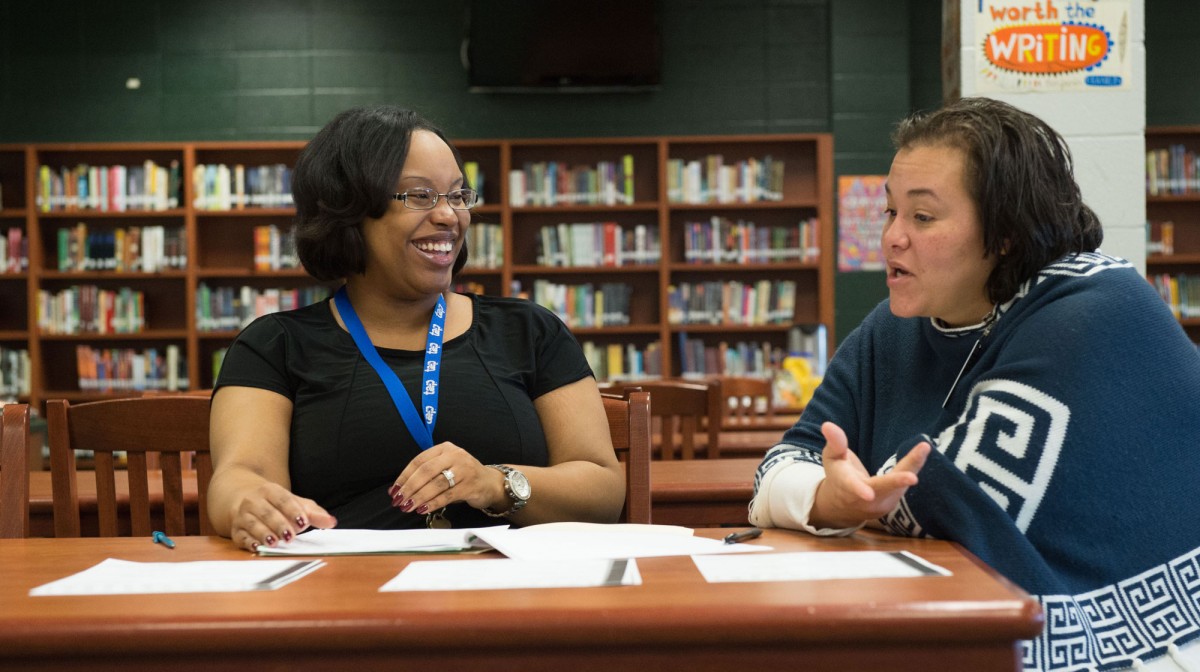 By: NIET CEO Dr. Candice McQueen
Effective principals can significantly accelerate student learning. In February, a synthesis of two decades of research demonstrated that replacing a below-average principal with an above-average principal would result in an additional 2.9 months of math learning and 2.7 months of reading learning for students each year. [1]
Researchers also confirmed how effective principals accomplish this growth: primarily, through strong instructional leadership skills and the ability to coach and improve the capacity of others. But who helps principals to improve.
It has never been more important for districts to support school principals. With the demands of different modalities, coordinating safety precautions for in-person learning, continuous communication with families and faculty, and planning for the summer and upcoming school year, it's easy to see how a principal can get caught up in managing logistics. While those details are necessary to address, we must make sure principals are thoroughly equipped to coach and support their teachers on high-quality instruction, which is the most effective place they can spend their time to improve student outcomes.
Keeping the focus on instruction and the learning experience is at the heart of what happens in a school every day. But maintaining this focus, especially in the midst of a pandemic, is easier said than done. Principals must build a school-level leadership team to help handle the everyday tasks while also helping to guide instructional planning. To be successful, principals also need intentional coaching and support from their districts, and that is where principal supervisors are increasingly seen as an important resource.
It has never been more important for districts to support school principals. We must make sure principals are thoroughly equipped to coach and support their teachers on high-quality instruction, which is the most effective place they can spend their time to improve student outcomes.

Dr. Candice McQueen, NIET CEO
Over the past several years, NIET has been working with districts to strengthen the role of the principal supervisor – a district-level position that holds great potential for supporting instructional improvement. Often, however, this role is pulled away to focus on other demands and is not effectively leveraged to support school leaders.
Next Tuesday, NIET is releasing a new report, The Untapped Potential of the Principal Supervisor: How Support for School Leaders Should Change. This report provides concrete ideas and strategies for how principal supervisors can shift their role into a coaching position for principals and effectively model the support school leaders should provide for educators. The following are a few big takeaways I had when I read our report. If you are interested in this topic, please join us for a panel discussion on April 13 at 11 a.m. CT to hear from researchers and state, district, and school leaders who will share how better principal support can make a meaningful difference.
Certain Principal Actions and Behaviors Matter the Most
Principals need help in strengthening their own instructional leadership skills and building the capacity of others on their team. Research confirms that the strategies that have the greatest impact on accelerating student learning are also the most labor intensive for principals. These include:
Observing and providing feedback to classroom teachers
Creating opportunities for collaborative professional learning in their school and including teachers in leading this work
Building a reflective school culture focused on continuous growth that advances equity for historically underserved students
Developing their team by recruiting effective teachers, providing leadership opportunities, and building the capacity of teachers and administrators
The importance of these principal actions are paramount, but they are being elevated at a time when school leaders are responding to the numerous disruptions of the pandemic and the urgent need to dismantle historic inequities for students. Principals need support and coaching that enables them to use the high-impact strategies that research shows have the biggest impact for students.
Principal Supervisors Help Principals Grow as Instructional Leaders
Over the last decade, a body of research has identified principal supervisors as a key resource for principals to strengthen their instructional leadership skills. [2]
But this requires a change in the role of principal supervisors from a focus on compliance to a focus on coaching. What does this coaching role look like and what strategies are effective?
Based on our work with partners across the country, NIET identified four high-impact ways that supervisors can best support school principals.
Four Strategies Principal Supervisors Can Adopt to Maximize Their Impact
First, while principals want to strengthen their instructional leadership, they struggle to prioritize the time and may not feel confident in their instructional knowledge. Principal supervisors can help by being a visible partner: scheduling time with principals in their schools and modeling being a learner in professional learning, leadership team, and classroom settings.
Second, principal supervisors can create clarity and a common understanding of high-impact instructional actions by using research-based leadership standards to define effective practice. Supervisors can show through their actions that the purpose of standards is to facilitate growth for principals.
Third, principal supervisors can strengthen coaching by grounding their feedback in individual principal needs. More frequent observations support a cycle of feedback rather than one-off conversations, and should be aligned to expectations in principal evaluations.
And fourth, we found that while principals strive to create collaborative learning, they need support and resources to do this well. Structures at the school level such as an instructional leadership team, PLCs, and classroom coaching should all align to the same goals. Principal supervisors are in a pivotal position to support principals to create collaborative learning opportunities in their school, develop teachers and administrators to lead collaborative learning, and engage in learning with other principals.
We'll have more to share next Tuesday in our report, which includes ideas from principals and district administrators we interviewed across the country, including 16 leaders quoted in the paper. Their experience makes it clear that principal supervisors can dramatically help principals accelerate student learning by strategically coaching and supporting them in instructional leadership skills. With the urgency of addressing student learning needs given the pandemic, there has never been a better time for principal supervisors to lean into their role as a coach – and support what is most important.
[1] Grissom, J. A., Egalite, A.J. & Lindsay, C.A. (2021). "How Principals Affect Students and Schools: A Systematic Synthesis of Two Decades of Research." New York: The Wallace Foundation.
[2] Goldring, E., Clark, M.A., Rubin, M., Rogers L.K., Grissom, J.A., Gill, B., Kautz, T., McCullough, M., Neel M. and Burnett, A. (2020). Changing the Principal Supervisor Role to Better Support Principals: Evidence from the Principal Supervisor Initiative. The Wallace Foundation.