A Preview of the 2021 National Summer Institute: Shifting to Student Ownership
May 18, 2021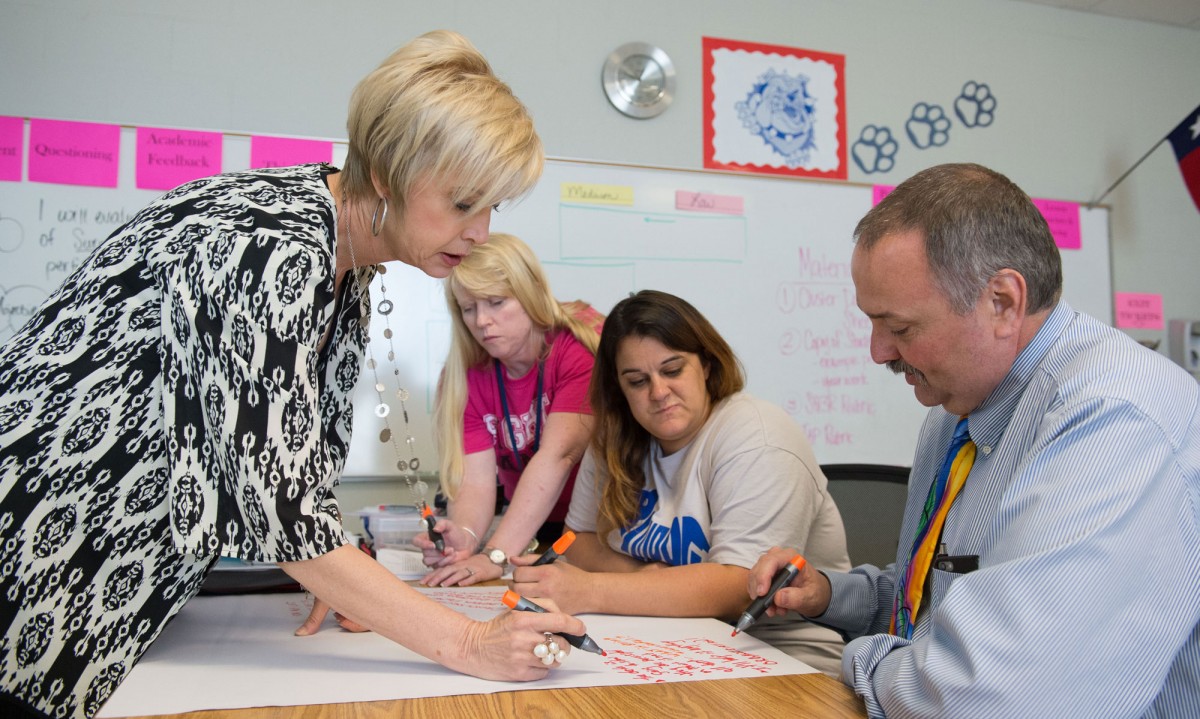 Learning through a student lens – from coaching to the classroom
Students may be engaged in their lessons, but do they take ownership of their learning? Can they articulate why their lessons are important, apply what they are learning to other subjects, and implement the skills and strategies in everyday life? What does it look like to create a classroom environment where that type of learning is the norm? These are just a few topics that participants will explore with NIET leaders at the virtual National Summer Institute July 14-15.
The National Summer Institute will gather educators and leaders from across the country for trainings and collaboration to help assess needs, set goals, and design plans to meet them. At the foundation of every session are strategies that will help educators shift what is happening in the classroom to move beyond student engagement – in other words, students are doing and understanding the work – to student ownership and leadership of their learning. This builds motivated, self-reflective, and critical thinkers.
With this goal in mind, Summer Institute sessions will demonstrate how teachers, school leaders, and district officials can make student ownership a driving force to accelerate learning. Participants will deepen their understanding of what effective practices look like in every scenario, from grounding coaching in student work to creating a classroom where every student is empowered to be successful. What's more, all sessions will be aligned to NIET's new Teaching and Learning Standards Rubric, which provides clear guidance and expectations for student-led learning.

Student Engagement versus Student Ownership, NIET, 2021
Modeling Student Ownership
To illustrate student-centered classrooms, the Summer Institute sessions will be highly collaborative and interactive. NIET trainers will introduce the objectives and concepts and allow participants to self-assess, reflect, and collaborate with each other and as school teams. They will analyze connections to the NIET rubric, develop and model examples of effective practices, and establish next steps to plan and implement new strategies next fall.
The organization of the sessions presents a progression of the shift to student ownership from coaching to the classroom. After completing sessions 1 and 2, participants will have a choice of attending sessions 3 and 4, or sessions 5 and 6.
Session 1: Shifting Our Language and Expectations to Student Ownership
Session 2: Shifting Our Collaboration and Professional Development to Support Student Ownership
Session 3: Shifting Our Leadership to Support Student Ownership
Session 4: Coaching That Leads to Student Ownership in the Classroom: Reaching Exemplary Teaching and Learning (Coaching Up)
Session 5: How the Structures of Student Ownership Encourage and Build a Positive Learning Environment, Part A – Why and What of a Student Ownership Environment
Session 6: How the Structures of Student Ownership Encourage and Build a Positive Learning Environment, Part B – How to Build a Student Ownership Environment
Educators will engage in the sessions through an interactive online platform, and educators will have access to the trainings, handouts, and resources for 90 days after the Summer Institute concludes. Here is a preview of what educators will unpack on day 2.
Integrating Student Ownership from Coaching to the Classroom
Leading Coaching Rooted in Student Data and Work
For teachers to shift instruction to be student-driven, they need coaching that provides clarity around language and expectations. The NIET Teaching and Learning Standards Rubric can serve as a basis for these discussions. In both 1:1 coaching and during collaborative professional development sessions, teachers should be supported in aligning their instructional practices to student ownership and receive consistency in communication and guidance as they transfer the learning to their classrooms. Feedback should be rooted in specific student evidence, which Summer Institute sessions will practice looking for. Coaches should be prepared to not only analyze the level of teaching and learning taking place, but also identify next steps for instructional progress.
Creating a Positive, Equitable Classroom Environment
The impact of the classroom environment on a student's relationship with learning is so important that it is often called "the third teacher." Sessions 5 and 6 will focus on how to create a space where students are free to assert their role, support their peers in their learning, and take risks.
Session 5 will offer the opportunity to discuss and define key terms that make up a student ownership environment by exploring the link between the classroom environment and student ownership, the environmental shifts that promote student ownership, and what these shifts look like for the roles of teacher and student. Session 6 will provide specific tools and strategies to implement these environmental shifts and help educators to consider what student behavior in this environment looks like. By the end of the session, educators will be equipped to ensure that their students have qualities of self-awareness, self-management, social awareness, relationship-building, and responsible decision-making.
How to Sign Up
If you are interested in attending the National Summer Institute, whether individually or as a school team, you can register on our website. Registration closes on June 11. All sessions will be recorded and available for 90 days after the training concludes.
Already Attending?
Here are key NIET resources to help you prepare for the National Summer Institute's focus on student ownership:
We look forward to your participation at the National Summer Institute, to meeting you where you are, and to working with you to develop students as agents of learning in school and life.


Learn more and register for the 2021 National Summer Institute and share your takeaways on social media using #NSI2021.