How do we infuse and scale up research-based practices in the classroom?
May 6, 2019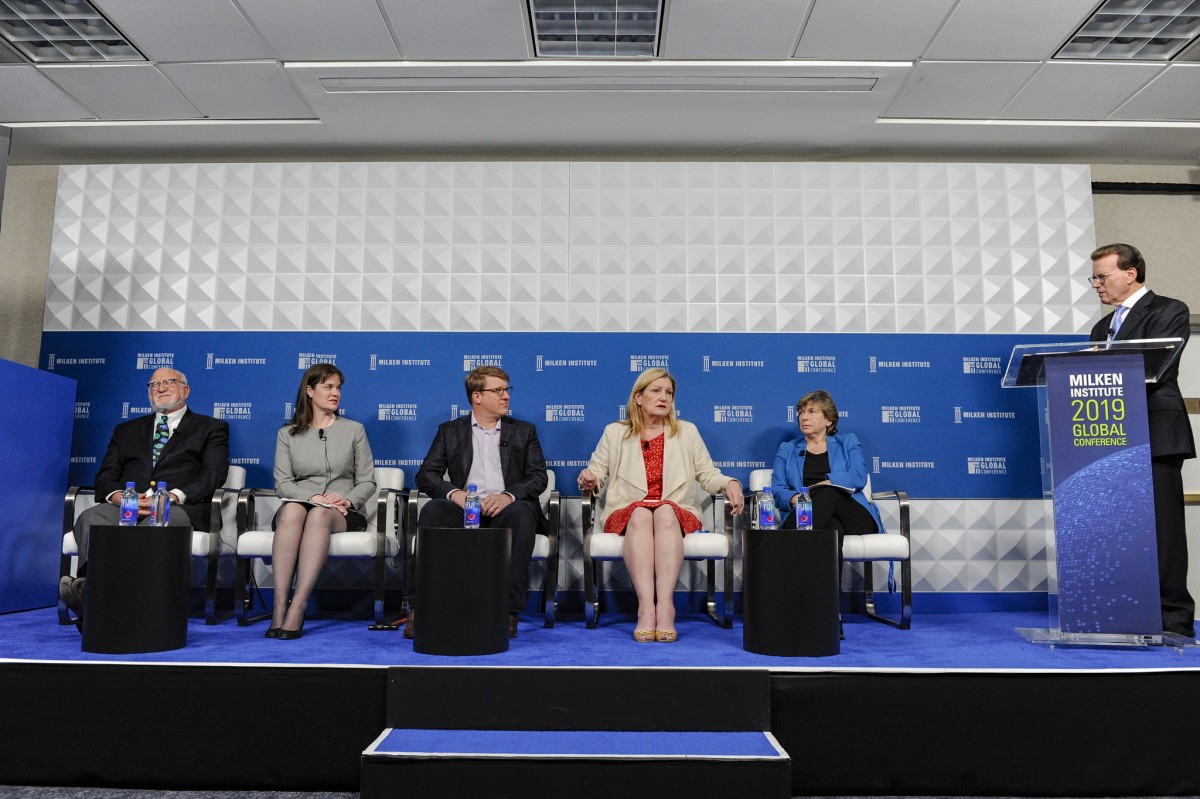 NIET hosted a roundtable and panel with some of the nation's top education leaders and researchers
NIET's leaders touched down last week in Santa Monica to release and discuss five new research papers from some of the nation's top education researchers and leaders. First, we hosted a roundtable session with the researchers, moderated by CEO Dr. Candice McQueen, and gave them a chance to get real-time feedback from teachers and leaders on their latest findings and ideas. This was followed the next day by a panel titled, "Finding Common Ground: Getting What Works Into the Classroom," moderated by NIET Founder and Chairman Lowell Milken at the Milken Global Conference, and featuring Dr. McQueen, Vanderbilt University's Dr. Stephen P. Heyneman, University of North Carolina – Chapel Hill's Dr. Matthew Springer, National Council on Teacher Quality President Kate Walsh and American Federation of Teachers President Randi Weingarten. At both events, Lowell Milken and Dr. McQueen highlighted solutions to scaling up proven practices, centered around educator effectiveness. "The quality of education systems around the world cannot exceed the quality of its educators," said Milken.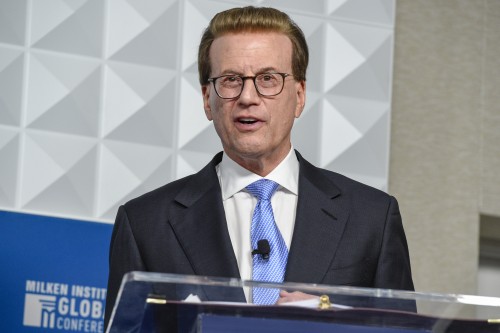 Dr. McQueen shared the Tennessee story as evidence. By changing standards and encouraging higher expectations; focusing on teachers through evaluation, feedback and support; and providing a pathway to higher education for all students to see, the state was able to sustain fastest-improving status on a national scale.
Here are a few other takeaways from the discussions on Monday and Tuesday:
NIET Board Member and Presidential Fellow and Professor at Lynn University, Dr. James W. Guthrie, opened the roundtable session with the researchers and educators, starting with a discussion of educator quality as the most important in-school factor driving student learning. This underscores, he said, why NIET's evidence-based work in improving educator effectiveness is so important. Guthrie then delved into brief summaries of the papers from Stanford University's Eric A. Hanushek, who outlined the economic impact of a improved educational system, and political scientist and EdWeek columnist Frederick M. Hess, who argued for asking "how education might more thoughtfully order responsibilities and leverage talent" and noted the challenge of piling reforms on top of a system, instead of thinking outside existing structures. (Read Hanushek's and Hess's papers.)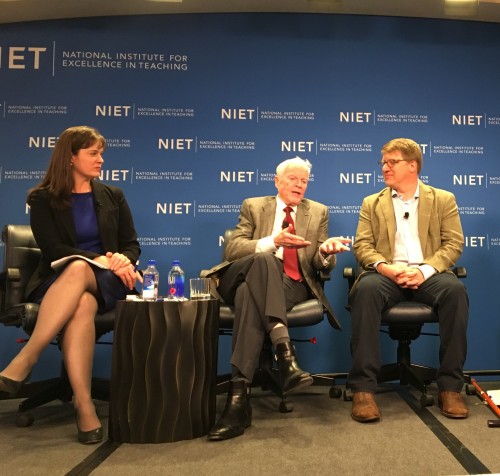 Dr. Springer advocated for additional strategic pay for our nation's best teachers. Springer cited evidence in his research that retaining highly effective teachers can result in 4-11.5 weeks of additional learning for students per school year. And he pointed to places like Tennessee that had successfully used merit pay or differentiated pay for highly effective teachers as showing higher retention of their best educators—which is huge when it could add up to an additional 3 months of school.
Another motivation to student learning is student motivation itself, according to Dr. Heyneman. He took to the podium at the roundtable to present his perspectives on the American education system, bringing with him more than 40 years of experience researching international systems in 65 countries. He advocated for a large-scale overhaul to student attitudes to schooling, arguing that students in America often do not hear a message about the reason why they need to go to school and have decreased motivation and respect.
Walsh spoke about the need to embrace research in teacher prep and teach kids reading and math using the strategies that have been proven to work. That we aren't regularly teaching new educators about those strategies is "malpractice," she said. The question underlying the whole discussion was one that plagues many researchers: Why is there such a disconnect between education research and practice? As research continues to build, it's becoming clearer every day that a highly effective educator pays dividends in student learning gains and, as Hanushek illuminates in his paper, eventual economic outcomes for our country. And Walsh argues that there are research-backed methods in educator prep that lead to more effective educators. We just need to embrace them full-scale so that teacher prep programs are ahead of the curve in pushing the science.
On the Global conference panel, Weingarten mentioned that unions need a seat at the table, too. Unions, she said, represent teacher agency and voice, and need to be helping craft the decisions that will affect teachers and students. They can play an important role in bridging the gap between research and practice.
Read the papers:
Eric A. Hanushek – The Economic Value of Improved Schools
Frederick M. Hess – Transforming Schools Requires More Than "More Is Better" Reform
Stephen P. Heyneman – What Will Make American Education Work?
Kate Walsh – The Reluctant Teacher Educator
Coming soon: Matthew Springer's reflections on the promise of strategic compensation