NIET Approved to Provide New Opportunity to Develop Louisiana Mentor Teachers
January 16, 2020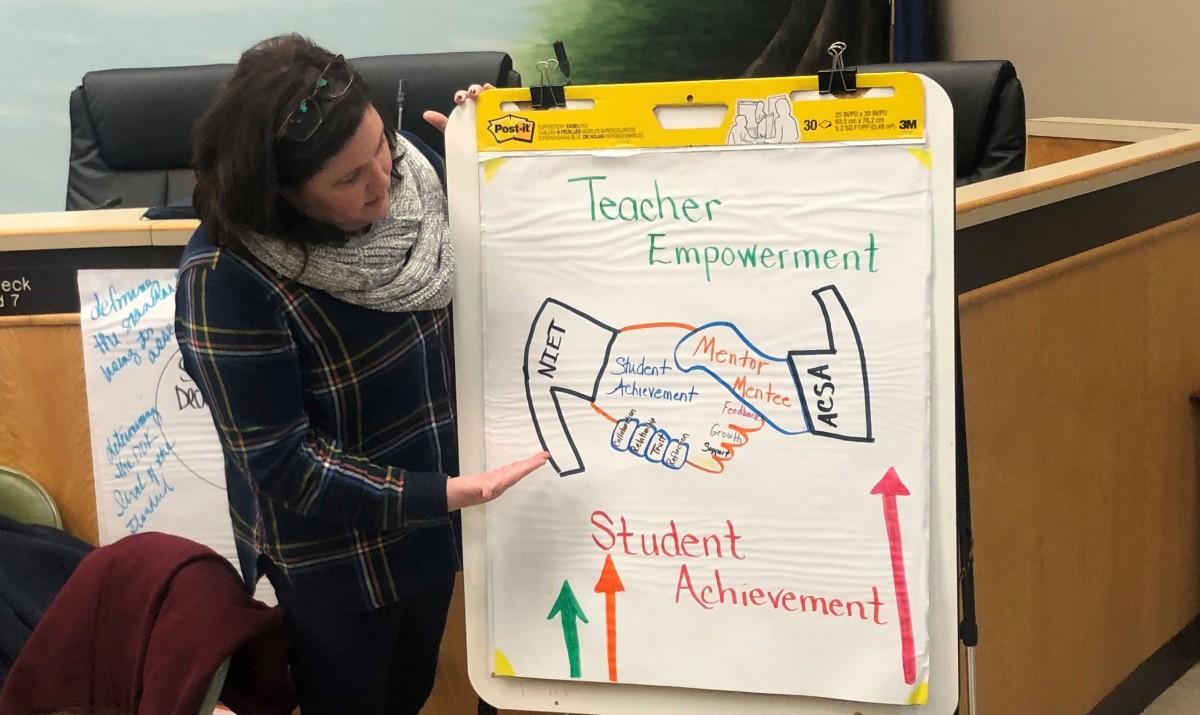 NIET has been a longstanding partner with schools across Louisiana, and that work has an opportunity to deepen now that NIET has been approved by the Louisiana Department of Education to certify mentor teachers. NIET's aligned trainings and support series will prepare elementary school teachers to support yearlong residents and other new or developing teachers, and it will allow teachers to take the next step in their professional growth.

All teacher preparation programs in Louisiana now include a yearlong classroom residency alongside an experienced mentor teacher. Starting this school year, NIET has provided robust training on instructional practices and content knowledge to equip elementary school teachers in two pilot districts, Assumption Parish – located 30 miles south of Baton Rouge – and the Algiers Charter School Association (ACSA), situated on the west bank of New Orleans. This high-leverage training offers benefits and incentives that support recruitment, retention, and development of high-quality educators, and it is available to districts for 2020-21.
LA Mentor Goals and Training
The training, aligned to the needs of the Louisiana Department of Education, sets to accomplish four key goals:
Building strong relationships between mentors and their residents/teachers
Identifying and addressing the needs of residents/teachers based on teacher preparation competencies
Implementing regular observation and feedback cycles to deliver resources and coaching for residents/teachers
Tracking resident/teacher progress and facilitating self-reflection and improvement
NIET specialists administer four, two-day face-to-face training modules throughout the school year, complemented by formative evaluation and feedback as the educators transfer the learning into their classrooms. The first module, "Impactful Coaching for Building Teacher Capacity" is focused on mentor/mentee relationship-building; understanding the impact of high-quality support on standards, curriculum, instruction, and classroom management; and developing coaching plans that directly address teacher and student needs.
Subsequent modules delve deeper into these various topics. Module 2, "Facilitating Growth for Others," takes an acute look at the incorporation of student work. Module 3, "Continuous Development of Instructional Practices," helps educators deepen their understanding of high-quality instruction and determine recommendations or "next steps" based on evidence, a common language, and Tier 1 (high-quality) curriculum. The final module, "Using High-Quality Data to Drive Decision-Making," instills self-reflection and promotes student ownership of learning.
Between trainings, mentor candidates complete assignments and are supported by their district-based coaches. NIET specialists are also available to provide feedback and ongoing support. At the end of the year, the candidates submit their portfolios for review to attain the certification.
Natural Extension of NIET Support
For Assumption and Algiers educators, this training has been a natural extension of the support they have received as part of their NIET partnership. District leaders are excited about this "double win," as aspiring mentors are not only working toward an official state certification, but are also sharpening their skills in their daily work.
"My team was actually able to see correlations between the mentor teacher training and their role as a TAP master/mentor teacher," said Jennifer Campbell, ACSA's TAP director. ACSA schools implement the TAP System for Teacher and Student Advancement as part of NIET's LA BOLD Project, which is supported by a federal Teacher Incentive Fund grant.
Similarly in Assumption Parish, the district's teacher pipeline specialist, Cindy Blanchard, observed that the NIET training has "meshed well" with the support educators have been receiving through the implementation of NIET's instructional rubric and the use of the EE PASS portal. What's more, the district is planning to have the aspiring mentors leverage their learning beyond their school buildings as well as disseminate new professional development videos to provide additional support to their fellow teachers.
A Recruitment Tool
With the Louisiana Department of Education's plans to require certification beginning in September 2020 for all mentors wanting to host a resident teacher, the ACSA and Assumption Parish view themselves as having an advantage in developing these high-caliber teacher talent pipelines. Blanchard notes that effective mentors versed in the competencies new teachers need will strengthen the district's competitive edge when it comes to recruiting candidates from its partner universities, Nicholls State and LSU-Alexandria.
Both districts agree that the fusion of deeper NIET practices and the stamp of approval from the state will make their teacher forces that much more effective and cohesive.
"The learning definitely does not stop at the end of the training! What has helped our team has been our follow-up dates, where we meet as a team and provide feedback on our documents – even offering assistance with developing next steps for our mentees," said Campbell. "We are working together as a group."

For more information on the mentor training, please contact info@niet.org.