North DeSoto High School Receives $10,000 as NIET Founder's Award Finalist
February 10, 2021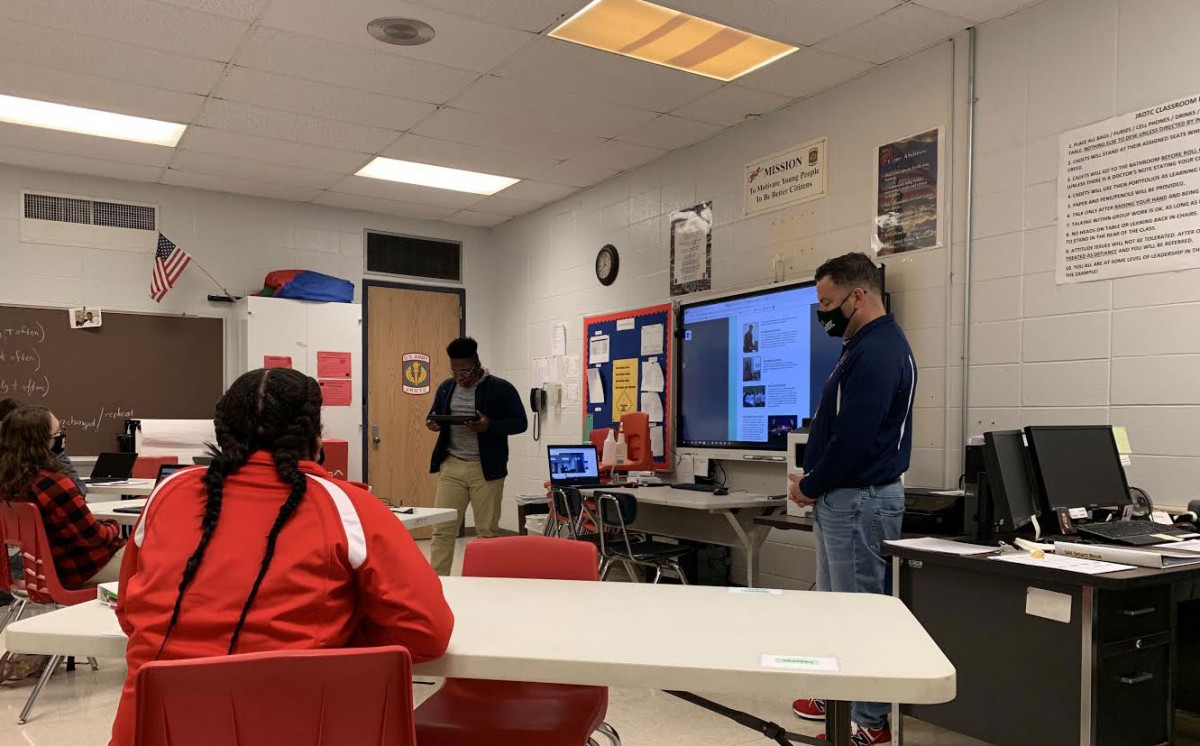 Louisiana school among four nationwide being considered for $50,000 grand prize
The National Institute for Excellence in Teaching (NIET) announced today that North DeSoto High School has received $10,000 for its selection as an NIET Founder's Award finalist. The school is among four across the country under consideration for the $50,000 grand prize, which will be announced virtually at the NIET National Conference on Thursday, March 4, 2021, at 10 a.m. ET.
"North DeSoto High School – and the district at large – are a model for developing outstanding teachers and principals dedicated to student achievement," NIET Chairman and Founder Lowell Milken said. "I commend Principal Tammie Phillips and her team for consistently building on their progress to prepare students for success in school and life."
For 20 years, NIET has partnered with schools, districts, states, and universities to ensure all students have effective educators. Its work to help develop teacher leaders, collaborate on successful strategies, and provide feedback and support to peers that address teacher and student needs have served more than 9,000 schools and have impacted more than 275,000 teachers and 2.75 million students.
NIET's partner schools have shown success by both outperforming similar schools and having greater teacher retention. Schools including North DeSoto High have continued to advance during the pandemic through the use of NIET's new tools and resources that accommodate virtual instruction, support from expert leaders and trainers, and access to a large network of educators united around shared learning. The Founder's Award was created by Lowell Milken to honor one school annually for exceptional implementation of NIET's principles to build educator excellence and advance student success.
"We are proud to partner with North DeSoto High and DeSoto Parish Schools, whose educators and students show us what's possible every day," said NIET CEO Dr. Candice McQueen. "It's inspiring to see North DeSoto High use their structures for supporting teachers to dig deeper, grow stronger, and lead students to greater heights."
Founder's Award recipients are selected by NIET based on their efforts to make instructional excellence the cornerstone of school improvement; plan for regular professional learning focused on real-time needs of teachers and students; create a culture of collaboration and reflection; and leverage teacher leaders and administrators to drive student growth.
North DeSoto High School has employed these principles in a comprehensive way as part of a districtwide effort to implement NIET's TAP System for Teacher and Student Advancement starting in the 2008-09 school year. Through building a strong culture of support and high expectations at the school and district levels, DeSoto Parish has developed and retained effective teachers and has drawn talent to the district. Principal Phillips, a 25-year educator, is one such leader. In her second year at the helm of DeSoto High, she is working to maintain the school's A state rating while encouraging teachers to take their practice to the next level.
What Sets North DeSoto High School Apart
North DeSoto High School (NDHS), located just south of Shreveport, serves 700 students of whom nearly half are economically disadvantaged. The school's vision for growing every student starts with talented teachers. Principal Phillips and her leadership team build on the school's firm foundation of relevant, reflective professional learning guided by expert teachers, support and follow-up in classrooms, and pre- and post-conferences with individual teachers to maximize strengths and address needs.
"Our NIET partnership can be summarized in one word: support," Phillips said. "I'm blessed to have had the opportunity to come to DeSoto Parish, to be introduced to the TAP model, and to work with an amazing team of educators that rally together daily for a better NDHS and DeSoto Parish."
As an extension of weekly professional learning sessions, it is commonplace for Phillips and teacher leaders to see TAP's comprehensive set of researched-based best practices come to life in classrooms. Calling the TAP rubric the "heartbeat" of NDHS, Phillips finds it highly beneficial to perform "learning walks" with colleagues to observe how students are engaging with teachers and the content in real time, or sit in on a lesson and provide specific feedback based on TAP's rubric indicators. Often teacher leaders will reinforce a strategy by modeling or co-teaching in classrooms. These activities are crucial to identify needs across the school, inform regular planning with leadership team members, and self-reflect.
"NIET's processes have fostered so much reflection in me," said Phillips. "They've allowed me to think about what I've done, how I've grown, and most importantly, how I can foster growth in teachers."
For a veteran TAP educator like Lyndsey Rhoads, the support and mentorship she received matriculating through TAP's career path prepared her for her new role as assistant principal. "Going first, valuing teacher and student data, setting personal growth goals, and collaborating through reflection drive the decisions I make to support North DeSoto High School today," she said. "The process is not different for teachers or administrators: It's about growth, reflection, teamwork and accountability."
NDHS educators have instilled those factors for success in their students, leading to A state ratings for two straight years, according to the most recent data available from 2017-18 and 2018-19. Students are also being well-prepared for college and career, earning A state ratings in ACT mastery, graduation, and strength of diploma. For 2018-19, NDHS had a graduation rate of 92%, higher than state and national averages of 81% and 85%, respectively.
North DeSoto High School joins fellow finalists Douglas MacArthur Elementary School (Perry Township Schools, Indiana); Michael Anderson School (Avondale Elementary School District, Arizona), and Prairie View Elementary School (Goshen Community Schools, Indiana) in contention for the $50,000 grand prize.
For images of North DeSoto High and more information about NIET, visit the NIET newsroom. For interviews and requests to attend the Founder's Award announcement, please contact Jana Rausch at jrausch@niet.org or (310) 435-9259. Learn more about the conference at www.niet.org. Follow conference news – including the Founder's Award – on Facebook and Twitter @NIETteach or via #NIET2021.
Photo of North DeSoto High courtesy of North DeSoto High