NIET Receives Federal Teacher Incentive Fund Grant to Advance Educator Effectiveness in High-Need Districts
September 30, 2016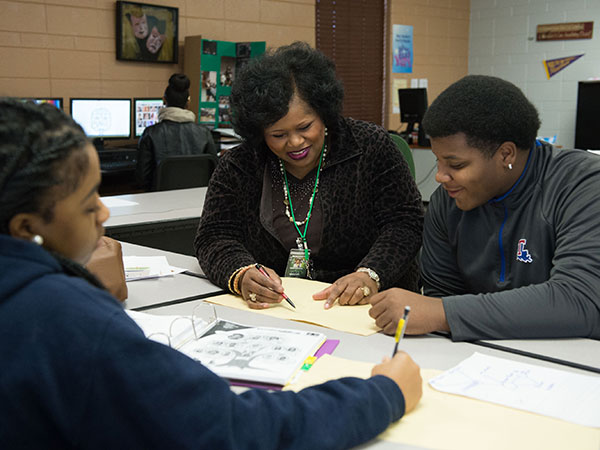 Louisiana Partnership includes six parishes across the state and six New Orleans charter schools
Santa Monica, CA—The National Institute for Excellence in Teaching (NIET), in partnership with 12 Louisiana school districts, received a five-year $49 million federal Teacher Incentive Fund grant to improve the effectiveness of teachers and school leaders and increase student achievement in some of the highest-need schools in the state. Eighty-nine schools across six parishes and six charter schools will be served.
"NIET's work for over a decade has focused on advancing educator effectiveness," said NIET Chief Executive Officer Dr. Gary Stark. "I am excited about this statewide collaboration to advance principal and teacher leadership. We look forward to working with educators across Louisiana."
The funds will allow the districts to use practices and structures that have been tested, adjusted and proven effective in high-need schools. They include:
Using research-based teaching standards to guide classroom instruction
Developing school-based professional learning
Creating teacher leadership opportunities
Working with school leaders to build distributed leadership teams
Integrating performance measures into compensation systems
Supporting new teachers to enter classrooms and be effective on day one
"NIET's track record of success in supporting high-need districts to improve classroom instruction is based on elements that are aligned with our priorities at the state level," said Louisiana Superintendent of Education John White.
The grant partners are the parishes of DeSoto, East Feliciana, Madison, Orleans, Rapides and Saint John the Baptist as well as New Orleans charters Algiers Technology Academy, Eisenhower Academy, Landry-Walker High, McDonogh #32 Charter, Fischer Academy, and Martin Behrman Academy.
Local superintendents are eager to put these practices into action.
"We know that to attract and retain talented teachers and school leaders, we must make great classroom teaching the driving focus of our efforts," said Orleans Parish Superintendent Dr. Henderson Lewis. "The work in this grant will increase our success in attracting, retaining, developing and motivating a highly effective staff, which will enable us to close achievement gaps and help students to meet academic goals."
Rapides Parish Superintendent Nason Authement added, "This effort demonstrates our commitment to turning around our chronically low-performing schools by focusing on creating great teachers and school leaders."
Having multiple districts collaborating and sharing best practices is a valuable benefit, not only in the ability to replicate what works, but also in broadening the impact of those practices to a larger number of teachers and students.
"We see tremendous value in working with other districts on this initiative," noted Saint John the Baptist Parish Superintendent Kevin George. "This will enable us to learn from others and to demonstrate the impact across multiple communities."
The grant project is also designed to improve teacher effectiveness and promote equitable access to effective educators in alignment with the Louisiana State Equity Plan.
The TIF grant expands on a long history of work in Louisiana by NIET that dates back to the implementation of the TAP System beginning in 2004. The success of the TAP System in building structures for teacher leadership, collaboration, performance-based measurement of classroom practice, and significant observation and feedback for every teacher is evidenced in the growth in teacher practice and student achievement in high-need schools.
"Louisiana districts have had solid, measurable success with evidence-based practices over multiple years, and this grant will expand that success into new districts," said NIET President Dr. Patrice Pujol. "When I was superintendent of Ascension Public Schools, I saw the benefits firsthand of leveraging best practices and creating a common vision around effective instruction."
About NIET
Equipped with a diverse staff of educators, researchers, and policy experts, NIET is a 501(c)(3) nonprofit organization that pursues a mission to advance educator effectiveness. NIET supports schools, districts, universities, and states with educator evaluation training, evaluator certification modules linked to learning platforms, human capital management systems as well as tools and resources for educator preparation. Learn more at www.niet.org.