Perry Township Schools, Indiana, earns NIET's first-ever National Award of Excellence for Educator Effectiveness
October 11, 2018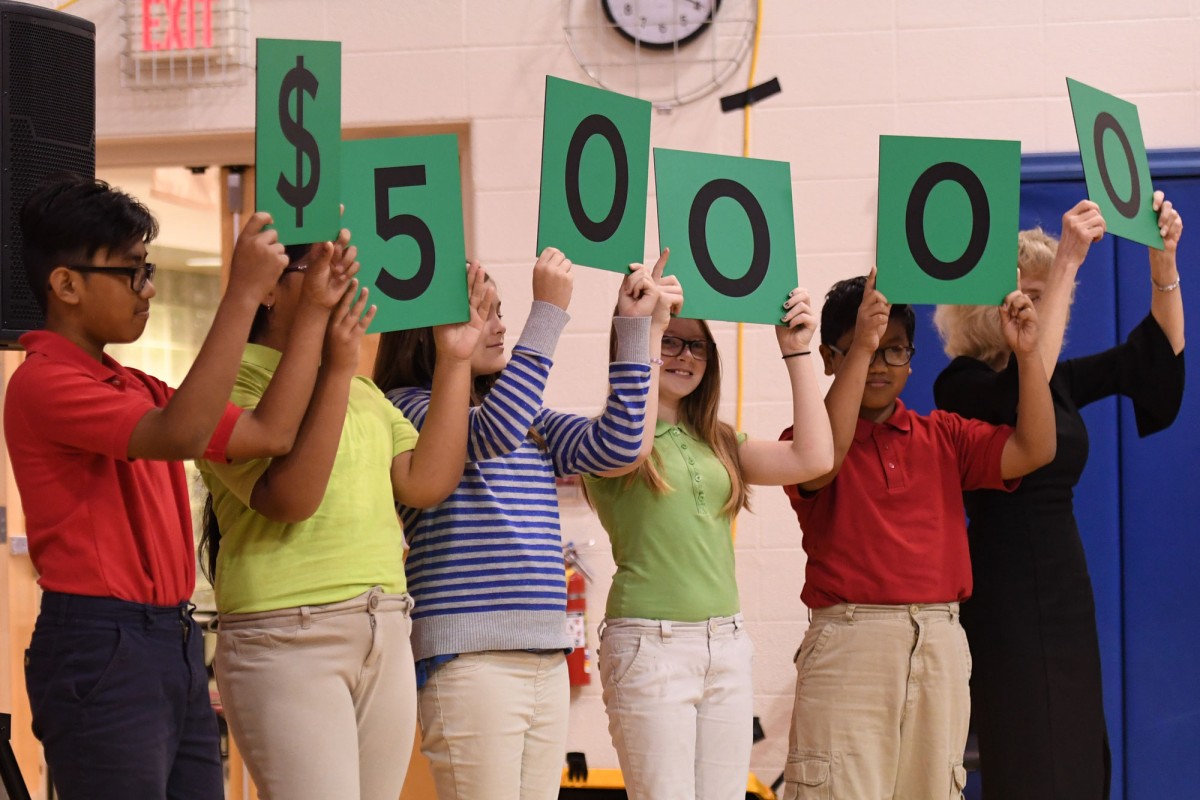 Recognition comes with surprise $50,000 cash prize
View photos from the surprise presentation.
Santa Monica, CA (October 11, 2018)—When Lowell Milken, chairman and founder of the National Institute for Excellence in Teaching (NIET), took the floor to honor Perry Township Schools in Indiana with NIET's first-ever National Award of Excellence for Educator Effectiveness, no one knew that the honor included a $50,000 cash prize. The districtwide celebration held at Southport Elementary School featured an exuberant crowd of state dignitaries, district officials, faculty, students and community leaders.
"Perry Township Schools is a shining example of the tremendous achievements that can be made when you create the structures for teachers to lead," said Lowell Milken. "The quality of a district or school cannot exceed the quality of its educators. This fact has been confirmed over and over again with NIET's work in partnership with more than 1,000 districts, 250,000 educators and 2.5 million students. I commend Perry Township's leaders for their courage and conviction in making educator effectiveness the cornerstone of your efforts to make sustained and meaningful improvement in student achievement. Your work as a district is most deserving of this national recognition and sets a standard for others to emulate."
Since 2010, NIET has partnered with Perry Township Schools to raise student achievement by putting teacher leaders at the forefront of school improvement. This is being accomplished by concerted efforts that:
Develop formal school-based teacher leadership positions.
Coordinate weekly collaborative professional learning tailored to the needs of teachers and students.
Provide an instructional rubric and training on best classroom practices.
Create a culture of continuous improvement through regular coaching and feedback.
These practices have been at the center of Perry's efforts to meet the needs of its diverse population of more than 16,400 students in 17 schools. A large influx of refugees—with the bulk from Burma—over the past five years has made Perry Township the second fastest-growing district in Indiana. Today, 27 percent of Perry's student population are English Learners—representing the highest percentage in the state. The percentage of students eligible for free and reduced-priced lunch increased from 61 percent in 2013-14 to 71 percent in 2017-18.
Upon arrival, all of the refugees had interrupted learning due to religious persecution in their home country. Placing a high emphasis on training teachers prepared staff for these new norms, resulting in strong student growth.
Key examples of Perry's results are:
Between 2015-16 and 2017-18, Perry Township students increased their passing rate on the ISTEP+ from 49.1 percent to 51.3 percent, effectively closing the gap with the state. In 2017-18, Perry's passing rate surpassed that of the state. And while Indiana's passing rate declined during this timeframe, Perry's went up.
According to spring 2018's World-Class Instructional Design and Assessment (WIDA)—which measures multilingual readers—47 percent of Perry's English Learners read at a Level 5, the most proficient level. This represents a 21 percent increase over the previous year.
The percentage of graduates passing an AP exam increased from 19.5 percent in 2013-14 to 24.6 percent in 2016-17, consistently exceeding state averages that hovered between 16-18 percent during that time.
District graduation rates have also surpassed state averages, increasing from 92.3 percent in 2014-15 to 95.2 percent in 2016-17. State averages were 88.9 percent in 2014-15, 89.1 percent in 2015-16, and declined to 87.2 percent in 2016-17 while Perry's went up.
Data displayed in graphs are drawn from the Indiana Department of Education.
State data show that Perry Township has outperformed area school districts with similar demographics.
"NIET's framework is a game-changer for our district," noted Perry Township Schools Superintendent Pat Mapes. "It confirms that success is achieved when educators are trained to adapt their teaching methods to reach children regardless of nationality, socioeconomic background, learning disabilities, and personal challenges. NIET has empowered our educators to give their very best and be a catalyst for students to do their best."
NIET's partnership with Perry Township Schools started with two schools—Southport Elementary and Abraham Lincoln Elementary—in 2010. The schools' progress led Perry to expand the innovations districtwide.
In 2012, Perry adopted the NIET Teaching Standards (rubric) as the basis for its teacher evaluation system, and from there, instituted teacher leader roles, weekly collaboration, and opportunities for performance-based compensation at each of the additional schools. District officials play a critical role by visiting professional learning meetings and classrooms every week. They are not only present for those important conversations, but also provide high-quality coaching to the school-level leaders.
"It's incredibly important to have people in formal teacher leadership roles because what we can do for our kids becomes that much more powerful," said Corrie Callahan, a master teacher at Abraham Lincoln Elementary. "Without teacher leadership roles at my school, I would not have had the opportunity to make an impact on more kids by following that career pathway myself and becoming a teacher leader."
"I never had the conversations about lessons like I have had in the last 6-7 years with the NIET partnership," added Jody Matthews, principal of Homecroft Elementary School. "It provides you with the structure for how to have those conversations, and they're impactful when you see results. At Homecroft, our growth has never been higher. That shows that what we're doing with the support of the whole township is huge for growing kids and getting them where they need to go."
Photos and video of the event can be downloaded via NIET's online newsroom at http://www.niet.org/newsroom.
NIET can be found on Facebook, Twitter, LinkedIn and YouTube at "NIETteach":
Facebook: http://www.facebook.com/NIETteach
Twitter: http://www.twitter.com/NIETteach
LinkedIn: https://www.linkedin.com/company/nietteach
YouTube: http://www.youtube.com/NIETteach
-NIET-


About NIET
Nationally, NIET works with schools, districts, states and universities, helping teachers and school leaders build local instructional capacity to create vibrant, productive environments for teachers and students alike to thrive. The organization has been on the ground for two decades. Today, it impacts more than 250,000 educators and 2.5 million students. Learn more at www.niet.org.