New Report: Six Key Lessons for Strengthening the Effectiveness of High-Quality Curriculum
June 9, 2020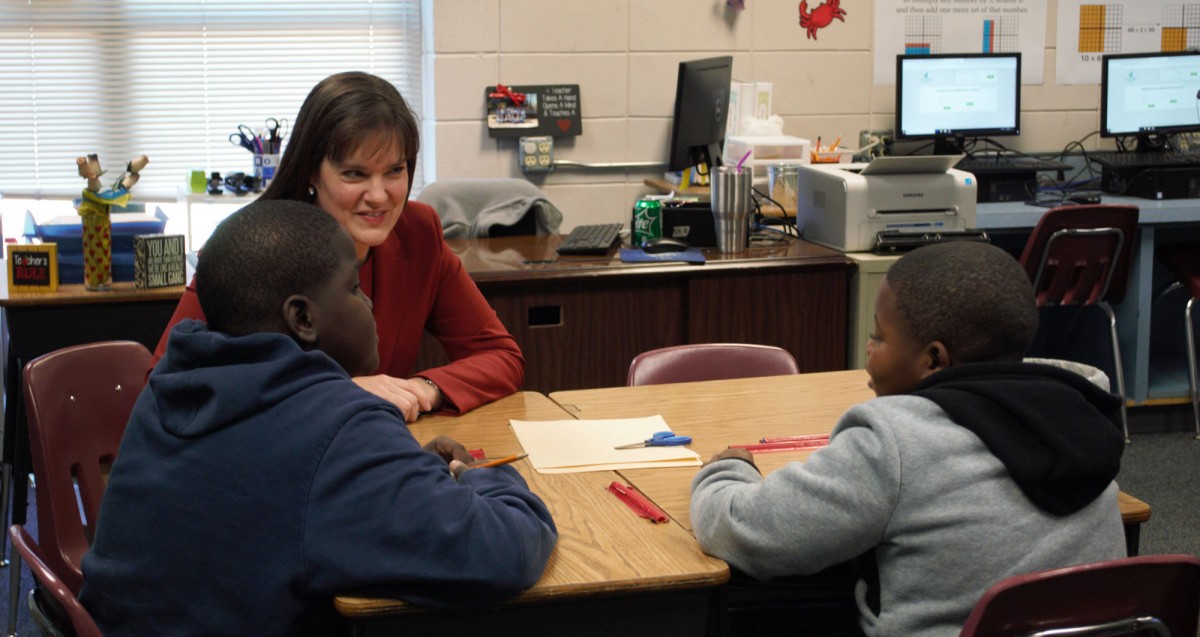 NIET shares takeaways from districts across the country that have implemented high-quality curriculum, with recommendations for both virtual and in-person settings
The National Institute for Excellence in Teaching (NIET) released a new report today that highlights lessons learned and recommendations for districts that are using high-quality curriculum and instructional materials. The paper underscores the importance of strengthening educators' professional learning and support – whether in-person or virtual – as districts and schools implement and utilize high-quality curriculum with students. NIET shares six lessons for ensuring high-quality curriculum results in meaningful improvements to student success, with recommendations for district, school, and teacher leaders as well as ideas for how to adapt those in a virtual setting.
As districts regroup on what learning will look like in 2020-21, using the summer months to establish strong structures for supporting teachers and their use of high-quality curriculum is more important than ever. Teachers need coaching and support systems, whether face-to-face or remote, that help them to meet students' needs and address achievement gaps, which may have widened this spring.
NIET's new report, "High-Quality Curriculum Implementation: Connecting What to Teach with How to Teach It," illustrates the challenges and opportunities presented by the adoption of more rigorous curriculum, including the instructional shifts required for teachers to be successful in using these materials. Drawing from the experiences of districts across multiple states, the report illustrates how professional learning should be strengthened to better support teachers in helping all students to master challenging content. These lessons are particularly relevant for schools with large numbers of students that are struggling to meet expectations in state standards. While the paper highlights the experiences of districts that have put in place a high-quality curriculum, the lessons learned provide guidance to any district on how to strengthen the connections between instructional content and delivery. In addition, many districts are adopting new content to supplement at-home or virtual learning, and these recommendations can set the stage for the most effective use of those resources.
"There's no question that high-quality curriculum has the potential to improve student learning. But states and districts cannot expect curriculum alone to have an impact, and having solid structures for supporting teachers in their instruction is more important than ever," said NIET CEO Dr. Candice McQueen. "Our experience working with districts across the country confirms that more demanding instructional materials require significant improvements in classroom teaching if students are to master higher-level content. While the selection of a high-quality curriculum is critical, an equally important challenge is maximizing the effective use of the curriculum to improve learning for all students – whether that's happening in a school building or virtual classroom."
According to surveys, less than half (40%) of teachers report they are using curricula that are "high-quality and well aligned to learning standards." Additionally, as the report notes, "less experienced teachers, and new teachers in particular, might not understand the content at the depth of knowledge necessary to effectively teach it" nor are they easily able to adapt the content to meet the needs of students who are below grade level. As more districts take steps to adopt high-quality instructional materials, professional learning must be restructured to provide opportunities for collaborative work and individual coaching, led by trained experts and teacher leaders. Only by redesigning professional learning to provide differentiated support for educators can we ensure teachers are able to effectively use the materials to maximize student learning.
In the new paper, NIET identifies six key lessons from district and school partners, with recommendations in each lesson for superintendents, principals, and teacher leaders as well as ideas for implementing the recommendations in a virtual environment:
Focus on leaders first. Districts must provide sufficient time upfront for principals and school leadership teams to learn the curriculum and understand how it aligns to other core instructional elements before bringing it into the classroom.


Create time, structures, and formal roles for ongoing, school-based collaborative professional learning. The introduction of a new curriculum provides an opportunity to rethink how professional learning should be scheduled, structured, and facilitated to provide teachers with the opportunity to build the deeper content knowledge and necessary instructional skills.


Adopt a research-based, instructional rubric to guide conversations about teaching and learning with the curriculum. Professional learning should marry the "what" and the "how" by utilizing the developmental language from a common instructional framework.


Anchor coaching and feedback in the curriculum. Coaching should be grounded in the curriculum the teacher is using in order to provide guidance and strategies that advance the objectives of the lesson, connect to student learning, and support teachers who are in different stages of curriculum implementation.


Recognize the stages of curriculum implementation and what teachers need to progress to higher stages. Schools should develop tools, processes, and training for school leaders to gauge where individual teachers are in their progress learning a new, more rigorous curriculum. Then determine how to best target support for each teacher based on their needs.


Ensure that districts work closely with schools to plan for, communicate, and implement school-based professional learning that blends support for curriculum and instructional practice. Adopting a new curriculum does not happen in a vacuum. Creating school-based collaborative professional learning that effectively supports curriculum implementation requires districts to work closely with school leaders to staff, support, and ensure the quality of these systems.
"When coaching and support for curriculum and pedagogy are done together, it makes more sense to a teacher," said Katrina Harris, a fourth grade teacher in Caddo Parish Public Schools in northwest Louisiana. "It doesn't feel like two separate decisions; it feels like one. You may not label them as 'curriculum' or 'pedagogy,' but you intuitively understand it's good teaching."
"At NIET, we're focused on crafting meaningful recommendations based on real-world lessons and insight from schools around the country," Dr. McQueen said. "We've seen time and again that teachers need and deserve the same high-caliber learning opportunities that they aim to provide to students. We hope this paper provides useful guidance to help districts and school leaders utilize high-quality curriculum in more classrooms."
To read the paper, click here. To learn more about NIET, visit www.niet.org.
About NIET
For two decades, NIET has partnered with schools, districts, states, and universities to build educator excellence and give all students the opportunity for success. NIET's initiatives including the TAP System, teacher and leader development, school improvement, rubric and observation systems, and educator preparation, have impacted more than 275,000 educators and 2.75 million students across the U.S.