Southport 6th Grade Academy Receives $10,000 as NIET Founder's Award Finalist
February 15, 2022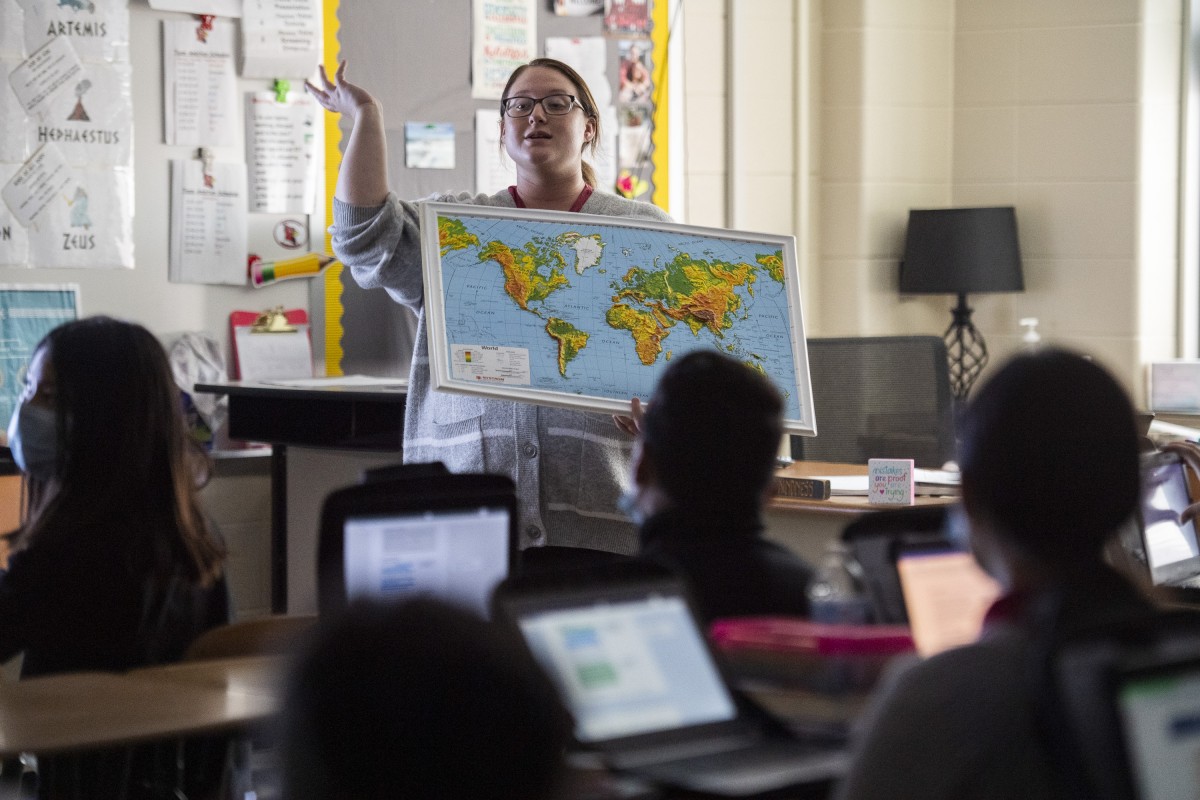 The National Institute for Excellence in Teaching (NIET) announced today that Southport 6th Grade Academy in Perry Township Schools, Indiana, has earned $10,000 for its selection as an NIET Founder's Award finalist. The school is among five across the country under consideration for the $50,000 grand prize, which will be announced at the NIET National Conference in Dallas, Texas on Thursday, March 10, 2022, at 12 p.m. CT.
"Educators at Southport 6th Grade Academy are motivated to grow as leaders and lifelong learners, and develop those same qualities in their students," said NIET Chairman and Founder Lowell Milken. "I commend Principal Jason Wiesmann for his dedication to creating a culture of high expectations, and Superintendent Pat Mapes for his leadership in making educator effectiveness the cornerstone upon which everything else is built."
For more than 20 years, NIET has partnered with schools, districts, states, and universities to ensure all students have effective educators. Its work to develop teacher leaders, support successful instructional strategies, and build educator capacity to address student needs have served more than 9,000 schools and have impacted more than 275,000 teachers and 2.75 million students.
NIET's partner schools have shown success by both outperforming similar schools and having greater teacher retention. Schools including Southport 6th Grade Academy have continued to advance during the pandemic through the use of NIET's tools and resources to support instructional excellence and learning acceleration, provide coaching from expert leaders and trainers, and engage a large network of educators united around shared learning. The Founder's Award was created by Lowell Milken to honor one school annually for exceptional implementation of NIET's principles to build educator excellence and advance student success.
"We are proud to partner with Southport 6th Grade Academy and Perry Township Schools, where excellent instruction is happening in every class, every day," said NIET Co-President and Chief Operating Officer Dr. Josh Barnett. "Principal Wiesmann and his team are supporting teachers to learn collaboratively, strengthen their instructional practices, and lead students to greater heights, and I am inspired by their efforts."
Founder's Award recipients are selected by NIET based on their efforts to make instructional excellence the cornerstone of school improvement; plan for regular professional learning focused on real-time needs of teachers and students; create a culture of collaboration and reflection; and leverage teacher leaders and administrators to drive student growth. Southport 6th Grade Academy has employed these principles in a comprehensive way as part of a district-wide effort to implement some of NIET's key initiatives starting in 2010.
What Sets Southport 6th Grade Academy Apart
Southport 6th Grade Academy, located in Indianapolis, serves 660 students, with Asian students making up more than a quarter of the student population. Of the total percentage of enrolled students, 77% are eligible for free or reduced-price lunch. Principal Jason Wiesmann and his team have fostered an environment where students are engaged and educators are accessible by dividing the school's students into six academic teams. This team structure provides a smaller learning community for students and the foundation for strong family relationships through frequent and meaningful communication and planning.
"As a leader, one must push staff and students out of their comfort zones in order to see all stakeholders to achieve maximum success," said Wiesmann. "The intentional structures of NIET have given me a model for development and implementation of protocols, procedures, and expectations that help our school be as successful as it has been."
From 2017 to 2020, Southport Academy maintained a state letter grade of A, which evaluates school performance and improvement, growth, and participation. Southport used NIET practices to establish its first instructional leadership team (ILT), which brings together school administrators and teacher leaders – called master and mentor teachers – to explore new concepts and opportunities to strengthen educator effectiveness. One idea born out of this dedicated collaboration time was a new teacher induction program, which provides new teachers at Southport with specialized support and development opportunities by pairing them with teacher leaders. "Master teachers meet with novice teachers weekly to thoroughly immerse them in the rubric and offer support during implementation in the classroom," said Wiesmann. In addition, novice teachers are also given extra feedback to strengthen practices and have the opportunity to observe highly effective teachers.
Adopting NIET structures has also helped Southport increase its recruiting and retention of effective teachers. Southport has welcomed several new teachers who joined their team because of their desire to work under NIET structures. "We want teachers that have a growth mindset, teachers who continuously strive for excellence, and teachers who are always up for a challenge," said Wiesmann. "The NIET processes attract educators with the drive that we desire at Southport Academy."
Southport 6th Grade Academy joins fellow finalists Brown County High School (Brown County Schools, Indiana); Cross County High School (Cross County School District, Arkansas); Logansport High School (DeSoto Parish School Board, Louisiana); and Somerset Elementary (Somerset Independent School District, Texas) in contention for the $50,000 grand prize.
For images of Southport 6th Grade Academy and more information about NIET, visit the NIET newsroom. For interviews and requests to attend the Founder's Award announcement, please contact Jenny Sawyer at jsawyer@niet.org or (256) 652-1376. Learn more about the conference at www.niet.org. Follow conference news – including the Founder's Award – on Facebook and Twitter @NIETteach or via #NIET2022.