West Goshen Elementary School, Indiana, Announced as TAP Founder's Award Finalist
March 1, 2017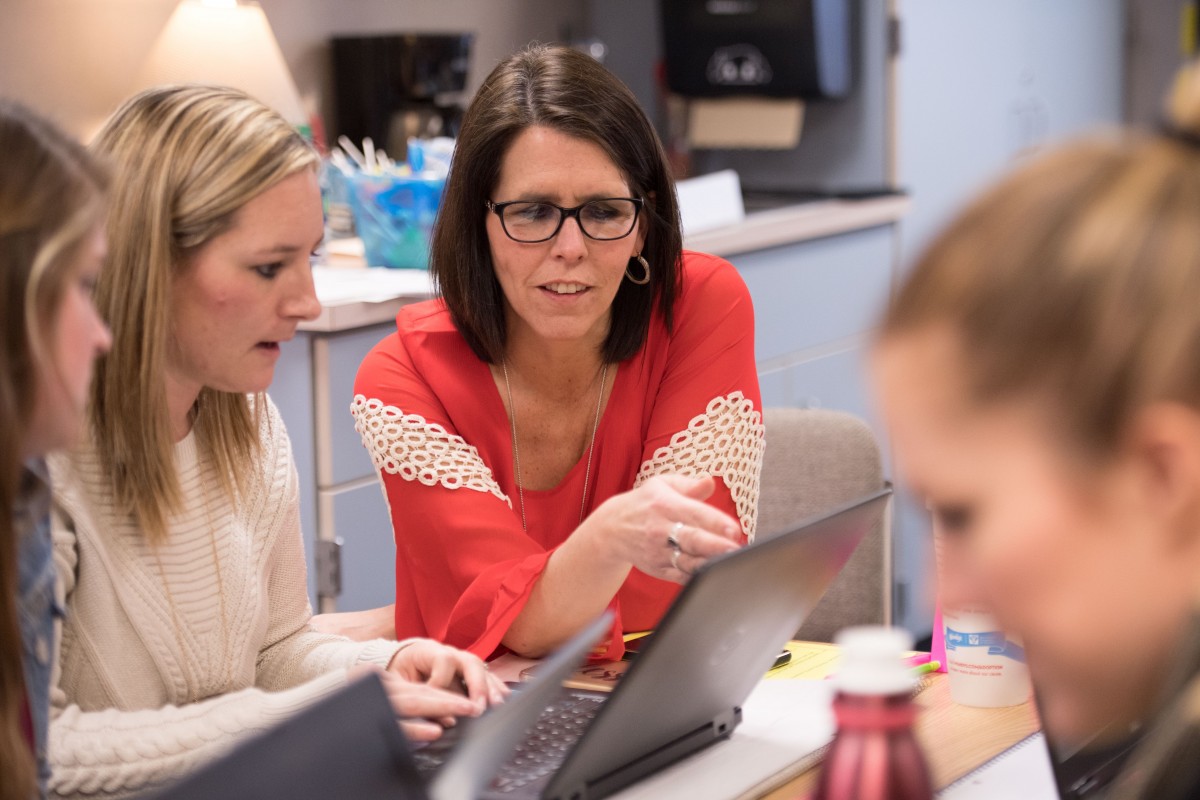 West Goshen among six schools nationwide in running for NIET's top honor, which comes with $50,000 cash prize
Santa Monica, Calif.—The National Institute for Excellence in Teaching (NIET) today announced that West Goshen Elementary School in Goshen, Indiana, is among six schools from across the country chosen as a finalist for the TAP Founder's Award, NIET's highest honor. Created by NIET Chairman and TAP Founder Lowell Milken, the TAP Founder's Award is presented annually to one school for exceptional efforts to implement and represent the principles of the TAP System for Teacher and Student Advancement—resulting in improvements in student achievement, among other goals.
The TAP System is America's leading comprehensive educator effectiveness model that aligns teacher leadership, daily job-embedded professional development, educator evaluation and support, and opportunities for performance-based compensation. Introduced in 1999, the TAP System supports schools, districts, universities and states to advance educator effectiveness and student learning.
Funded by the Lowell Milken Family Foundation, the TAP Founder's Award comes with a $50,000 prize to be used toward efforts to improve instruction and academic achievement. The Award finalists will be recognized on Friday, March 24, 2017, during the 17th Annual National TAP Conference in New Orleans, Louisiana, before 1,000 educators, policymakers, researchers and other influential leaders. The Award winner will be announced on Saturday, March 25, 2017.
Each finalist will receive a plaque and $10,000. West Goshen joins Alice M. Harte Charter School in New Orleans, Louisiana; Barrera Veterans Elementary School in Somerset Independent School District, Texas; Dodson Branch School in Jackson County Schools, Tennessee; Hmong College Preparatory Academy in St. Paul, Minnesota; and G.W. Carver Primary School in Ascension Public Schools, Louisiana.
Each finalist implements the TAP System by establishing leadership teams, made up of master and mentor teachers as well as administrators, who drive instruction. These teacher leaders guide weekly professional development and provide individual coaching in classrooms.
TAP's teacher leadership opportunities and professional development are complemented by systems of educator evaluation, feedback and support, as well as a compensation system that rewards educators for increased skill and student performance, and for taking on new leadership roles and responsibilities.
Inside West Goshen Elementary School:
"At West Goshen Elementary School, we will develop students who have the thinking skills, character traits and global awareness necessary to work together in a diverse world." These words, which staff members live by every day, did not always represent the case at West Goshen Elementary. Before the school adopted the TAP System in 2011, it faced poor achievement and low morale. West Goshen had a D on Indiana's A-F state grading system and the school was known as a revolving door for teachers. TAP structures of support reversed the situation.
"Conversations among teachers have changed drastically through TAP implementation," says Principal Lori Line. "During cluster, evaluation pre- and post-conferences, and follow-up, teachers are able to talk specifically about their teaching and how they can take action to make it more effective for students."
The targeted professional development sessions combined with goal-setting, field-testing strategies with students and workshops hosted by the district and state, helped West Goshen move up to a B. In 2016, the school earned its first A ever. Value-added growth increased as well; the school obtained a 5—the highest possible score—on a 1-5 scale and has maintained it for two consecutive years.
Line reports that the significant improvements in instruction and student learning have ignited excitement in teachers and students alike. Teachers are eager to teach there and students are enthusiastic to learn.
"I congratulate Principal Line and her staff for their work through this remarkable transformation," says Lowell Milken. "Their talent and dedication have inspired scores of students to soar to higher levels and develop a sense of pride and achievement that they will remember for years to come."
---
TAP Founder's Award recipients are selected without their knowledge by NIET, which manages and supports the TAP System. The honor is based on distinction in the following areas: proficient implementation of TAP's four core elements, student academic growth according to state or federal measures, and notable recognition as a center and resource of best practices.
The TAP Founder's Award yields benefits that will strengthen the individual school and support its teachers. This is done by means of prominent public recognition and by opportunities to substantively interact on issues of educator effectiveness and student learning with leaders from government, business and academia.
For more information about the 17th TAP Conference and the 2017 TAP Founder's Award announcement on March 25, visit http://www.niet.org. For interviews during the conference or to attend, contact Jana Rausch at jrausch@niet.org or (310) 435-9259.
Based on the knowledge and experience gained from over a decade of on-the-ground implementation with TAP, combined with the growing demand for proven reforms in teacher and principal effectiveness, NIET supports schools, districts, universities and states with educator evaluation training, evaluator certification modules linked to learning platforms and human capital management systems as well as tools and resources for educator preparation.