Strengthening the Teacher Pipeline in High-Need Districts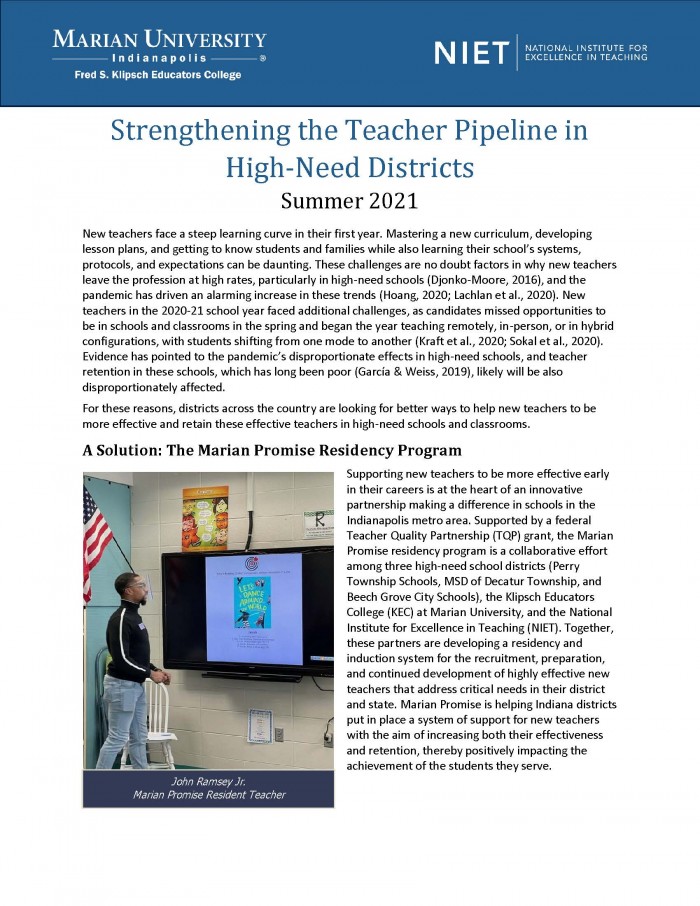 The Marian Promise combined residency and induction program supports the effectiveness and retention of new teachers in Indiana's Perry Township Schools, MSD of Decatur Township, and Beech Grove City Schools. It does so by integrating the use of research-based teaching standards in coursework and clinical practice, selecting high-quality mentor teachers to support residents yearlong, and providing a living wage stipend in exchange for a three-year teaching commitment. The effort is a collaboration among the districts, Marian University's Klipsch Educators College, and NIET, and funded by a federal Teacher Quality Partnership (TQP) grant.
Yearlong residencies connected to ongoing support during multiple years of induction offer a proven strategy for recruiting and retaining more effective new teachers. The pandemic's obstacles have crystalized the need even more for an intentional and structured system to increase the effectiveness of new teachers earlier in their careers and motivate them to stay in their schools and the profession.
The TQP grant has given me the opportunity to fine-tune my craft. All of the advisers and mentor teachers are invested in seeing you become the best teacher you can be. I'm thankful for this experience because it is going to make my first year of teaching less intimidating and will provide me with an overall blueprint to succeed.

John Ramsey Jr., Resident Teacher, Marian Promise