How Louisiana Is Accelerating Learning Recovery: Free Support and Training for Every Teacher and Leader
February 17, 2022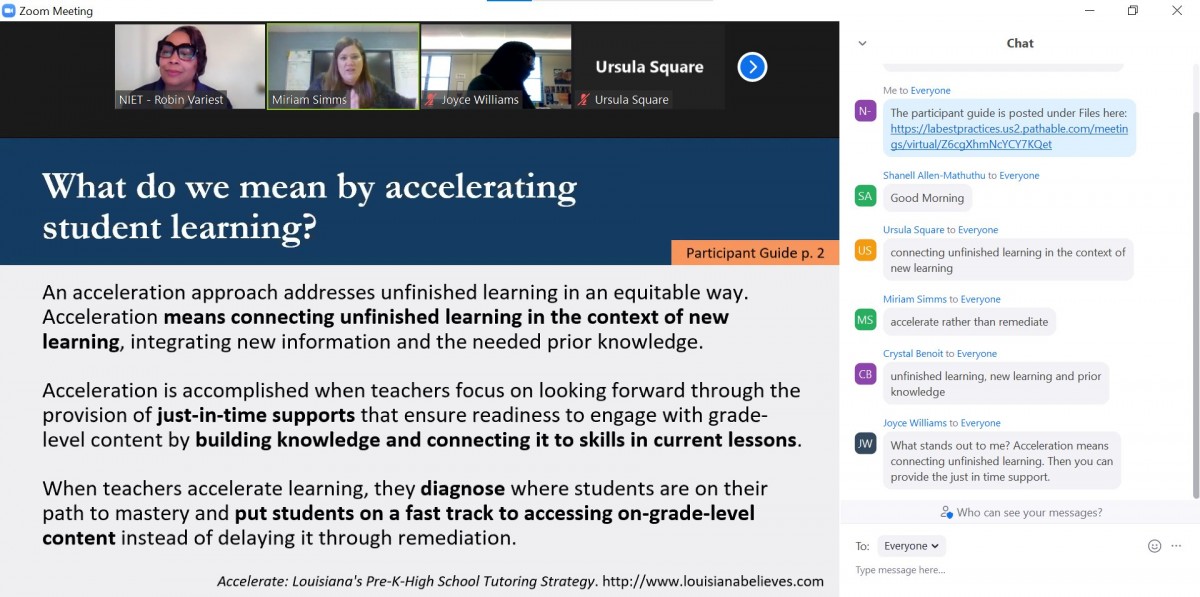 Two years into the pandemic, one of the most critical concerns in education is addressing gaps in student achievement intensified by lost instructional time. Educators' most important task right now is recovering lost learning while simultaneously getting students up to speed on grade-level content. In response, the Louisiana Department of Education launched Accelerate as one of its key strategies for support, and the department has been using this initiative to help educators learn tools and strategies to connect unfinished learning in the context of new learning and continue to move students forward.
In 2021-22, LDOE partnered with NIET to launch the Louisiana Acceleration Series to support its educators in delivering instruction that is laser-focused on the skills and content students need in order to learn grade-level content. The goal of the series is to provide school leaders with high-quality professional development that is aligned to the needs of their teachers and students through the acceleration cycle – the process used for identifying and effectively addressing unfinished learning. The training encourages school leaders to make a shift in mindset, moving away from the gap-filling approach to the acceleration approach so all students can access grade-level content equitably.
The first three sessions of the training series covered analyzing and using student data, maximizing collaborative structures to support learning recovery, and planning for accelerated learning options and individualized learning. During spring 2022, NIET is offering additional sessions focused on accelerating learning in two specific content areas: Math and ELA.
I feel better equipped now to help teachers identify student needs and pull out areas in lessons that the teacher needs to focus on for that individual student.

Educator in Bossier Parish
How Do You Accelerate Student Learning?
The term "learning acceleration" is used often – but what does it actually mean? While it is a critical component of recovering learning loss, acceleration does not mean going fast or skipping content. Learning acceleration is delivering focused instruction that equips students with the skills and content needed to learn present-grade material, integrating new information and the needed prior knowledge. Educators begin with teaching current grade-level content and bring in remedial content if a student demonstrates the need for it. They dive deeper on essential content, while still maintaining rigor and grade-level expectations for all.
Using the Accelerated Learning Cycle, educators learn how to analyze the benchmark data and identify student needs so they can make a plan to address those needs by focusing on priority content. They then divide students into accelerated learning groups based on their needs, and continue to monitor and adjust the learning groups for the greatest impact on student learning. Following this cycle ensures educators are making data-informed decisions and targeting individual needs so all students can succeed.
The analysis cycle will allow teachers to continually monitor growth and deficits, as well as, close and identify academic gaps in learning. In creating a plan to analyze data; students will receive equitable instruction, content enriched curriculum, and assessments that will improve comprehension and understanding, as well as successful academic outcomes.

Educator in InspireNOLA Charter Schools
A Content-Specific Focus to Learning Recovery
In January, NIET launched a new session in the Louisiana Acceleration Series focused on strengthening content-specific strategies for learning recovery in math. In this training, educators are learning to identify skills critical to student mastery of essential math standards, scaffold and segment learning, and incorporate techniques for increasing student engagement and ownership of learning. In mid-February, the series will also include a similar content-specific session focused on ELA learning recovery. While the first three sessions of the series lay the foundation for accelerating student learning, the content-specific focus of the final two sessions support educators to accelerate student learning in two of the most critical content areas.
The session provided teachers and leaders with clear strategies to address learning acceleration in math. I will use the content learned to support Zachary's instructional staff as they address students' academic needs.

Educator in Zachary Community Schools
The Louisiana Acceleration Series is designed to support educators as they meet the diversity of their students' content and skill needs. This forward-looking approach provides districts and schools with a method to systematically diagnose student learning needs, plan lessons that include academic supports, deliver instruction with scaffolds that allow students to access on-grade-level content, and monitor the impact of the process with real-time data. School leaders who complete the training obtain the knowledge and skills required to coach their teachers through the process of recovering learning through acceleration so students can access on-grade-level content successfully. They are able to give their teachers the support needed to develop and deliver lessons that meet the varying needs of their students, and in turn, more students will experience academic success.
Registration is currently open for the final content-specific sessions of the Louisiana Acceleration Series. The one-day ELA sessions run from Feb. 16 through March 22. Educators do not need to have attended prior sessions to benefit from the training. Sessions are offered virtually only. To register, please visit our website.