2018 TAP Founder's Award Finalists Recognized at National Conference
March 23, 2018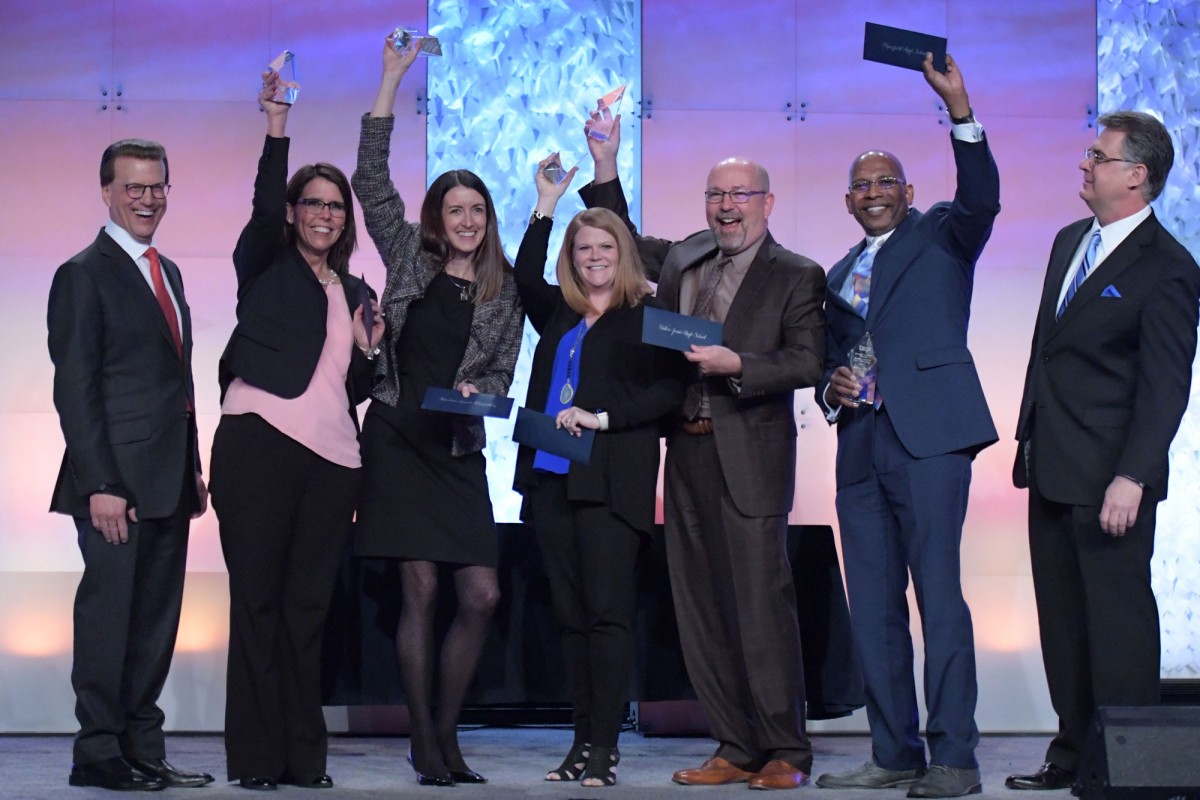 Five schools from Arkansas, Indiana, Louisiana and Texas presented with $10,000; West Goshen Elementary School in Indiana receives $50,000 grand prize
Washington, D.C.—At the 2018 TAP Conference, the National Institute for Excellence in Teaching (NIET) today recognized each of the five finalists of the TAP Founder's Award for exceptional efforts to implement and represent the principles of the TAP System for Teacher and Student Advancement. These efforts have resulted in improvements in instructional skills and student achievement. The Award is NIET's highest honor and was created by NIET Chairman and TAP Founder Lowell Milken.
The outstanding schools honored for 2018 are:
Each finalist received a plaque and $10,000 during a recognition luncheon at the conference, attended by 1,000 top educators and education leaders from across the country.
Following the recognition ceremony, Milken presented West Goshen Elementary School with the TAP Founder's Award and $50,000.
"Lincoln, Cross County, Mansfield, Slaton and West Goshen have distinguished themselves as shining examples of effective instructional leadership," said Milken. "I commend all staff and students, and congratulate West Goshen Elementary School as this year's TAP Founder's Award recipient. Your best practices and leadership are serving as a role model for the region, state and nation."
The TAP System is America's leading comprehensive educator effectiveness model that connects teacher leadership with daily job-embedded professional development, educator evaluation and support, and opportunities for performance-based compensation. Introduced in 1999, the TAP System, as administered through NIET, supports schools, districts, universities and states to advance educator effectiveness and student learning.
The TAP Founder's Award is funded by the Lowell Milken Family Foundation, and the prize is to be used toward efforts to improve instruction and academic achievement.
Each finalist implements the TAP System by establishing leadership teams, made up of master and mentor teachers as well as administrators, who drive instruction. These teacher leaders guide weekly professional development and provide individual coaching in classrooms.
TAP's teacher leadership opportunities and professional development are complemented by systems of educator evaluation, feedback and support, as well as a performance-based compensation system that rewards educators for increased skill and student growth, and for taking on new leadership roles and responsibilities.
Inside the schools
Abraham Lincoln Elementary School
With a diverse student population, Abraham Lincoln Elementary School has maintained a state-designated A rating because of its focus on developing individual growth plans for its students.
The faculty has been able to come together as a team to address educational challenges, including large size, Title I status, a language learning curve and a 20-30 percent student mobility rate. TAP's targeted, daily professional learning and constant attention to data contributed to the staff forming a coherent vision of student success.
The implementation of TAP at Lincoln and at neighboring Southport Elementary School propelled Perry Township Schools to implement NIET's educator effectiveness best practices districtwide. Says Principal Whitney Wilkowski, "Our advocacy for the TAP System is ongoing and limitless, but best advertised by our results."
Cross County Elementary Technology Academy
Since implementing the TAP System, Cross County Elementary Technology Academy (CCETA) in rural Cherry Valley has undergone a shift towards becoming more communally focused. During weekly cluster meetings, pre-conference, post-conference and strategy development sessions, the school's instructors focus on fostering a collective growth mindset. Staff explore, field-test, then implement strategies from these meetings that work to move every student.
Thanks to these strategies, the students' ACT Aspire scores rose 24 percent collectively, while exceeding the state's average for all grade levels. CCETA's value-added achievement growth score has similarly increased from a 4 to a 5 on a 1-5 scale, signifying that students are progressing significantly more than similar students throughout the state.
The opportunity for the faculty to support one another in achieving growth and academic success for their students—coupled by the options to move across a career path—motivates teachers to stay.
Mansfield High School
Mansfield High School has experienced historic educational achievement with the implementation of the TAP System, moving from a D to an A-rated school. According to Principal Toras Hill, equally important to the school's progress is the staff's process: Faculty focuses on developing a growth mindset for individual students and teachers alike that has been essential to reaching benchmarks.
This process starts with goal-setting, utilizing TAP's structure and allocation of time to identify school goals based on the assessment of student data. TAP's professional learning sessions or "clusters" then provide time to design assessments aligned to teaching standards, critically analyze data along the way and adjust strategies as needed. Students are continually motivated to succeed through the development of their own goals and regular project check-ins by teachers.
All of these elements have led to a significant culture change at the school, which has led to academic achievement. For example, the Algebra I proficiency level in 2016-17 was 73 percent, a 21 percent improvement. Says Lead Teacher Rick McDonald, "Success is now the expected norm."
Slaton Junior High School
Before the implementation of the TAP System, Slaton Junior High—a rural school outside of Lubbock—struggled with attracting and retaining high-quality teachers and addressing the needs of its student population. These challenges were reflected in its achievement measured by the state STAAR assessment.
Help came in 2014 when the Slaton Independent School District (Slaton ISD) began implementing the TAP System districtwide through the support of a U.S. Department of Education Supporting Effective Educator Development (SEED) grant, in partnership with Texas Tech University (TTU) and NIET. The TAP partnership provided Slaton Junior High with the structure to put in place expert teachers who would then lead the faculty in developing strategies to target learning gaps. An added benefit to the partnership was the training of TTU teacher candidates, which created a pipeline of teaching excellence to feed into the school and district.
Slaton Junior High's number of Texas Education Agency distinction designations has increased from one to five out of a possible seven. Today, the school is ranked in the top 10 percent in the state for student progress and closing the achievement gap.
West Goshen Elementary School
Before TAP was implemented at West Goshen, the school was labeled a D on the state A-F scale. There was not only a need to address related educational needs, but also to attract and retain talented educators to fill the capacity gap.
The TAP System provided Principal Lori Line and her staff a common language and structure around accountability and expectations. The teachers developed a no-excuses policy, drilling down into the data for each student and developing paths for success.
Goals are clearly communicated throughout the school. Line articulates them in weekly leadership team meetings with her mentor and master teachers, then joins the teacher leaders in disseminating the information to the rest of the faculty in weekly professional learning groups. Line meets with every classroom to discuss their data, and in fourth and fifth grade, meets with every student to outline expectations for growth on state testing.
Drawing on the TAP System, West Goshen earned its first-ever state-designated A rating in 2016. The school maintained the A in 2017 as well as a value-added growth score of 5—the highest possible score on a 1-5 scale.
---
TAP Founder's Award recipients are selected without their knowledge by NIET, which manages and supports the TAP System. The honor is based on distinction in the following areas: proficient implementation of TAP's core elements, student academic growth according to state or federal measures, and notable recognition as a center and resource of best practices.
The TAP Founder's Award yields benefits that will strengthen the individual school and support its teachers. This is done by means of prominent public recognition and by opportunities to substantively interact on issues of educator effectiveness and student learning with leaders from government, business and academia.
Photos from today's TAP Founder's Award finalists' recognition luncheon will be available for download at http://www.niet.org/newsroom/photos.
For interviews during the conference, contact Jana Rausch at jrausch@niet.org or (310) 435-9259. For more information, visit www.niet.org. Follow conference news on Facebook at NIETteach and Twitter @NIETteach or via #tapcon18.

Based on the knowledge and experience gained from two decades of on-the-ground implementation with TAP, combined with the growing demand for proven reforms in teacher and principal effectiveness, NIET supports schools, districts, universities and states with educator evaluation training, teacher leader certification modules linked to learning platforms and human capital management systems as well as tools and resources for educator preparation.