NIET Names New 2019-20 Steering Committee and Educator Advisory Board
October 9, 2019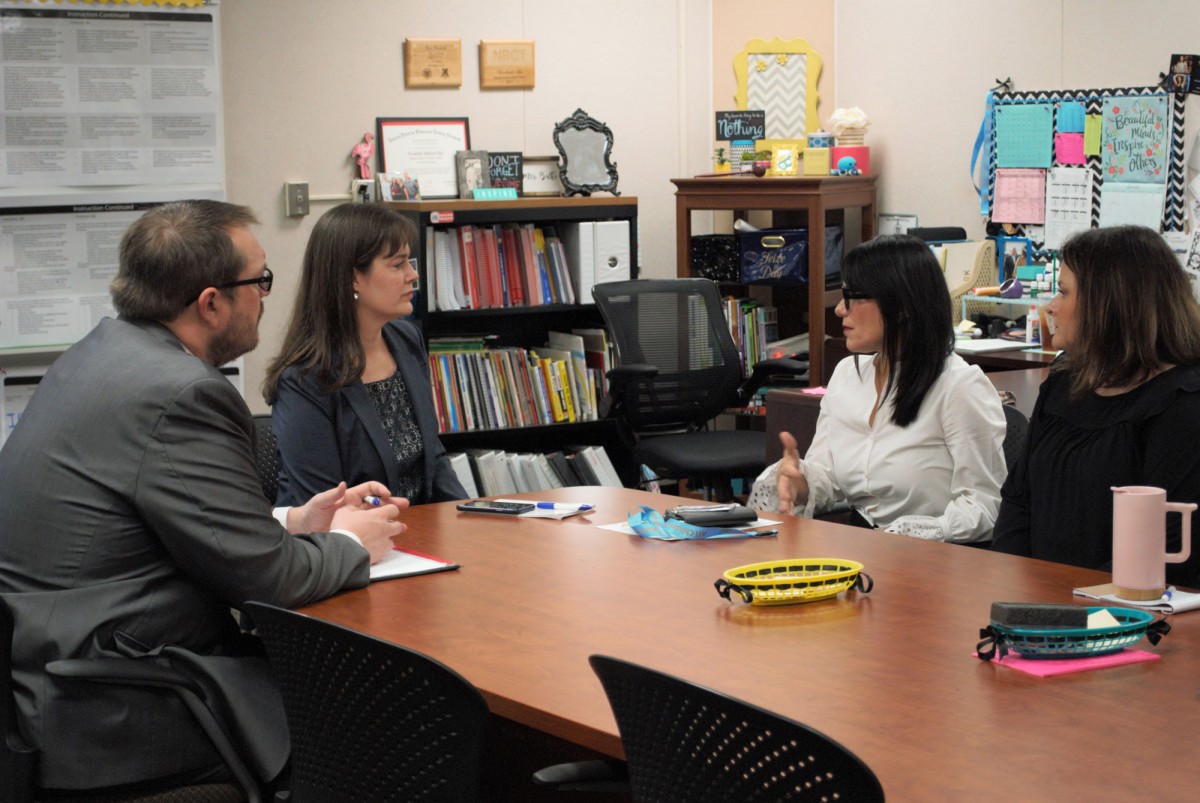 Cohorts of teachers, principals, and system leaders will share what is working to advance teaching and learning in every educational setting
Today, Dr. Candice McQueen, CEO of the National Institute for Excellence in Teaching (NIET), has announced appointments for NIET's new Steering Committee as well as its 2019-20 Educator Advisory Board, both of which will bring together teachers and administrators from across the country to support NIET as it expands its work.
These groups will inform NIET's work year-round to develop innovations and advance policies that have a direct impact on the classroom. The teachers, principals, and system leaders will lend their on-the-ground expertise from diverse educational backgrounds and settings to foster collaboration and further the development of support for high-quality teaching. Both groups officially kick off their work today through meetings and discussions with NIET senior staff.
"The power of our partnerships is the opportunity to collaborate, reflect, and advance together," said NIET CEO Dr. Candice McQueen. "Learning from educators and leaders who put visions into action are central to this process and to our growth as an organization. The contributions of NIET's Steering Committee and Educator Advisory Board will benefit hundreds of thousands of peers nationwide."
While NIET has long had a formal advisory group of teachers and leaders informing its work, this year, NIET formed a new Steering Committee to provide strategic thinking and vision-setting to help NIET meet the needs of teachers, leaders, and students at large. The new Steering Committee consists of 14 leaders from districts, organizations, state agencies, and universities.
2019-20 Steering Committee Members
Bob Behning, Indiana Representative and House Education Committee Chair; Director of External Affairs, Marian University Klipsch Educators College, IN
Dr. Kenith Britt, Dean, Marian University Klipsch Educators College, IN
Dr. Paula Summers Calderon, Dean, Southeastern Louisiana University College of Education, LA
Doug Clauschee, Associate Superintendent of Curriculum and Instruction, Chinle Unified School District, AZ
Dr. James Gray, Chief of Schools, Jefferson Parish Schools, LA
Dr. Saul Hinojosa, Superintendent, Somerset ISD, TX
Dr. Tonia Howard, Chief of Leadership Development and Special Programs, Lancaster ISD, TX
Hayward Renel Jean, Principal, Mellichamp Elementary School, Orangeburg CSD5, SC
Lori Line, Executive Director of Talent Development and Management, Goshen Community Schools, IN
Patrick W. Mapes, Superintendent, Perry Township Schools, IN
Dr. David Mathis, Deputy Superintendent of College and Career Readiness, South Carolina Department of Education, SC
Dr. Nathan Morris, Superintendent, Cross County School District, AR
Julie Thompson, Executive Director of Elementary Education, Knox County Schools, TN
Dr. Jennifer Tuttleton, Executive Director of Talent Pipeline, Louisiana Department of Education, LA
NIET's 2019-20 Educator Advisory Board is made up of 11 teachers, principals, and higher education leaders who are advancing new strategies in their schools to strengthen the capacity of educators and raise achievement levels for all students. Their instructional focus and proven leadership will provide insights into how NIET's training and support further their skills as educators as well as where NIET can continue to deepen its work.
2019-20 Educator Advisory Board Members
Dr. Chris Burkett, Gamecock EdQuarters Executive Director, University of South Carolina College of Education, SC
Corrie Callahan, Master Teacher, Abraham Lincoln Elementary School, Perry Township Schools, IN
Angela Davis, Executive Master Teacher, St. John the Baptist Parish Public Schools, LA
Robert Hill, Head of School, Alice M. Harte Charter School, InspireNOLA, New Orleans, LA
Christina Jamison, Principal Fellow and Administrative Intern, John Nance Garner Fine Arts Academy, Grand Prairie, TX
Dr. Araceli Montoya, Principal, Wildflower Accelerated Academy, Avondale Elementary School District #44, AZ
Lauren Moore, Master Teacher, West Goshen Elementary School, Goshen Community Schools, IN
Alex Patterson, Mentor Teacher, Dodson Branch Elementary School, Jackson County Schools, TN
Sarah Szymanski, Teacher and Instructional Coach; Milken Educator, Pikes Peak Elementary School, Harrison School District, Colorado Springs, CO
Sheena Washington, U.S. History and Anthropology Teacher; Teach Plus Fellow, International High School at Largo, Prince George's County Public Schools, MD
Amy Whittington, Principal, South/North Elementary School, Central Decatur Community School District, IA
Photos and biographical information about each of the Educator Advisory Board and Steering Committee members can be found on NIET's website. In addition to today's meetings, the groups will formally convene in the spring and summer to provide additional feedback and guidance.
About NIET
For two decades, NIET has partnered with schools, districts, states, and universities to build educator excellence and give all students the opportunity for success. NIET's initiatives including The TAP System for Teacher and Student Advancement, teacher and leader development, school improvement, rubric and observation systems, and educator preparation, have impacted more than 250,000 educators and 2.5 million students across the U.S. Learn more at niet.org.